Are you are tired of using harsh chemicals on your Traeger grill
Do you wantto remove the harmful chemicals and use a natural or biodegradable formula?
Keeping your Traeger grill spotless can be a big task if you don't have the right products.
Today I will share some cleaning alternatives to help you save time after heavy grill sessions on your Traeger grill.
5 Traeger Grill Cleaner Alternatives
Below are some cleaning hacks and natural products to get rid of tough grease and keep a clean pellet grill.
White Vinegar
A mix of vinegar solution or just old-fashioned white vinegar is a good replacement for an expensive citrusafe grill cleaning spray.
The acid will help get rid of grease buildup and caked-on food.
This can be used on the grill grates and inside of your Traeger.
Paint Scraper Or Putty Knife
If you don't have a special wooden scraper or some wire grill brushes then a paint scraper is one way to remove baked-on food from your grill grates.
Do not use this on the outside as it will scratch and cause rust.
Car Wax
Car wax can be used on the outside of your grill housing to buff the stainless steel and help stop rust and erosion.
Any grease spots can also be removed from exterior surfaces and will keep your Traeger grill looking brand new.
Baking Soda
Baking soda on a toothbrush is great for getting into those nooks and crannies or corners in all kinds of grills.
Baking soda is a cleaning product that has been used for centuries to remove stubborn dirt and will do the same to your grill surfaces.
Steam Cleaner
If you have a steam cleaner then this is perfect for removing solid grease that avoided the grease trap!
Be sure not to get the steam on any electrical components inside.
Common Cleaning Utensils
I hope you found my top 5 Traeger grill cleaning alternatives helpful.
Below I have also included a list of common cleaning utensils that will help with a deep cleaning for pellet grills.
Grill Brushes
Made to remove grease and debris from your cooking grill.
Spray Bottle
Used for holding and spraying liquid cleaner with warm water.
Dry Cloth
Typically used for buffing or removing moisture from clean grills.
Wire Brush
Wire or nylon brushes are great for removing stubborn grit or hardened grease.
Wooden Grill Scraper
A hard wooden scraper is used to get loose debris off of your grill grates.
Vacuum Cleaner
A vacuum with a thin head part will easily suck up ash and dry food debris in places you can't reach.
Paper Towels
Disposable paper towels are great for removing moisture and thin layers of grease you can then just throw away.
Heavy-duty Aluminum Foil
Heat-proof aluminum foil to line the drip tray and grease drip bucket is important.
Warm Soapy Water
The main cleaning liquid we will be using is hot clean water mixed with dish soap so it can cut through the oil and food residue that has likely built up on your Traeger grill, charcoal grill, or gas grill.
Why The Traeger?
The Traeger grills range were the first innovators for quality-made charcoal grills and electric pellet grills we see today.
In my opinion and as such for other passionate BBQ community members, a Pellet grill is the no-nonsense way to be cooking meat.
They are quality-made stainless steel appliances that warrant respect in the form of
They are quality-made stainless steel appliances that warrant respect in the form of maintenance and cleaning.
How Often Should I Clean My Traeger?
So how often should I be cleaning?
I have briefly broken down the 3 main timescales for cleaning below. Cleaning only takes a bit of time and is very important.
Read further for my complete guide which covers all the cleaning stages.
Cleaning After Every Use
This cleaning will focus primarily on the places the food has physically touched.
This will mostly be the grill grates, cooking chamber, and drip tray or grease bucket.
Make sure you run the shut down cycle after each use as well.
Cleaning After A Month Of Use
This is for when you have had around 15 -30 hours of cook time and it needs a deeper clean on all the inside components and areas!
Any foil liners in the drip tray should be replaced, and scrubbing of the chimney and firepot.
Vacuum away any excess ash and leftover pellets.
Cleaning After 3 Months Of Use
After around 3 months or 300 hours of cook time, the outside of your Traeger pellet grill should be cleaned.
Especially if you aren't using grill covers which I highly recommend.
Unplug it before you start to clean and remove any outside grease that stands out and check for damage.
Be sure not to use any abrasive materials as this could scratch and cause rust.
Smoke On!

Charlie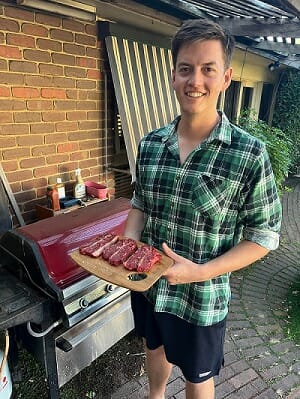 Author: Charlie Reeves
Hi, I'm Charlie, I am head taste tester at Simply Meat Smoking! I love it grilling, smoking, and getting out in the yard with the kids! The family also love to test all my recipes (especially my EXTRA CRISPY pulled pork, smoky pork loin, and ANY SEAFOOD I grill)
You will usually find me playing with the kids, perfecting my brisket bark, or sipping beers with boys around the fire. Can't wait to share all my delicious smoking and grilling adventures with you!

You can read more on our About Us page.
Hungry For More?