Pulled beef is a favorite when it comes to family gatherings.
It is the perfect food for serving kids, adults, and large groups.
In fact, it's so good it deserves side dishes that are just as good.
Not sure what your options are?
We've put together some of our favorite recipes so that your meal is perfect.
Have a read of the guide below to discover what to sides to have with pulled beef.
Pulled Beef Bao Buns
Pulled beef goes perfectly inside some fluffy bao buns.
Just top with some green onions and kewpie mayo and your good to go.
Baked Sweet Potato Fries
Sweet potato fries are crispy, tasty and topped with fresh herbs.
Not only do they go with pulled beef, but they also go with pretty much anything!
Serve them as an appetizer or a side dish with your shredded beef.
Smoked Corn on the Cob
Smoked corn is so much tastier than regular corn.
Not only does this dish have a tasty combination of flavors, but it's also easy to make.
Serve your corn hot with some pulled beef and aioli on the side.
Garlic-Herb Potato Salad
This garlic-herb potato salad is an incredibly versatile side dish.
It can be served hot or cold, depending on personal preference.
If you are making the beef for sandwiches, add some potato salad to fill it out.
Lemon Parmesan Roasted Carrots and Green Beans
This recipe is all about adding flavor to your usual vegetables.
Top your carrots and green beans with garlic brown butter, parmesan and lemon.
This dish is a fantastic twist on a classic and far tastier!
Smoked Baked Beans
This dish is packed full of rich flavor.
These smoky baked beans are given an incredible barbecue flavor.
We recommend using black beans or kidney beans for best results.
Creamy Coleslaw
This creamy coleslaw is ideal for barbecues, picnics and dinners.
It can be easily made ahead of time and refrigerated until you're ready.
The best part is, it requires only 6 ingredients to make!
Homemade Tortillas
Sure, you could buy tortillas from your local grocery store.
But, these homemade tortillas are a far tastier option!
These also don't have any yeast, which means there is no rising time.
Crispy Air Fryer Potato Wedges
These tasty wedges can be made in under 30 minutes.
With simple seasonings and a dash of oil, you won't regret making these.
Use Yukon potatoes for the crispiest, juiciest wedges ever.
Homemade Ketchup
If you're feeling particularly creative, then give homemade ketchup a go.
We like to think it's even better than store-bought ketchup…
Give it a try and taste it for yourself!
Corn Pudding
Corn pudding isn't just a sweet dish.
This classic comfort dish is also excellent alongside beef.
By adding in some herbs and onions, it will magically become a delicious savory side.
Hawaiian Rolls
Looking for something to serve your pulled beef on?
These delightful bread rolls will certainly do the job!
These homemade rolls can also be served sweet, with some butter and jam.
Smoked Mac and Cheese
Mac and cheese is one of the greatest American comfort foods.
Smoked mac and cheese, will take things to the next level.
Serve this dish alongside your beef, for a flavorsome meal.
Smoked Asparagus
Looking for something light and healthy?
This smoked asparagus recipe is a great way to serve vegetables.
Serve them with lemon and black pepper to finish them off.
Creamy Mushroom Risotto
Does your pulled beef feel a little bit greasy?
This creamy risotto is fantastic for soaking up extra juices.
It will perfectly balance out the beef while keeping you full.
Brazilian Tomato Slaw
For something light and refreshing this tomato slaw is worth a try.
It is easy to whip up and can be used in a variety of dishes.
It is also fantastic when served alongside a black bean paste.
Beer Batter Hushpuppies
This North Carolina staple is easy to make and difficult to screw up.
These deep-fried balls are tender, golden and crispy.
For an alternative version, infuse the balls with jalapeno peppers and onion.
Grilled Potato Skins
These potatoes only take 15 minutes on the grill.
So, we recommend baking them ahead of time so that you're all ready to go.
Top them with sour cream, bacon bits and cheese for a mouth-watering experience.
It is not ideal to eat pulled beef completely on its own.
That's why it's super important to consider what you'll be serving with it.
There are so many options when it comes to delicious side dishes.
From bread to salads to roasted vegetables!
You are bound to find something that will tickle your taste buds.
What do you like to serve with pulled beef?
Smoke On!

Charlie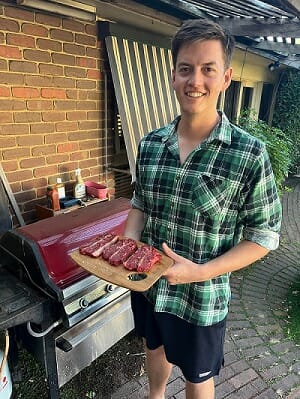 Author: Charlie Reeves
Hi, I'm Charlie, I am head taste tester at Simply Meat Smoking! I love it grilling, smoking, and getting out in the yard with the kids! The family also love to test all my recipes (especially my EXTRA CRISPY pulled pork, smoky pork loin, and ANY SEAFOOD I grill)
You will usually find me playing with the kids, perfecting my brisket bark, or sipping beers with boys around the fire. Can't wait to share all my delicious smoking and grilling adventures with you!

You can read more on our About Us page.
Hungry For More?