Buying a grill or a smoker can be confusing at best.

Smoke Hollow has many different styles and fuel sources. So, what do you do?

Do you go for the most expensive one? The cheapest one?

The one that has the most bells and whistles?

Or do you go for one that looks the coolest? It's a hard choice.

I have taken a close look at 5 of my favorite Smoke Hollow grills.

So hopefully it helps you decide on what Smoke Hollow Grill could suit your needs best.
The Top 5 Smoke Hollow Smoker Grills – Comparison Table
What Materials Do Smoke Hollow Use?
I've found the materials used in construction will play a role in the price of the unit, weight of the unit, longevity of the unit, and the functionality

Some materials are more solid than others, some materials retain heat better than others and some won't rust as easily as others.
Some of the materials used in Smoke Hollow units include:
Chrome Coated Steel


Cast Iron


Porcelain Coated Cast Iron


Stainless Steel
The Top 5 Smoke Hollow Smoker Grills
The Smoke Hollow 30-Inch
The Little Brother of the 38 Inch – My Top Pick!
The Smoke Hollow 30-Inch propane smoker is the little brother to the 38 Inch.
Essentially it is an excellent cheap to mid-range smoker. It was perfect for when I cooked for my wife's 40th birthday party.

I managed to feed 12 hungry adults and 6 kids! We got two pork butts in it and lots of sides!
Specifications
Weight: 35 Pounds

Dimensions: 18 X 21 X 39.5 Inches

Total Cooking Space: 504 Square Inches

BTU Output: 10,000

Fuel Type: Propane

Temperature Range: 175 – 350 Degree Fahrenheit
What I Liked About It
Welded Main Cooking Chamber
It felt like the unit was airtight. The unit seems to have no real issues with smoke or heat escaping.

The only real issue I had with temperature control was using the unit in direct wind. However, with my experience with most smokers, this is to set it up somewhere at home out of the wind. This is not a big deal to me because I don't want to be setting up and hanging out in the wind anyway.

Button Ignition System
The piezo ignition system seems to start each time with one push and doesn't seem to cause meany trouble.


Really good ventilation system
It came with a top and bottom vent. This allows me to easily control both the temperature and smoke level inside the smoker. For those who are new to smoking, it can take a little while to figure this system out. This is not a design flaw of this particular smoker but something that will become second nature after a little bit of trial and error.


Chrome Plated Cooking Grids
One thing I liked about this unit was the cooking grates, they are chrome plated which makes them easy to keep clean. All 3 are also removable, so you I could adjust them as I wanted depending on what I was cooking.

If you intend on smoking a lot of sausage or fish you can keep the racks as they are (with a little bit of DIY work you can also add in a few extra racks of your own), or if you are cooking bigger cuts like a Boston butt or turkey you can remove the racks to fit everything in nicely.


Holds temperature well.
The front door is where the thermometer is located. When tested against my iGrill 2 stayed within 15 degrees throughout a 12 odd hour smoke. I am guessing that the wind might have played a role in this fluctuation too.

However, this discrepancy doesn't phase me too much though as I always use my own thermometers when cooking, even when cooking in my oven.

Is It Easy to Setup?
The setup instructions are clear and easy to follow. It took me around 45 minutes, including a few breaks for a beer and to play with the kids
How Easy is it to Use?
Super easy for me to use. Just turn on the propane at the bottle then use the push start button. If you have any trouble the user manual has a very detailed step by step guide on how to use it. Plus some really great tips about what wood to use with it
The Durability
Like its big brother, overall the unit is durable. The main unit felt solid and looked to be constructed of steel It had welded seams which add to the overall sturdiness. It will easily live up to general, everyday knocks and bumps in the backyard. I can see this unit being a part of my family for a long time.
Cleaning and Maintenance
When it comes to cleaning vertical smokers it is important to remember that the better you clean and maintain it, the better results you will.

I like to wrap the drip pan with foil, this helps when it comes to cleaning because all you need to do it take out the foil and give the actual pan itself a quick wipe down. Because the racks are coated they are very easy to clean too.

Depending on exactly what you were cooking all it usually takes 5-10 minutes to clean them. I like to use some soapy warm water and a cloth while they are still slightly warm.
Do You Get Value For Money?
For a unit that is priced in the $100 – $150 mark, I felt like I got value for money. On a whole, the unit produces a quality smoky flavor and is built with decent craftsmanship.
Overall Rating
At this price point I think this is affordable for every budget. It's a great option for those who are not quite sure if they will be smoking often.
If you are a veteran of the smoking world, this is a great unit to use as a second or third backup for when you have a bigger crowd or project in mind.
It has enough room to comfortably cook for the whole family without needing to do multiple cooks. The bottom line is that the I think this is a budget-friendly smoker that does not skimp on performance or flavor.
Final Rating: 4.2 / 5 Stars
The Smoke Hollow 38202G 38 Inch
The Best All Round Smoker For The Avid Backyard Smoker
I know what you are thinking when buying a big grill you are going to get a big price tag too.
However, I found that this smoker wasn't overpriced for the features it had or the quality of materials used.
With its 20,000 BTU burner combined with solid steel construction, I could constantly hold my cooking temperature. This makes it a great unit for my low and slow cooks and ensures that I could do what I do best – entertaining my guests.
The only thing you need to make sure of is that the water pan is full, it is a tad on the small side.
Specifications
Type of Smoker: Vertical Propane Smoker

Weight: 62 Lbs

Dimensions: 27W X 18.5D X 47H Inches

Cooking Racks: 4 Adjustable Cooking Rack Capable Of Holding 25 Pounds Each

Total Cooking Space: 3.4 Cubic Feet

Fuel Type: LPG
What I Liked About It
Heaps of cooking space:
One of the great features of the is the amount of space I got. I got a whopping 3.4 cubic feet of space for cooking. which is plenty enough space to cook several racks of ribs, dozens of sausages/burgers, multiple salmon fillets, and even multiple whole chickens.

Easily adjustable cooking grates:
We liked how it had 4 adjustable cooking racks. These are all very easy to clean and come chrome plated, they are also removable. If you prefer you can remove the top trays and use the meat hooks to hang things like sausage, ribs, or fish.

Super easy temperature control:
It had easy temperature control thanks to the two manually adjustable vents, one at the top and one at the bottom. This allowed me to control both the temperature of the smoker and the actual amount of smoke.

Separate chambers:
The smoker has two main chambers. The cooking chamber and the chamber houses the porcelain-coated wood chip & water pan and burner. This separation meant I could add more wood chips or liquid to the water pan without letting any heat or smoke escape from the cooking chamber.
Setting It Up
Setting it up can be a little time-consuming, however, the instructions on the user manual are very easy to follow. All I needed was a Phillips head screwdriver, a pair of pliers, and around 3 beers.
Is It Easy to Use?
Even if you are new to smoking you will be able to pick this up after the first couple of uses.
How Durable is It?
I found it is a fairly solid and durable unit. It does wobble a bit when you bump it, however, it's not going to fall apart on you. This is mainly because of the smaller legs, the unit itself is solid.
Cleaning and Maintenance
I found it as easy to clean as any other vertical-style smoker. After each cook, once the smoker has cooled, I just a little scrape of any build-up on the sidewalls, base, and shelves. Once scraped give a good wash over with warm soapy & water.

After that simply open the drain and rinse with clean fresh water. If you stay on top of this job it won't ever be a big mission.
The Bottom Line
I think that this is a good unit that should be in every backyard smokers line up. It has enough room for me to smoke everything from multiple racks of ribs, pork butts to row after row of sausage and cheeses.

After the initial setup, there is minimal maintenance aside from keeping the smoker clean.

The bottom line is: I think this is a fantastic entry-level – professional smoker at an affordable price.
Final Rating: 4.6 / 5 Stars
The Smoke Hollow Vector 3
The Best Table Top Grill For For The Home or Camper
This is the only tabletop style grills I have found that also doubles as a smoker!

This is good news for you those who do not have a tonne of room for a vertical or barrel smoker but still need to get your fix of smoked food!

I found with its two 6,5000 BTU main burners and 3,500 BTU burner for the smoke tray it had plenty of heat to maintain its temp well.. I've even used a pizza stone and cooked up a pizza (the base was super crispy and delicious)

For a grill that has so much versatility, it is relatively cheap, coming in at just slightly under $200.
Specifications of The Vector 3
Type of Grill: Table Top

Dimensions: 18 x 22 x 28 Inches

Total Cooking Space: 367 Square Inches

Fuel Type: 1 X 20 Lb Propane Tank

Burners: 2 X 6,500 BTU Stainless Steel Vector Burners 1 X 3,500 BTU Smoke Tray Burner

Temperature Range: 175 – 600 Degree Fahrenheit

Wheels: No
What I Liked About It
Was able to cook a range of things on it
The two 6,500 BTU burners allowed me to cook everything from chicken wings to pizza without any hassle. Although it didn't have enough room for me to smoke multiple cuts of meat. It was the perfect size to do a smoked pork butt for our family for 5
Heaps of storage in the side tables
Having a smoker grill that has its folding side tables is something that I love. Especially when cooking away from home. I use them to store my unused cooking as well as prepping when I am putting it on the grill next
Easy to store in the shed or fit in the pick up
I found that the Vector was easy to store. It has foldable legs, side trays, and a lockable lid so I could slip it away into the shed, in the RV, or the back of the pickup without too much trouble. Unlike the Smoke Hollow 205, the Vector 3 burner doesn't have any extras that stick out so it makes it easy to stack in with camping equipment.

Heavy duty lid made it air tight
The hood on the Vector 3 is double layered and is great at holding in heat. This helped maintain a consistent cooking environment which is very important, especially when I was smoking. You also get two lid-locking latches which are great for ensuring no heat or smoke escapes during cooking and for easy transportation.
Whats The Set Up Like?
The set up can take a little while. I am by no means a professional, but it took me well over an hour to get everything set up.

By my count, you are going to need at least 4 beers for this. On the bright side, the user manual is fairly straightforward and easy to follow and all you need to set it up is a Phillips head screwdriver.
Is it Easy to Use?
Overall it is an easy little unit to use. All 3 of the burners seem to start every time thanks to the push to start ignition. When it comes to cooking, the 2 burners produce an even heat throughout the grill. This is thanks to the geometrical "V" shape design. W

hen using the unit as a smoker it produces a nice amount of smoke and holds a consistent temperature when measured with my iGrill thermometer.

All and all it is a nice and simple unit that cooks everything from smoked chicken breast to a pizza without any trouble.
Cleaning and Maintenance of The Vector 3
The porcelain-coated cooking grates are a breeze to clean, while they are still warm you can get nearly all of the leftovers off with hot soapy water and a rag. The drip tray is easily accessible and seems to catch most of the mess, even when cooking fattier cuts of meat or ribs covered in sauce!
Durability of The Smoke Hollow Vector 3
On a whole the unit is solid. It has a heavy-duty lid and even though it is heavy the 3 legged design saves a little bit of weight so overall it is not to heavy to transport.

The porcelain-coated wire cooking grids and porcelain-coated wood chips trays are well made and feel as though they will stand the test of time.

The stainless steel burners are well constructed and you don't get any movement out of them when transporting.
Do You Get Value for Money?
Again this unit comes in at just under $200. In my opinion for a grill that doubles as a smoker, you can't go wrong at this price point. When smoking it produces a nice deep smoke flavor and keeps a consistent temperature. Whether you are buying this as a secondary unit for the backyard or as your main cooker it the RV you are getting great value for money in my eyes.
The Bottom Line
If you are looking for a unit that is transportable, fairly cheap, and versatile I think this is a great choice.

It is a smoker grill that I feel is designed for those who don't have a whole lot of space in the backyard or for those who need a decent unit to take away camping or to store away in the RV.

The bottom line is that this unit is great for cooking a wide range of foods when you are in your home away from home.


Final Rating: 4.4 / 5 Stars
If you are looking for a unit that is transportable, fairly cheap, and versatile I think this is a great choice.

It is a smoker grill that I feel is designed for those who don't have a whole lot of space in the backyard or for those who need a decent unit to take away camping or to store away in the RV.

The bottom line is that this unit is great for cooking a wide range of foods when you are in your home away from home.
The Smoke Hollow Pro Series
When you think of a charcoal grill, I bet you start thinking of dollar signs (I do)
Fortunately, I found that the Smoke Hollow Pro Series 4 didn't come with a hefty price tag.

Generally, I would think that this might mean that it is going to be a cheap unit that doesn't perform. However, it doesn't! I borrowed my brother-in-law's and gave it ago.
In my opinion, everyone needs a grill in the backyard. Nothing beats getting out of the kitchen, grabbing a beer and cooking outside… It's a fact that steak tastes better cooked on an outdoor grill.

Specifications
Type of Grill: Charcoal Grill

Weight: 228 Pounds

Dimensions: 65 X 24 Inch Cooking Barrel

Total Cooking Space: 228 Square Inches

Fuel Type: Charcoal
Key Features
Heaps of cooking space for the party we hosted.
We used it for a graduation party and it fit enough food to feed around 14 adults. That was a pork loin, a pork shoulder, and some wings.

Adjustable charcoal tray
I like that I could move the charcoal try up and down. It had 6 positions I could put it in.

Small side table
A side table is not normally a feature that you find on cheaper grills. Because this grill doesn't have any shelves or storage it is a welcome feature. It is sturdy enough for me to prep on it.
How Easy is it Set Up?
Setting up can take a little while. You will want to set aside a good couple of hours if you have never set up a grill before or at least an hour otherwise. Having a buddy there with you and a couple of beers does seem to speed the process up though! The instructions were a little difficult to follow, there is just a lot of small steps to follow.
Do You Get Value For Money?
Considering the price of this grill I will say in confidence that you do get value for money. It is a very simple grill that does what it is designed to do very well. If you have a slightly larger budget you could go for several other grills that have a few more handy features and a little bit more of a sturdy build, but for around $150 you really can't go wrong in my eyes.
Although I don't think the Smoke Hollow Pro won't be getting any awards for the most innovative, or technical grill. But I cooked a fantastic barbecue for the party with it. It held the temp,well (plus I was able to feed 14 hungry guests at the graduation party).
Final Rating: 4.1 / 5 Stars
What Products Do Smoke Hollow Grills Make?
Smoke Hollow grill range is huge. Some of them even made my list of the best smokers for 2021! They have lots of BBQ, grills, and smokers to suit every budget and cooking style.
Some of the units in the Smoke Hollow line up are:
Cabinet Smokers:
Cabinet smokers go by several different names, most commonly smoke vaults, vertical smokers or cabinet smokers. They are a fairly basic design with anywhere between 2 and 5 racks and hanging hooks. Cabinet smokers usually have 1 or two main doors at the front of the unit.

The main door is to access the cooking meat and the smaller secondary door is where you access the water tray, drip tray and the heat source. Cabinet smokers are usually powered by gas or electricity.


Gas Grills:
Gas grills are the most common out of all the different barbecue and smoker units out there. The range from small single burners all the way up to multiple 6 burners.Gas Grills can be fueled by propane tanks or natural gas from your house supply. Gas grills typically have a warming rack and 2 different grill surfaces to cook on.


Pellet Smoker Grills:
Pellet smoker grills are one of the most versatile styles of cooker out there. They are part smoker, part grill. This allows you to get tremendous flavour, tenderness and char into everything you cook without using multiple units. Pellet smokers get their name from the small wood pellets that fuel the smoker.


Charcoal Grills:
In my opinion cooking with charcoal is the most authentic way out there. Its simple, easy and relatively inexpensive. Charcoal grills use charcoal as their main heat source and provide a base for fantastic flavors. Charcoal can maintain a high temperature for long periods of time making them great for low and slow cooking.


Portable Grills:
Portable grills are a fantastic option for those of you out there who love tailgating, camping, fishing or for those who just simply don't have space for a larger unit. Portable grills are usually fueled by smaller propane tanks, however electric and charcoal units are also on the market.


Electric Smokers:
Electric smokers do not require any gas, charcoal or other fuel. Electric smokers use electricity to generate heat to burn your choice of wood chips or chunks. Because they don't use any other fuel, they are a good option for those of you who don't have a large outdoor area. Electric smokers are often the vertical/cabinet style and are a great option for low and slow style cookers.
What To Look For in a Smoke Hollow Grill
When shopping for a new unit you need to think about what features you need. These days you can get tonnes of different features, accessories and bells & whistles.

Some things to keep in mind when buying your unit include:
Fuel Type:
Choosing the right fuel type to suit your cooking style and needs is very important. Each different fuel type has its own pros and cons.


Price:
Before setting out to buy a new unit have an idea of how much you want to spend. You can find something to suit your own specific needs at any budget. You can get fantastic little smokers for under $100, perfect for smaller families of those who are not quite sure if smoking is for them.


Safety Features:
Being safe around your unit is imperative. Before you dive into buying a unit think about your specific situation. Do you need additional safety features or accessories to make sure you are grilling safely. Think gloves, tongs, fire extinguishers, and gear for any little ones you might have in your family.


Cooking Space:
The cooking space you are going to need is another essential to know. If you only have a small family and don't often cook for a lot of people getting a big unit with enough space to cook multiple racks of ribs and a whole turkey won't be very necessary. Getting a unit that suits your size requirements will also stop you from spending money unnecessarily.


BTU Output:
The BTU output of your unit will let you know how much heat and power the unit is capable of producing. If you are planning on using your unit for only cooking low and slow you will not require a high BTU rating, however, if you are planning on using your unit for searing, charring and even cooking pizzas, you will want to purchase a unit that has a higher BTU rating.


Cooking Accessories:
Everyone loves accessories, accessories let us add a personal touch to our units. You can get side tables, hooks, racks, thermometers and other cooking aids. Just like price, before you set up to buy your unit make sure you have an idea of what you are going to really and and find helpful.


Warranty:
Smoke Hollow grills and smokers (and parts) come with a 1-year limited warranty. Smoke Hollow also offer a guarantee that there will be no broken or damaged parts at the time of purchase. For more details check out the Smoke Hollow warranty.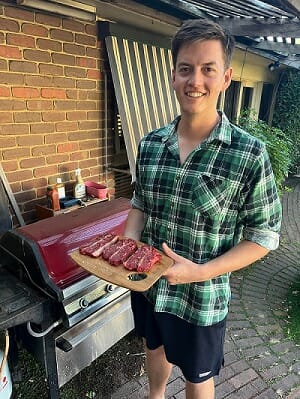 Author: Charlie Reeves
Hi, I'm Charlie, I am head taste tester at Simply Meat Smoking! I love it grilling, smoking, and getting out in the yard with the kids! The family also love to test all my recipes (especially my EXTRA CRISPY pulled pork, smoky pork loin, and ANY SEAFOOD I grill)
You will usually find me playing with the kids, perfecting my brisket bark, or sipping beers with boys around the fire. Can't wait to share all my delicious smoking and grilling adventures with you!

You can read more on our About Us page.
Hungry For More?