Tri-tip is one of those super versatile meals. Cost-effective and always plenty of leftovers.
It's melt-in-your-mouth delicious, so it deserves some worthy side dishes.
But sometimes it's hard to know what to serve with it. We tend to repeat the same meals over and over again.
Look no further, we are here to give you lots of options.
From cooked vegetables to fresh salads. From comfort food to something a little different.
These ideas for side dishes will inspire you for many meals to come!
Roasted Vegetables
Why not try some roasted vegetables to go with your tri-tip roast?
You can put them in the cooker right alongside your meat.
Serve it all up piping hot. You'll have an amazing meal that tastes like home, and very happy dinner companions.
Spoon over some rich gravy and mop it up with cornbread for the ultimate comfort food classic meal.
Find the recipe here:
Baked Potatoes
Meat and potatoes is as classic as it gets!
Fluffy baked potatoes filled with sour cream. Topped with fresh chopped herbs and diced bacon.
Does it get any better than that?
It's such a great simple side, perfect for a backyard barbecue.
Keep the toppings separate, and let your guests choose their own.
This is also a great way to use up any leftover potatoes from last night's BBQ.
Find the recipe here:
Want to Try Smoking Your Tri Tip?
Smoking your tri tip is by far the best way to cook it. See my recipe for smoked tri tip here.
Mashed Potatoes
We are continuing along the potato theme with this classic side dish.
Who doesn't love a steamy bowl of fluffy mashed potato?
Mash is a heavier starch, perfect for rounding out a hearty meal.
A dash of black pepper and garlic powder will bring this simple dish to life.
Smother it all with gravy or cheese sauce. Your mashed potato and tri-tip will be unforgettable.
It doesn't have to be white potatoes either. For something a little lighter, try mashed sweet potato, or a mix of both.
Find the recipe here:
Smoked Cabbage
Smoked cabbage i is the perfect side dish, summer or winter.
Mix through some freshly crushed garlic cloves. It'll bring out all the delicious natural flavors of the cabbage
To make it extra quick and simple, grill it on the smoker while you're cooking the meat
Fried Rice
Fried rice is perfect for lunch or dinner. Serve it alongside your tri-tip roast for a taste sensation.
Add in some finely diced bell pepper and chopped green onions for a zingy twist.
Fried rice is so versatile, you can throw in whatever vegetables you have on hand.
And it's a great way to use up leftover rice. Even better, it's so quick to throw together for a fast weeknight meal.
Throw a batch together while your roast is resting or warming up and you have dinner done in no time.
Find the recipe here:
Smoked Cob Corn
Simplicity at its best with this delicious side dish.
Fresh juicy corn grilled on the barbecue is perfection.
Top with some melted butter and herbs and spices and your meal is next level simple and tasty. m,
Pair this with creamy mashed potato and steamed greens. You'll have very happy dinner guests!
Find the recipe here: Smoked Corn
Sweet-Corn Salad
If you happen to have any corn left over from the barbecue, this recipe is perfect.
Of course, you can just as easily use canned corn.
It's a nice light, sweet salad that will balance out the salted meat for a summer dinner.
It only needs a few ingredients, and you can make it ahead of time. Perfect for busy weeknights.
Find the recipe here:
Butternut Squash
This sweet flavored side dish will round out your tri-tip beautifully.
The combination of butternut squash and cooked onion brings a subtle flavor to get the best out of the meat.
Top it all off with pecan for a bit of crunch and texture.
It's fresh, light, and guaranteed to become a family favorite.
It holds up well for lunch boxes too, so make extra to pack a lunch for the next day.
Find the recipe here:
Creamy Green Beans and Mushrooms
If you are looking for healthy side dishes look no further than this adaptable recipe.
Fresh greens are the perfect recipe for type of meat dish.
Add in some fresh chopped mushrooms, sour cream, and a dash of garlic salt for a flavor boost.
Find the recipe here:
Smoked Mushroom Salad
Meat and mushrooms are always the perfect combination.
The natural earthiness of the mushroom, with some zingy garlic, gives a dish that is both tasty and hearty.
Any type of mushroom will work well, so use whatever you can source in season.
Find the recipe here: Charlies Smoked Mushrooms Recipe
Roasted Onion Salad With Rocket and Walnut Salsa
Rocket has a fresh, peppery flavor that complements the salty tri-tip.
This green salad will give you a lighter side dish, that's packed with bold flavors.
The sweetness of the roasted onion gives the crisp greens a balanced base.
The walnut salsa tops the whole meal with a crunchy, tangy dressing.
Top with a bit of feta cheese for a creamy addition.
Find the recipe here:
Peach and Cheese Salad
No list of side dishes is complete without a fruit option, and this salad is ours.
While it may seem little odd, fresh fruit and cheese can work well with a wide variety of meats.
This recipe is peach based, but you can substitute it with whatever fruit is in season.
Blend it with chopped red onions, mixed green salad leaves, and cherry tomatoes.
Top the lot with nuts like almonds or pistachios.
Not only will your plate be full of fantastic color, but it will also be super healthy too.
Find the recipe here: Grilled Peach and Goats Cheese Salad
So next time you have a gorgeous Tri-tip roast ready to serve, try some of these side dishes!
You'll have a meal that's something different!
Smoke On!

Charlie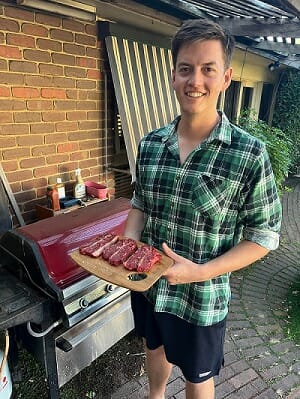 Author: Charlie Reeves
Hi, I'm Charlie, I am head taste tester at Simply Meat Smoking! I love it grilling, smoking, and getting out in the yard with the kids! The family also love to test all my recipes (especially my EXTRA CRISPY pulled pork, smoky pork loin, and ANY SEAFOOD I grill)
You will usually find me playing with the kids, perfecting my brisket bark, or sipping beers with boys around the fire. Can't wait to share all my delicious smoking and grilling adventures with you!

You can read more on our About Us page.
Hungry For More?