Everyone loves pulled pork!
Plus it's affordable and makes it easy to feed a crowd.
When it's cooked low and slow it will just melt in your mouth.
But any great smoked meat needs a tasty side to round it out.
Savory, spicy, smoky, or sweet, we have all bases covered.
Try any of these 15 delicious sides with your pulled pork recipes!
Cornbread
You can't go past the classic cornbread as the perfect side dish for your pulled pork.
It's easy to make with simple ingredients. And you can experiment with different flavor combinations to mix it up a little.
This Jalapeno Cheddar cornbread recipe has a bit of fire with some moist cheesy goodness.
Throw some refreshing salads in to round out the meal.
Sweet Corn Fritters
Got a can of kernel corn floating around the pantry? Put them to good use with these tasty sweet corn fritters.
Sweet and crunchy, these fritters are the perfect side to your pulled pork dinner.
Add plenty of herbs and spices and creamy cheese for a flavor kick.
Serve it with green salads or baked potatoes for a healthy, hearty meal.
Spicy Collard Greens
No Southern dish is complete without a side dish of collard greens.
Collard greens are big leafy vegetables.
The taste can be quite strong, so they tend to be steamed or simmered to level the flavor out.
Steam them with ham or beans and top them with some bacon for a flavor boost.
The leafy flavor balances the rich pulled pork perfectly.
Again, we are going with a bit of spice in this one, but you can go plain if you prefer.
Need a Pulled Pork Recipe?
Still looking for the perfect pulled pork recipe? Mine is tried and tested, just make sure you are checking the internal temperature periodically and reach at least 200°F before you pull it from the smoker.
Classic Coleslaw
It doesn't get much better than this classic side dish.
You can use a traditional recipe, or add some chopped bell pepper or chili with sour cream for a bold flavor.
Or some shredded carrot and apple for a sweet spin on a classic south meal.
Dieting? Try low-fat mayonnaise for a healthy salad option.
The tangy flavor of the coleslaw is the perfect balance to the smoky flavors of the pulled pork.
Curtido Salad With Tomato & Onion
Curtido salad is a dish that's like a cross between sauerkraut and coleslaw.
While it may not be the traditional southern meal, the savory flavors will have you coming back for more.
Curtido is a Latin American side dish.
It consists of cabbage and carrot with onion, tomatoes, beans, and the zesty addition of lime.
It's all pickled in vinegar and is ready to eat in a couple of hours.
The fresh combination will bring out the best of the earthy, salty flavors of the pulled pork. Better yet, try it on pulled pork sandwiches.
Make it ahead of time, and keep it in the fridge. It will be ready to go whenever you need it.
Macaroni Salad
Creamy macaroni salad is a side dish that's as tasty as it is filling.
And if you have picky eaters, it's the perfect way to incorporate some extra vegetables into a dish.
Serve it chilled with a garden salad, or warmed up with some fritters or cornbread.
And you can make this pasta salad ahead of time, to make weeknight dinners a breeze!
Cucumber Tomato Salad
Fresh salad brings some crunch and color to your pulled pork meal.
Chop up whatever fresh vegetables are in season.
Try green beans, bell peppers, tomatoes, red onion, and cucumber to make a great salad.
It's simple, affordable, and super healthy. And the perfect fresh balance to the heavier meat dish.
Homemade French Fries
What don't french fries go with?
Fries are easy to make, and you can add any herb and spice flavors to complement your pulled pork flavors.
It doesn't have to be potatoes, you can also use sweet potatoes for something different.
Cut the thin, thick, or in wedges. Dollop some sour cream on top of your potato or sweet potato fries.
Classic Rice Pilaf
Rice pilaf is a great side dish to make your pork the centerpiece.
The mellow flavors of the cooked rice won't overpower the pork flavors, leaving it the star of the show.
Add in beef stock and some finely chopped vegetables for some flavor.
Yukon Gold Potato Salad
No barbecue meal is complete without the classic creamy potato salad.
The combination of sweet and tangy is the perfect side for any meat dish.
You can all sorts of ingredients to your potato salad.
Things like boiled eggs, bacon, and celery are standard. But try grated carrot and bell peppers to give you a great flavor twist.
And again, if you are dieting, use low-fat mayo.
Add in some relish and mustard and season with herbs and chopped green onion.
Yukon potatoes will give you a gorgeous buttery flavor.
But you can use any potato that will stay firm when boiled.
Smoked Baked Beans
Why not double up on the great smoky flavors?
This delicious smoked baked beans recipe can cook away on the smoker next to your pulled pork.
Add barbecue sauce, bacon, and the smoky grill to make this the ultimate baked beans recipe.
Throw in some brown sugar for sweetness, or some apple cider vinegar for a great tangy taste.
Make ahead of time, and warm up when you want to serve.
In no time you'll have a hearty, family-friendly meal perfect for busy weeknights.
Find the recipe here: Smoked Baked Beans
Southern Succotash
Suffering succotash! This side dish will have you all running for the dinner table!
Succotash is a native American dish made of lima beans, corn, and other fresh vegetables.
Try adding greens, potatoes, squash, tomatoes, turnips, and bell peppers. Whatever is in season and fresh!
The bright colors and fresh crunchiness are a perfect and healthy side for the salty pulled pork.
Baked Cheesy Zucchini Fritters
These zucchini fritters are super easy to whip up and are perfect for lunch or dinner.
Use some Gouda, feta, or sharp cheddar cheese for a creamy base for the fresh zucchini.
Top with a squeeze of lime juice for a zesty twist.
Fruit Salad
This one is a little left-field. But hear me out!
The sweet element of pulled pork comes alive when paired with seasonal fresh fruit.
This recipe is based on peaches, but you can also use apples, strawberries, or mango in the salads.
Pulled pork is such a great dish – versatile and tasty! Perfect for lunches or main meals.
Any of these side dishes will bring new life to the smoky succulence of pulled pork, so take your pick!
Smoke On!

Charlie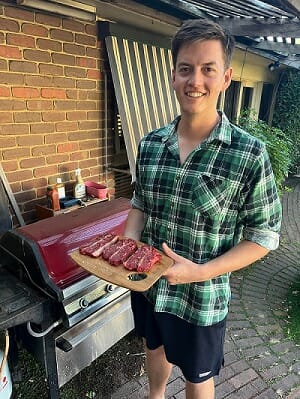 Author: Charlie Reeves
Hi, I'm Charlie, I am head taste tester at Simply Meat Smoking! I love it grilling, smoking, and getting out in the yard with the kids! The family also love to test all my recipes (especially my EXTRA CRISPY pulled pork, smoky pork loin, and ANY SEAFOOD I grill)
You will usually find me playing with the kids, perfecting my brisket bark, or sipping beers with boys around the fire. Can't wait to share all my delicious smoking and grilling adventures with you!

You can read more on our About Us page.
Hungry For More?