Are you looking for a way to use up your pork trimmings?
When you use cuts such as chops, tenderloin, pork loin, spareribs, pork shoulder, and pork butt will end up with lots of trimmings.
They so many delicious ways you can use these trimmings and you'll find some of my favorite ways below.
Ways to Use Your Pork Trimmings
Pork trimmings can be used to make sausages/patties, pates, lard, pork rinds, minced pork, and soup stock, see some great recipes to make these below.
Homemade Pork Sausages/Patties
The most popular byproduct of pork trimmings is sausages and patties. Children love the taste of these.
The pork butt trim is best suited when making sausages.
All you need to do is clean and grind the pork trim then season with dried parsley, rosemary, thyme, sage, onion powder, garlic powder, red pepper flakes, white pepper powder, coriander, nutmeg, and salt. Mix well and add filling to a casing of your choice and store in the freezer until you are ready to cook.
These sausages can be grilled, baked, boiled, and even air fried. I love being the pit master at family barbecues and smoking meat as it is a ritual.
Smoked sausages are a favorite, just place the sausages in a smoker for a couple of hours and serve.
Now don't get me wrong, smoking meat will leave you with crusty grill grates, grease, and ash in the chip tray, but it is worth the extra labor in cleaning afterward because the taste is worth it. Trust me, try it.
Homemade Pork Pates
This is a simple dish to make. You just grind the seasoned pork trimmings, liver, wine, herbs, and mushrooms until you get a paste-like consistency in a food processor, then bake until firm on a baking sheet.
Pork pate can be served either hot or cold as a fancy appetizer with lightly toasted bread, crackers, cheese, fruits, and chutneys.
Homemade Lard
Lard is clarified pig fat or cooking fat.
Homemade lard from pork trimmings can be used for sauteing vegetables and making flaky pastry dough. The process is a little tedious, but why not get the full worth of your money?
The process begins with cutting the pork trimmings into one-inch pieces and placing them in cold water (1/4 cup cold water for every pound of trimming) in a cast iron skillet.
You cook the trimmings uncovered on medium heat until all the water cooks off and the oil begins to pool.
Strain the oil and store it in a glass jar or as pork fat cubes. As the lard cools, it solidifies and can be kept in the freezer for up to one year.
The extra delight you get from making lard with pork trimming is the remaining fried pieces that remain. These are called "pork cracklings". They can be used as bacon bits or added to salads or soups to add a fabulous pork flavor.
Pork Rinds
One of the best finger foods on the planet is pork rinds.
They are made from small pieces of pork skin that are boiled in water then baked in the oven and then fried in lard to crispy perfection. They are similar to pork cracklings from the lard-making process. Be careful when handling because of the hot dripping fat.
Pork rinds are great as a snack if you are on a Keto diet or as an appetizer with a dip or sauces.
Minced Pork
When you grind the pork trimmings, you get minced pork which is very tasty. It can be used in various rice dishes; meatballs, sausages/patties, wontons, dumplings, and casseroles.
Pork Soup Stock
Pork stock can be used to boil noodles, enhance the flavor of foods such as stew or soups and saute vegetables. It is made by boiling the pork trimmings with pork bones and vegetables for 3-5 hours.
The stock can be stored in the freezer for months. I like to store mine in 8oz containers for easier serving size proportions.
The Cons Of Pork Trim Use
1. In the absence of proper moderation, too much-saturated fat in one's diet can contribute to the development of heart disease from high cholesterol, diabetes, stroke, high blood pressure, obesity, and joint pain.
2. Poor quality pork meat, whether direct from the farm or butcher, undercooked, or improperly stored, can lead to gut health issues.
3. Recent studies have shown that too much-processed ham, bacon, or sausages can cause stomach and bowel cancer.
So, whether you visit the butcher shop to buy pork trimmings or you trim a piece of pork meat yourself, try making some of these delicious pork recipes.
Not only are they tasty, but they are also budget-friendly.
Your party guests and family members will enjoy and complement the vast range of appetizers and meals that can be made from pork trimmings. Enjoy sinful goodness, in moderation, of course.
Smoke On!

Charlie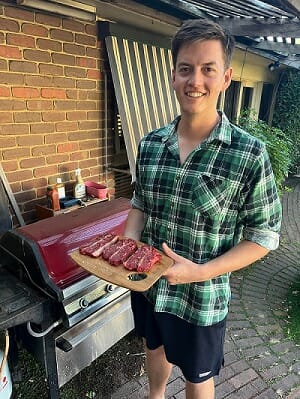 Author: Charlie Reeves
Hi, I'm Charlie, I am head taste tester at Simply Meat Smoking! I love it grilling, smoking, and getting out in the yard with the kids! The family also love to test all my recipes (especially my EXTRA CRISPY pulled pork, smoky pork loin, and ANY SEAFOOD I grill)
You will usually find me playing with the kids, perfecting my brisket bark, or sipping beers with boys around the fire. Can't wait to share all my delicious smoking and grilling adventures with you!

You can read more on our About Us page.
Hungry For More?