Wondering what you can you use instead of pork chops?
Pork chops are a common meal in many homes, but there are many delectable alternatives.
Maybe your looking to cut back on your meat consumption or maybe you just can't find pork chops at the supermarket?
These six alternatives to pork chops are sure to please.
6 Delicious Alternatives for Pork Chops Include
Below are 6 options for when you can't find pork chops.
1. Chicken Breast or Chicken Thighs
Chicken breast or chicken thighs are popular alternatives to pork chops.
They are leaner and lower in fat and a good source of protein.
These reasons make them a nutritious choice for those seeking a healthier option.
When it comes to cooking, chicken breast or thighs you can grill, bake, pan-fry or smoke your chicken breasts.
To keep the chicken tender and juicy, pound them to even the thickness before cooking.
Season chicken with salt, black pepper.
Add 1 teaspoon garlic powder, 1 teaspoon onion powder and Italian seasoning.
Heat 2 tablespoons vegetable oil in pan.
Then sear chicken until they are golden brown at medium-high heat for 6-8 minutes on each side.
2. Turkey Cutlets
Turkey cutlets or turkey breast are another great pork chop substitute.
They are also lean and has a low fat content.
They are a good source of protein, and their mild flavor makes them a versatile option for a variety of dishes.
You can prepare turkey cutlets in a similar way to the chicken breast or thigh.
Combine purpose flour, kosher salt, pepper, paprika and dried oregano.
Coat turkey cutlets in the seasoned mixture. In a hot skillet on medium heat, cook turkey for 1-2 minutes on each side.
3. Beef Steak
Actual beef steak is a more decadent option for those seeking an alternative to pork chops.
Opt for lean cuts of beef, such as sirloin, rib-eye steak or flank steak, to keep the fat content low.
You can grill, bake, pan-fry or smoke your beef steak.
To ensure that the steak remains juicy, it is important to let it rest for several minutes after cooking.
Avoid over cooking the steak because it will become dry and tough.
Cut beef steak in 1/4 inch thick pieces and season with salt and pepper.
Heat 1 tbsp of oil in a skillet, add steak pieces and sear for 2-3 minutes per side on medium-high heat.
4. Other Pork Cuts
If you cant get your hands on boneless pork chops, then try other cuts of fresh pork meat.
For example, pork butt or pork loin chops otherwise known as pork tenderloin.
Pork loin chops are leaner and has less fat content while in pork butt meat, has a higher fat content and it is tastier.
To make pan-fried chops, season pork chops with salt and pepper.
Dredge chops in seasoned mixture of all propose flour, cayenne pepper, salt and pepper.
Add half cup oil to skillet and heat to medium then add 1 tablespoon butter and fry chops for 3-4 minutes on each side.
5. Tofu
Tofu is a great alternative for those seeking a meatless option.
It is high in protein and low in fat. Its flavor is neutral, making it a versatile option for a variety of dishes.
When it comes to cooking tofu you can also grill, bake or pan-fry.
To add flavor, allow to marinate before cooking or served with a flavorful sauce.
It is important to press the tofu to remove excess water, as it will help it cook through and become crispy.
Cut tofu in 2-3cm thick pieces, season with salt and pepper and coat in flour.
On medium-high heat, fry for 2-4 minutes on each side until golden and edges brown. Serve with a sauce.
6. Seitan
Seitan is also known as wheat meat.
It is a meat substitute made from wheat flour and is high in protein and has a chewy texture that is like meat.
Seitan can be pan-fried like tofu. You can also bake or grill it and serve with a sauce.
Bonus Recipe for Dinner Tonight –
Creamy Mushroom Sauce! This mouthwatering sauce, is that it consists of simple ingredients.
You can serve as a topping alone or you can combine with any of pork chop substitutes mentioned above.
This is perfect meal as a simple dinner option for a weeknight meal for one or for a weeknight dinner with friends.
You can serve with white rice, brown rice, a couple of boiled ounces ramen noodles.
Even mashed potatoes, chewy noodles or even with fresh vegetables are good options.
Instructions for Creamy Mushroom Sauce
1. After searing the meat of your choice from the options above, you can add 1 Tbsp butter to pan.
2. Add sliced mushrooms and season with salt and black pepper.
Cook uncovered for 4-5 minutes until mushrooms are tender.
3. Add chicken broth if you are using chicken, turkey, tofu, seitan or pork and beef broth if you are using beef.
4. Add in 1 can of cream of mushroom soup for extra flavor.
5. Add back in seared meat, turn to coat in creamy sauce and allow to simmer for 1-2 minutes.
Serve hot as topping on desired dish.
Variation – Creamy garlic mushroom sauce (Add 4 grated garlic cloves to step 2.)
Alternative ingredient for cream of mushroom soup is heavy cream. Season to taste with salt and pepper.
Store leftover sauce in an airtight container for up to 3 days in refrigerator. Reheat on low heat.
Smoke On!

Charlie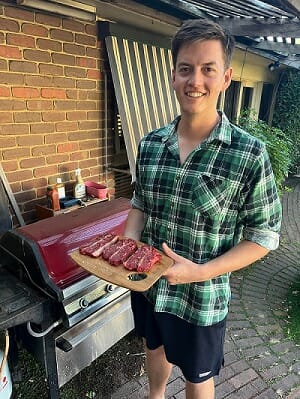 Author: Charlie Reeves
Hi, I'm Charlie, I am head taste tester at Simply Meat Smoking! I love it grilling, smoking, and getting out in the yard with the kids! The family also love to test all my recipes (especially my EXTRA CRISPY pulled pork, smoky pork loin, and ANY SEAFOOD I grill)
You will usually find me playing with the kids, perfecting my brisket bark, or sipping beers with boys around the fire. Can't wait to share all my delicious smoking and grilling adventures with you!

You can read more on our About Us page.
Hungry For More?