Are you craving the pulled pork but only have pork chops on hand?
Wondering if they can serve as a suitable substitute?
Or maybe you don't have time to smoke a whole pork butt and want an alternative?
Let's look at whether pork chops can be used for pulled pork and if so, what is the best way to do it?
Can You Make Pulled Pork From Pork Chops?
You can get pulled pork by slow-cooking pork chops however, it can miss the mark regarding flavor and texture.
Read further for the pros and cons of pork chop pulled pork.
As well as how to do it!
What Cut Is Pulled Pork Usually Made From?
Pulled pork is traditionally made by smoking pork shoulder or pork butt.
But why are the shoulder and butt better than a pork chop recipe for pulled pork? These cuts of meat produce the tastiest pork shreds due to the fat and connective tissue. The higher % of pork fat will render down slowly giving extra flavor and texture.
But with factors like lengthy cooking times and price…can chops be a good alternative?
The Pros Of Making Pulled Pork Chops
– Slow cooker pork chops take 3 hours compared to 7-8 hours.
– More economical to buy a batch of pork chops compared to a whole shoulder or butt.
– Still can recreate flavorful shredded boneless pork chop meat.
– Still can recreate tender shredded boneless pork chop meat.
The Cons Of Making Pulled Pork Chops
– You won't be able to 100% replicate the taste and texture.
– Less cooking time but a few extra steps in the recipe.
– Can be more expensive if you are feeding more than 4 people.
Other Cuts of Pork You Can Use For Pulled Pork
You can also use pork loin for pulled pork however the most traditional cut to use is pork butt or shoulder.
Some of my favorite pulled pork recipes are;
A Complete Guide To Making Pulled Pork Chops
Now we know that you can turn pork chops into pulled pork! (At a few costs)
What is the best way to do it?
What You'll Need For Pulled Pork Chops
Boneless pork chops
Pork spice mixture/pork rub
Cup water
BBQ sauce
Slow cooker/crock pot
Olive oil
Airtight container
Optional veg to add flavor (green onion, fresh garlic, etc)
Choosing The Best Pork Chops
The first step is sourcing good quality pork chops with a 1-inch fat cap.
I recommend going to your local butcher and explaining your plan. They will help with getting you the best quality meat with the right amount of fat.
Prepare The Pork Chops
– Mix the olive oil, a dab of BBQ sauce, and your spice rub for an easy marinade.
– Put the pork chops in an airtight container.
– Cover evenly with the marinade.
– Marinate for a minimum time of 1 hour or a maximum time of 5-6 hours.
Slow Cooking Pork Chops (For The Right Texture)
– Set the slow cooker to a low temp of 250°F or the crock pot over medium heat.
– Put in the pork chops and cook for 30 minutes, turning at least once.
– Now is the time to add in any extra aromatics or veg.
– Pour in the water and put on the cooking lid.
– Cook for 2 hours or until the water has mostly dissolved, you want the meat to reach 195°F – 2203°F, once it hits that temperature the meat will fall apart.
Note: We are not boiling the pork chops, so make sure they aren't submerged!
The water will stop the pork proteins from drying out and help with the texture. It will also help disperse the delicious flavors through the meat.
Break Apart The Slow Cooked Pork Meat & Add More BBQ Sauce
Now we can start to make these delicious pork chops look like they are pulled!
– Break apart the pork chops with a fork (while still in the slow cooker or crock pot)
– Add and mix the rest of your barbecue sauce.
Finish Cooking The Pork Chops
– Cook for a further 10-15 minutes.
Shred Apart The Meat For Pulled Pork
– Remove the pulled pork chops.
– Shred the pork with two forks or bear claws.
What Other Cuts Can Be Made Into Pulled Pork?
Other than pork chops, some other cuts can be done the same way for pulled pork.
Your standard loin pork steaks will work just as well due to the fat-to-meat ratio.
Note: Avoid pork tenderloin for pulled pork.
A tenderloin contains hardly any fat or connective tissue!
This means the proteins are more likely to dry out when slow cooking.
Plus it won't be as flavorful!
What If I Don't Have A Slow Cooker Or Pork Chop?
You can bake and slow-cook the pork chops in the oven on low heat if so!
Each step will be the same except for the cooking stage.
– Wrap the marinated chops in aluminum foil and bake for 1 hour at 250°F.
– Break apart the meat and add a dash of liquid and BBQ sauce.
– Wrap back in the foil and cook for a further 1 hour.
Summarizing Using Pork Chops For Pulled Pork
– You can substitute pork chops for the shoulder or butt when making pulled pork.
– The chops contain less fat so the meat won't be as flavorful.
– Add a liquid and the barbecue sauce to help give the meat a silkier texture.
– Don't boil the chops.
– Add other ingredients to help build extra flavor and texture.
– Slow cook the chops at a lower temperature.
Smoke On!

Charlie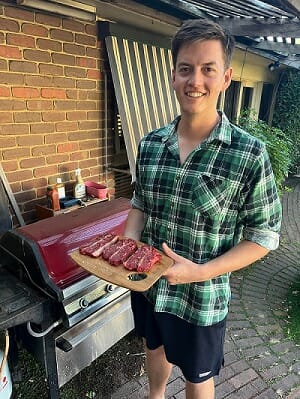 Author: Charlie Reeves
Hi, I'm Charlie, I am head taste tester at Simply Meat Smoking! I love it grilling, smoking, and getting out in the yard with the kids! The family also love to test all my recipes (especially my EXTRA CRISPY pulled pork, smoky pork loin, and ANY SEAFOOD I grill)
You will usually find me playing with the kids, perfecting my brisket bark, or sipping beers with boys around the fire. Can't wait to share all my delicious smoking and grilling adventures with you!

You can read more on our About Us page.
Hungry For More?