Craving the umami taste of tapas but can't find any serrano ham at the deli?
You might need an alternative for serrano ham!
The nutty taste and richer flavor of this ham are from the breed of pig used.
A specialist ingredient but we have a wide variety of the perfect substitutes.
My Top Alternatives for a Serrano Ham
Below are some popular types of dry-cured meats that are a good alternative for serrano ham. 
Hope you enjoy our suggestions!
Italian Prosciutto
For all the tasty cured pork in Spain, you can guarantee the Italians do it just as well!
Prosciutto is textually the same as Serrano which is thinly sliced.
Made from the same cut (the hind leg from pork) and a similar curing process.
Typically a bit more expensive than its Spanish cousin, with a mild and sweeter flavor.
This is due to the lower fat content in the diet of the different types of pigs.
Although some slight differences, we think Prosciutto makes the best substitute.
Enjoy a glass of Spanish Tempranillo and close your eyes.
You might just fool yourself!
Want to try my smoked prosciutto wrapped in brie recipe?
Bayonne Ham
Keeping up with the European theme (because they do it best) we have the French Bayonne ham.
Like the French taste for crafting breakfast pastries, Bayonne ham has a very sweet taste.
Less spicy than you would find in the original recipe for Serrano.
This popular meat is sold as the whole pork leg and then thinly cut.
Each Bayonne Ham comes with a stamp of authenticity and matches the quality of Serrano.
The oily texture when cut into paper-thin slices will please anyone looking for a fix!
Serve as part of a tapas spread with baguette bread and real unsalted butter.
Speck (Italian Bacon)
Our second Italian alternative!
This air-dried and cured ham also comes in different varieties based on the country.
The term 'speck' is associated with different forms of European pork products.
We are focusing on the Italian version because we think it's the best alternative to Serrano.
This Italian bacon variety of speck is made from pork leg meat.
A poorer quality than you would expect from Serrano with less fat and salt content.
Commonly a dry-cured ham that is smoked.
The smoky flavor is developed and pronounced as the start of a great pasta recipe.
Try this as a cheaper but equally tasty alternative to Prosciutto and Serrano.
Rollito Vegano Jamon Ham (Vegan Serrano)
A vegan Jamón Serrano ham you say?
Don't knock it until you try the selection from this company recently founded in Spain.
Boasting a waiting list in the hundreds after receiving positive reviews.
Rollito Vegano sells 100% vegan Spanish dry-cured meats to dazzle and confuse the senses!
Mimicking the texture, taste, and deep red color from a handful of ingredients.
Have fun exploring other options for this specialty food.
Alternative meat products are good for the environment and lower the slaughter of animals.
A perfect substitute for your tapas meal is the substitute!
Smithfield Ham
The next alternative is a little closer to home!
The country ham manufactured in Smithfield, Virginia uses traditional processing methods.
Different from Serrano as it is smoked and needs to be cooked.
The texture of Smithfield ham is stringy, unlike the smoother Spanish delicacy.
But even with the differing qualities, Smithfield ham has an intense flavor and color.
A sweeter taste comes through once cooked and sliced thin.
Enjoy this with some English mustard on a bread roll.
The smoky and savory flavor of the ham also pairs well with antipasto ingredients.
What Is Serrano Ham & Why Is It Popular?
We've covered that Serrano ham comes from pork leg and is salt-cured.
Sliced very thin with specific equipment and is usually done by a professional.
Some of these hams can fetch up to $4000 on the more expensive brands.
So what makes this product a national food icon?
– Curing pork has historic relevance to the Spanish and Europe.
– Age-old traditions protected under the European Union.
– Selected breeds of white pigs raised on a natural diet.
– Cured from 7 to 6 months using salt and a unique drying process.
Note: The more expensive Jamón ibérico is produced from an Iberian pig.
Farming and raising are restricted to the mountain regions of Southwestern Spain & Portugal.
Left to roam the countryside, they feed on acorns and are cured between 14 and 36 months.
What Does Serrano Ham Taste Like?
The distinct flavors found in types of Serrano ham are strong like aged cheese.
It has a very high-fat content that has developed over a long curing time.
Serrano ham isn't smoked or packed with sugar.
Serrano-cured ham has nutty and aromatic notes that pair well with acidic ingredients.
Go and try it!
What Is the Best Way to Eat Serrano Ham?
Enjoying food and flavors is very much a personal experience.
Traditional tapas bars layer the meat on crackers or bread with olives.
Served next to fried potatoes and garlic olive oil.
Grilled octopus and white anchovies.
We love enjoying this delicious product on its own to appreciate its complexity.
But as always, enjoy the way you want to, and don't be afraid to get creative.
Even with such a heritage ingredient like Serrano ham.
Smoke On!

Charlie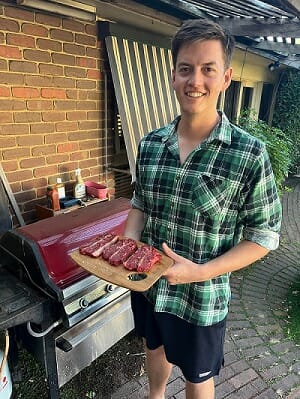 Author: Charlie Reeves
Hi, I'm Charlie, I am head taste tester at Simply Meat Smoking! I love it grilling, smoking, and getting out in the yard with the kids! The family also love to test all my recipes (especially my EXTRA CRISPY pulled pork, smoky pork loin, and ANY SEAFOOD I grill)
You will usually find me playing with the kids, perfecting my brisket bark, or sipping beers with boys around the fire. Can't wait to share all my delicious smoking and grilling adventures with you!

You can read more on our About Us page.
Hungry For More?