Want to 'sharpen' your carving skills before cooking a delicious ham?
I am here to help!
A correct carving technique gives you more meat and lowers the chance of injury.
You can also use leftover ham bones for a variety of delicious recipes.
Let's get slicing!
Should You Remove The Bone Before or After Cooking?
It is best to remove the bone after cooking or smoking the ham. The extra flavor in the bone will permeate the ham.
It's also easier to remove bones from tender cooked meat.
Want to remove the bone before cooking?
You can either ask your butcher to remove it before purchase or follow the steps below.
How To Remove The Bone From Bone-In Ham
Below is a complete guide to properly carve and remove a ham bone.
Allow 7-8 minutes of carving time.
Equipment Required
– Carving knife (or a large sharp knife)
– Carving fork (or regular fork)
– Carving board (or a big enough standard cutting board)
– Pairing knife (or a short sharp knife)
Note: Having the right equipment tailor made to the process is key. For example, a carving board has groves to catch meat juices.
STEP 1 – Remove The Meat
– Ensure the cutting board is firmly secure. (Lay a dish towel underneath if slipping)
– Lay the ham down on its side.
– With the pairing knife, follow each muscle at the same level as the bone.
– Rotate the ham as you cut each muscle away from the bone.
Safety Tip: Cut away from your body and use the carving fork to stabilize with your other hand.
STEP 2 – Removing The Bone
The center femur bone is what you are removing. This is one of the largest bones in the animal and is surrounded by connective tissue.
– Once the top and side muscle meat is removed, turn the so the bone is facing up.
– Slice down as close to the bone wall as possible.
– Completely remove the bone.
STEP 3 – Save The Bone
– Place the bone in an airtight container.
– Wait until cooled.
– Keep in the freezer until use.
Note: Read further for some bone recipes I love to cook!
STEP 4 – Slice The Meat & Serve
– Slice against the grain into perpendicular slices. (I like my bits of meat 1/4 inch thick)
– Serve with a sticky glaze to hungry mouths!
Recipe Ideas For A Ham Bone
Bones have great flavor profiles and packed full of nutrients.
Why not use it for a hearty soup with your favorite types of beans?
A winter warmer packed with dietary fiber.
Or simmer in cooking water for 24 hours to produce a broth flavored with garlic cloves and a bay leaf?
Or give it to your dog!
Smoke On!

Charlie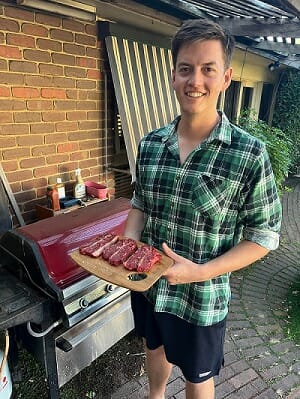 Hi, I'm Charlie, I have been meat-smoking and grilling for the past 15 years. I have an array of different smokers, thermometers, and have a love for finding the right wood and charcoal combo My favourite recipes are my EXTRA CRISPY smoked pork belly, juicy pulled pork, smoked brisket, duck poppers, and ANY SEAFOOD I grill).
I loves sharing his tips with beginners, helping them navigate the world of smoking. I find it's not just about cooking; it's a quest for that perfect smoky flavor.
You will usually find me playing with the kids, perfecting my brisket bark, or sipping beers with boys around the fire. Can't wait to share all my delicious smoking and grilling recipes with you!

You can read more about me on our About Us page.
Hungry For More?