Apple cider vinegar is commonly used in a lot in BBQing.
From sauces to marinades and spritzing.
But if you don't like it?
Or maybe you have run out?
You'll want an alternative for apple cider vinegar.
What Does Apple Cider Vinegar Do for Pulled Pork?
There are many tricks of the trade when it comes to BBQ.
From the seasoned pitmaster or backyard amateur.
Everyone has a secret ingredient or cooking process that they swear by.
Cider vinegar in BBQ is a not-so-little secret that everyone should use!
You see, BBQ is about controlling the elements and environment…
As it is about the tasty pork chops or slow-cooked pork butt for brisket.
Chemical reactions like The Milliard take place.
The caramelization of sugar creates a whole new flavor profile.
Apple cider vinegar has 2 uses for creating pulled pork.
The first is that it contains 5-10% acetic acid.
This acetic acid will break down meat protein enzymes.
While also helping to tenderize the pork through marinating.
This helps the meat soften and gives an extra tangy flavor.
The second is that you can spray more significant cuts of meat with vinegar as it cooks.
This will contribute more protein moisture, slowing the cooking process.
Slowing down the cooking process with moisture helps develop what's known as a 'bark'.
It covers the meat and is formed from brown sugar caramelization, smoke, and moisture.
The moisture comes from the cider vinegar!
The Alternatives for Apple Cider Vinegar
So with the science out of the way we can focus on my top substitutes.
We are looking for a similar acid profile.
The acetic acid concentration is important.
But let's not forget the flavor profile.
A sour-sweet taste goes well for extra flavor with the pork.
Different Types of Vinegar
It is common knowledge that there are many different vinegar varieties.
All for different uses and recipes!
Do you layer your hot English "chips" with malt?
Or add balsamic to salad dressings?
The below vinegar makes an excellent substitute for apple cider vinegar.
Red & White Wine Vinegar
Red and white vinegar make great substitutes for apple cider vinegar.
Because they all come from fruit!
They share the same acidic fruity flavor tones.
They also are easy to obtain and economically friendly.
Rice Wine Vinegar
Rice wine vinegar is from fermented rice and has a sharp taste.
It is used widely in Asian cuisine, especially marinades!
Due to the sharp and tart taste, I reccomend only using a little.
The acidity has a very similar profile to that of apple cider vinegar.
You will be able to pick up a bottle in most stores
Sherry Vinegar
Sherry vinegar is my favorite tasting vinegar. It is sweet and has aromatics of citrus fruits.
This is my perfect replacement for apple cider vinegar.
Oh, and the acidity is bang on the mark!
Plain White Vinegar
This is perfect if you want a balanced flavor profile.
It isn't as strong as apple cider vinegar.
Balsamic Vinegar
Balsamic vinegar has a sweeter flavor profile.
So this is a good alternative if you like a lighter vinegar.
Fruit Juices
Don't have any vinegar or fancy a change?
Citrus juice comes to the rescue!
Lime Juice
Making mojitos?
Save some fresh limes for your BBQ!
Limes are my top recommendation.
They contain the perfect amount of acid and plenty of flavor.
The lemon comes close but I find a splash of lime juice works better in a marinade.
Enjoy!
Lemon Juice
Who doesn't love summary fresh lemons?
I know I do but so does your pulled pork!
Natural and fresh, a splash of lemon juice is all you need to get that beautiful bark.
While also marinating.
The natural sharp juice makes a great alternative to apple cider.
Apple Juice or Apple Cider
Who would have thought I would be replacing apples for apples?
Why not go for the real thing and swap for apple cider or fresh juice?
Apple juice contains less acid than vinegar but you could always add a drop of lemon juice there.
The sweetness you get at the end is unbelievable.
Try it!
Orange Juice
My last fruit juice recommendation is orange juice.
Go for freshly squeezed and not from concentrate.
Like apple juice, the acidity level isn't as high as lime or lemon.
But still enough to break down the proteins and leave you enjoying tender meat.
The sweet orange helps form a thick and beautiful bark.
Add a touch of kosher salt to it before spraying.
My Last Alternative
My last alternative is more for introducing moisture than for marinating.
This is because it doesn't contain the acetic acid level we need to break down the proteins.
I hope I have given you some food for thought about how you can replace this barbecue stable.
I hope you enjoy it.
Beer
A mild-flavored beer is great if you wish to rehydrate a piece of meat.
It adds a fermented sour flavor tone that isn't overpowering.
While it also takes longer to evaporate due to the alcohol content.
I like to spray pork shoulder with a local amber ale.
It creates a nutty distinct flavor in the bark.
You could also select a darker ale to test on some homemade bbq sauces.
I'm sure your guests wouldn't mind!
Cheers!
Smoke On!

Charlie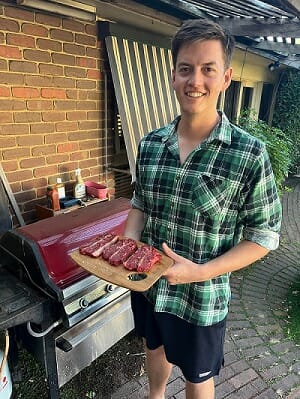 Author: Charlie Reeves
Hi, I'm Charlie, I am head taste tester at Simply Meat Smoking! I love it grilling, smoking, and getting out in the yard with the kids! The family also love to test all my recipes (especially my EXTRA CRISPY pulled pork, smoky pork loin, and ANY SEAFOOD I grill)
You will usually find me playing with the kids, perfecting my brisket bark, or sipping beers with boys around the fire. Can't wait to share all my delicious smoking and grilling adventures with you!

You can read more on our About Us page.
Hungry For More?