Wondering if you can brine chicken too long?
Chicken can taste bland and dry during the cooking process.
Applying a brine solution can enhance the natural flavors and help retain moisture
So giving it some help with a brine mixture is a no-brainer.
But is there a time limit?
Yes, There Is a Limit to the Brining Process for Chicken
There is such a thing as 'over brining' your chicken meat.
But don't worry! Below you'll find out exactly how long you can brine chicken.
And more importantly, how long you should be doing it.
What Is the Brining Limit for Chicken?
The lean meat proteins in chicken can be delicate.
There is less protection and resilience due to its low-fat content.
Do not brine your chicken for longer than 24 hours. You shouldn't also brine a turkey for more than 24 hours.
What Happens if You Brine Chicken Over 24 Hours
I mentioned briefly what a brine will do for meat.
If you brine the chicken for over 24 hours it will have the opposite effect!
The meat proteins will break down.
This removes the flavor profiles with a salty taste.
And produces mushy meat instead of a tender texture.
Below is an in-depth explanation of what a solution of salt does to chicken meat.
How Long Should a Brine Be Applied?
The length of the brine depends if you are cooking a cut or the entire bird.
Every part of the chicken can be marinated.
The Whole Chicken
If you plan on marinating and cooking a whole chicken then I recommend you spatchcock it.
This is when you flatten it out by removing the spine with scissors.
It will give you more surface area to apply an even brine.
Brine for up to 24 hours.
The Chicken Legs or Thighs (Known as Chicken Quarters)
Make small incisions with a knife in the meat to the bone.
Brine for up to 6 hours.
See how I smoke chicken quarters here
Skin-on or Skinless Chicken Breasts
To help tenderize the chicken breast just small incisions with a knife through the skin into the breast meat and apply the brine.
Brine for up to 4 hours.
A Complete Guide to Brining Chicken
Below is everything you need to brining raw chicken.
Before starting you should consider basic food safety principles.
– Pay attention to what the raw meat has had contact with.
– Do not leave raw chicken at room temp for over 30 minutes.
– Refrigerate during the brining process.
What Is a Brine?
A brine is treating food with a salt concentration.
In our case will are discussing raw chicken.
The two main types of bringing are wet and dry.
What Does a Salt Concentration Do for the Chicken?
When meat is brined and exposed to salt it penetrates on a cellular level.
Right into the muscle fibers and protein structure.
The salt molecules permeate the meat in the same way by extracting moisture.
This stops muscle contractions during cooking.
The salt also adds new flavor profiles by changing the chemical structure.
Bringing out new flavor molecules.
Are There Different Types?
The two main types of bringing are wet and dry.
These can vary with the types of additional ingredients used for seasoning.
Like a buttermilk brine for fried chicken.
Or a standard brine with fresh herbs and peppercorns.
Wet Brine
A wet brine is created by adding sodium into cold water which in turn makes a water and salt solution.
Dry Brine
A dry brine applies a concentration of kosher salt to the meat before cooking without water.
It is liberally covering every area to form a crust which is then removed.
Which Type Is Best for Chicken?
The ideal brine type of brine for chicken is wet brine.
A chicken is a smaller bird that can be submerged easily.
Plus a dry brine is usually applied for longer than 24 hours.
See my favorite spicy chicken brine recipe here.
How Do I Apply a Wet Brine to Chicken?
The different methods of a wet brine application come in 2 forms.
Injection brining or injection marinating with a flavorful liquid.
Or a complete submersion of the chicken meat in your liquid brine ingredients.
Brine Submerged
The standard for a wet brine is submerging your chicken pieces or bird.
Make sure you find a container big enough and see how much water you need.
Then simply put them in!
Injection of Your Brine Recipe
The injection method uses a meat injector to insert a brine solution.
The liquid ingredients will go deeper into the muscle tissue (meat).
This is popular for larger cuts of meat like brisket or a whole turkey.
You can inject a chicken but I find it is a waste of time and resources.
Chicken Brine Recipe Example
The ratio of salt to water in a wet brine is as followed;
– 1 cup of water (230ml) to a tablespoon (14 grams) of salt.
The brine solution should be enough to cover the chicken.
Dissolving Salt in the Water Before Bringing Your Chicken
Fill the desired water amount in a saucepan with your measured salt.
Regular tap water is fine.
You want to gently bring it to a boil until all the salt is dissolved and then let it cool to room temperature.
Tip: Use your favorite salts like pink Himalayan or a gourmet kosher salt.
Adding Flavorings to the Brine
So you've got your brine cooling after dissolving the salt in hot water?
Now is the time time to add any desired flavors.
I like infusing crushed garlic gloves and bay leaves.
Why not add a tablespoon of Worchestershire sauce or fruit juice?
Get creative!
Note: Be careful adding more salt in the form of soy sauce.
You do not want to over-season the mild flavor of the chicken.
Other Considerations When Brining Chicken
I'll leave you with some brief considerations when brining chicken.
Remember, don't go over 24 hours!
Excess Salt in Your Chicken Recipe
Measure the ratios carefully for the concentration of salt.
Contrasting Flavors
Do the flavors in your brine complement the flavors in your spice rub?
Smoke On!

Charlie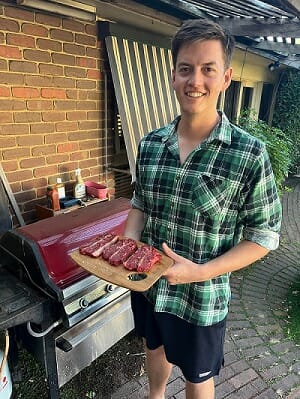 Author: Charlie Reeves
Hi, I'm Charlie, I am head taste tester at Simply Meat Smoking! I love it grilling, smoking, and getting out in the yard with the kids! The family also love to test all my recipes (especially my EXTRA CRISPY pulled pork, smoky pork loin, and ANY SEAFOOD I grill)
You will usually find me playing with the kids, perfecting my brisket bark, or sipping beers with boys around the fire. Can't wait to share all my delicious smoking and grilling adventures with you!

You can read more on our About Us page.
Hungry For More?