Want to know what pellet grills are made in the USA?
I only think it's right to appreciate each little step in achieving great food…
BBQ culture has strong roots here in the US.
So its good to support the brands that are still manufactuered here!
Without getting too patriotic!
Here you'll which brands are manufactured right here in the USA.
Our List Of American Made Pellet Grills
Below some of the brands are manufactured right here in the US in no particular order.
I do quickly want to state that the general price range tends to be higher when buying from American manufacturers.
This is because of government regulatory policies and higher quality materials.
But who can put a price on a reliable machine that provides countless tasty experiences?
I can't.
MAK Grills – https://makgrills.com/
Mak Grills are family-run and based out of Dallas, Oregon.
Mak Grills have been producing high-quality pellet grills since 2008 after the great depression.
Sparking from a love of backyard BBQ, Mak Grills delivers a wide range of models to choose from.
Theyalso boasts of being the first company to design a direct heating system and Wifi technology.
Mak Grills states that they are a:
"pellet manufacturer that cares about building long-lasting, innovative, American-made products. We've designed our Mak smoker grills to exceed your expectations and deliver an unparalleled outdoor cooking experience. We also care about people."
Check them out!
Yoder Smokers
One of the first statements Yoder Smokers give on their about page is that they are not your typical store BBQ.
Yoder smokers explain that they are an American-made product designed for competition performance that won't let you down on things like heat retention or wood pellet wastage.
The multiple pellet grill designs they have will meet the needs of any occasion with the larger commercial grills at Yoder Smokers weighing in at 1,200 pounds!
Take a look at Yoder Smokers and their grill models now even if it's not a commercial grill you're after but want lots of freedom with lots of inches of cooking space!
Grilla Grills
Grilla Grills stand out from the crowd from other pellet grill brands because of their design and shape.
Starting 8 years ago and based in Michigan '2 guys' casually reinvented the standard design and performance of other popular models.
The Silverbac from Grilla Grills is named after a mountain gorilla and is advertised to be made with the finest materials in America.
If you check the website, Grilla Grills Mark Graham has multiple videos explaining how the grills work in great detail.
Plus how their wood pellet smokers perform with a variety of foods.
Go and have a look at the American-made hardware at Grilla Grills.
Louisiana Grills
Another one of the great pellet grill brands, can you guess where Louisiana grills are based?
This company states they have gathered expertise from chefs when designing their product range to make a fantastic pellet grill that is technical and user-friendly.
Louisianna Grills was founded in 1999 by Dan Thiessen.
His specialty was engineering valve-based products and innovation in his manufacturing plants.
They even have a portable pellet grill that goes beyond your traditional style pellet grills.
Traeger Grills
Joe Traeger from Traeger grills has to be one of the biggest names in BBQ.
He built his company in the late 80s.
He was the first to design and sell a pellet grill which started the innovation for other companies to follow after the patient expired.
Traeger pellet grills were the first to keep down manufacturing costs and provide constant temperature control that other grills were not able to achieve at that time.
Joe Traeger at Traeger grills started the original pellet grill right here in the USA, Oregon.
Unfortunately, it has to be said that after selling the company in 2006 the newer ranges are made overseas.
I still wanted to include Traeger, however, because the older models that are still sold were manufactured here.
Plus Joe Traeger has such a solid standing within the BBQ communities and Traeger grills remain one of the biggest pellet grill brands.
See the declious BBQ recipes we have thrown together!
Smokin' Brothers
Hailing from Southeast Missouri in Cape Girardeau, the Smokin' Brothers' desire to produce their wood pellet grills started from family gatherings and competing in BBQ competitions around their neighborhood.
These guys have a great range of quality standards we expect ranging from a more lightweight grill or charcoal insert commercial pellet grills.
That being said, the price range of Smokin' Brothers products will sure work for any budget.
While still not forgoing specialist cooking settings like a control screen or the inches of cooking space.
What Is A Pellet Grill?
So what is a pellet grill you ask?
I'll try to give you a quick rundown without rattling on!
Below I have broken down the components like in my previous writing and I'll just quickly state that from personal experience these outdoor cooking gadgets help you perfect BBQing from start to finish.
I have owned a gas grill and charcoal grills in my time which have been fine.
But when I switched over to pellet smokers it was like learning to ride a bike again.
I think the most beneficial for me was the fact I can smoke a brisket totally hands off for 10 hours with total control
The freedom makes planning dinners with your loved ones so much more fun.
So the reason I have examined the intricate parts for you (and there is more, trust me) is that I want to get across just how much work, time and materials go into this quality product.
They are a mini-computer in shiny armor able to process cooking data wirelessly to your phone.
Plus maintain a constant temperature within the cooking chamber when it's cold outside!
Power & The Electrical Components
– They are powered usually by a 120v socket
– LCD screen to monitor, control and troubleshoot issues
– Electrical ignition of natural hardwood pellets
– Various cooking, priming, and shutdown cycles
– Electrical fan to move heated air and control the internal temperature
– Sensor probes
– Wifi technology
The Barrel Frame
– Typically high-quality stainless steel treated with a weatherproof primer
– Easy portability with wheels
The Hopper & Hardwood Pellets
– Large hopper to store the hardwood pellets for hours without refilling.
– Various types of pellets with different flavor profiles.
– Electrical auger motor ensures control of pellets.
Ignition & Cooking Chamber
– Electrical ignition ensures minimal waste and constant heat.
– Fan pushes the heat up into a large cooking chamber with plenty of cast iron grill grates.
– High amount of square inches in cooking space (dependant on model and make).
Grease Trap & Waste
– No-fuss and accessible waste traps which are easy to clean.
– Large drip tray to catch excess cooking fats or liquids.
Why Is Buying American-Made So Important?
So what is the obsession with US pellet grill manufacturers and American-made products?
I've broken down a few key reasons to help us understand why we should stick to the USA.
Boosting The Economy
Our society is money-driven and that's all I have to say about that without talking about economics.
Buying from a locally owned company will keep the money in our government and thus, in our pockets.
Local businesses pay taxes and this boosts the total GDP of the country.
Retaining US Manufacturing Jobs
The same as the above, local employees pay taxes which boosts the total GDP of the county.
It's also nice to know that families just like you and I can maintain the standard of living they want by keeping their jobs because you have wanted their services.
In some cases, whole towns or societies are funded by a large industrial workforce of manufacturing jobs.
If there was no one buying their product then it has a trickle-down effect.
This whole country was founded on the right to free-market trade and we are still the largest economy in the world.
Quality Materials
In the USA there are more regulatory requirements to use safe and quality materials.
These quality materials are also brought from the USA and are trustworthy and tested to provide the best performance.
If the materials are not up to spec then a USA company is way more accountable than an offshore online purchase.
Experienced Based Expertise
Too often the people that have spent their whole life building up a company through passion will give a better product than just a cash-grab that is overseas and don't even use or care about the culture.
User reviews are also available for feedback which helps you make a purchase you won't regret.
Better For The Planet
Less shipping and transportation = less carbon in the atmosphere.
Stops Slave Labour
Typically companies based overseas don't have policies in place to protect the worker.
I don't need to tell you that the shoes you wear were likely made by a child working 10 hours straight for 10 cents.
Try not to directly fund these evil tyrants (yes I'm dramatic) that abuse poverty and have bad working and dangerous environments.
A Non-American Made Grill To Note
Lastly, I want to quickly add a popular product that comes from a Chinese pellet grill brand.
The Pit Boss grill range for a wood pellet smoker is a great budget pellet grill .
It is available multinational to achieve typical wood pellet grill features at a cheaper price.
I will concede a few of my points by saying that we know not everyone can afford to spend lots of money on things like quality 304-grade stainless steel or a more advanced pellet grill.
The Pit Boss range is a popular pellet grill to buy if the cost of a USA-built typical pellet grill is out of the question.
I have personally used these and features like indirect cooking, cold smoking, and maintaining the cooking temperature still function very well.
Happy grilling guys!
Smoke On!

Charlie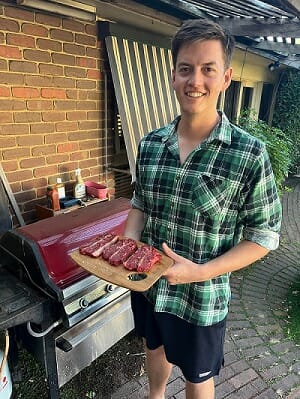 Author: Charlie Reeves
Hi, I'm Charlie, I am head taste tester at Simply Meat Smoking! I love it grilling, smoking, and getting out in the yard with the kids! The family also love to test all my recipes (especially my EXTRA CRISPY pulled pork, smoky pork loin, and ANY SEAFOOD I grill)
You will usually find me playing with the kids, perfecting my brisket bark, or sipping beers with boys around the fire. Can't wait to share all my delicious smoking and grilling adventures with you!

You can read more on our About Us page.
Hungry For More?