Ground brisket is versatile, tasty and easy to cook. 
We love cooking with brisket because of some of the incredible flavors it comes with.
Looking for some inspiration for your next ground brisket dish?
No worries.
We've searched to bring you the best ground brisket recipes with amazing flavor.
Have a read of the guide below to find out what you'll be making with ground beef next. 
Texas BBQ Brisket Meatballs
This amazing brisket meatball recipe combines all of our favorite things together.
To check if they're cooked insert a thermometer into the thickest portion of the meatball.
For something a bit different cook the brisket meatballs in San Marzano tomato sauce.
Freshly Ground Brisket Burgers
Beef patties are a family favorite and a perfect way to feed the masses.
The cooked brisket makes this an extra juicy burger.
You can prepare the hamburger meat the night before, so they're already to cook on the day.
BBQ Beef Brisket Tacos
The aromatic flavor of this BBQ brisket will kick taco Tuesday up a notch.
Top your tacos with refried black beans, cheddar cheese and sour cream.
Be sure to let the brisket cool for 10-15 minutes before serving to let the flavors blend.
Find the recipe on Pinterest: https://www.pinterest.com.au/pin/533254412141348242/
Brisket Meatloaf
A favorite for meal prep, this recipe is great for using up leftover brisket.
This meatloaf is extra tasty because it involved bacon-flavoured Ritz!
Season the meatloaf with fresh ground pepper and tablespoon kosher salt.
Find the recipe on Pinterest: https://www.pinterest.com.au/pin/57983913943706713/
Smoked Brisket Chili
Ready to take your chili recipe up a notch?
This smoky brisket chili is a hearty meal and has tons of flavor.
Make the chili up in the slow cooker, turn down the temp and let it simmer for the day.
Brisket Grilled Cheese Sandwich
This brisket sandwich is the ultimate comfort food.
It is also incredibly quick to make and only takes 5- 8 minutes.
Feel free to play around with the fillings and use different bread depending on what you have on hand.
Pinterest: https://www.pinterest.com.au/pin/111675265751751305/
Brisket Burrito
For those that are after more Mexican food, step this way.
This is a popular meal, that needs only 12 burrito-sized tortillas and some fillings.
If you're looking for some more spice, add some Texas chili seasoning or chili powder.
Pinterest: https://www.pinterest.com.au/pin/425801339779729256/
Brisket Bolognese
For a dish with a longer cooking time, try brisket in Bolognese sauce.
Let the sauce simmer in a crock pot for several hours to get a meaty flavor.
You can serve it with pasta or use it alongside mashed potatoes or for pies.
Pinterest: https://www.pinterest.com.au/pin/413205334559559216/
Ground Brisket Pie
Looking for something to warm you up in the cool weather?
If you're in a baking mood, try this hearty and delicious shepherd's pie.
Sprinkle the pie with some mozzarella cheese and serve it up for a weekday dinner.
Ground brisket is a fantastic addition to any dinner.
It works in so many different dishes and is effortlessly tasty.
So, grab your meat grinder, and piece of brisket, and get cooking!
Whether you're a burger enthusiast, jumbo meatballs fan or wanting to use up leftover tomato passata.
There is a ground brisket recipe out there for everyone.
What is your favorite ground brisket recipe?
Smoke On!

Charlie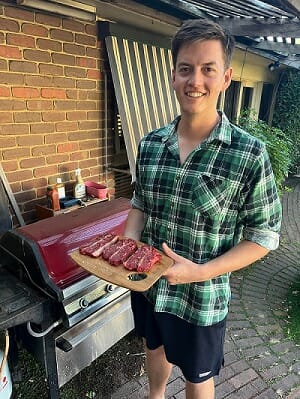 Author: Charlie Reeves
Hi, I'm Charlie, I am head taste tester at Simply Meat Smoking! I love it grilling, smoking, and getting out in the yard with the kids! The family also love to test all my recipes (especially my EXTRA CRISPY pulled pork, smoky pork loin, and ANY SEAFOOD I grill)
You will usually find me playing with the kids, perfecting my brisket bark, or sipping beers with boys around the fire. Can't wait to share all my delicious smoking and grilling adventures with you!

You can read more on our About Us page.
Hungry For More?