Are you serving turkey necks at your family dinner? But not sure sides should you include with the turkey necks?
It can be stressful to create a menu, but we're here to help.
Keep reading for the best side dishes to go with turkey necks!
Have You Smoked Turkey Necks Before?
Turkey necks are southern comfort food. The meat falls off the bones when prepared correctly.
Our favorite way to cook turkey necks is by smoking them! The meat just falls off the bone!
You can also cook turkey necks on the stovetop, in a slow cooker, or in a pressure cooker.
My favorite is using a slow cooking method, that way you will have plenty of time to prepare delicious side dishes.
Since turkey necks are Southern-style food, we will feature Southern side dishes.
What Goes with Turkey Necks?
Below are nine of my favorite sides for turkey necks!
Collard Greens
Collard greens are a Southern staple.
They are a great source of nutrition and complement this mouthwatering meat.
They're also easy to make! In addition to kosher salt and black pepper, you only need a few ingredients.
This is perfect for the beginner cook and will impress your family.
Black-Eyed Peas
Black-eyed peas are another Southern favorite. Also known as Hoppin' John, this dish is a traditional part of New Year's celebrations.
Chop up several vegetables for this dish with bold flavors.
It's a pretty easy dish because you cook the ingredients in a chicken stock mixture on the stovetop.
Southern-Style Green Beans
Did you know green beans and string beans are the same?
They get the name from a string in the bean pod.
Bacon and garlic cloves are essential to capture that southern essence!
Whether you call them to string beans or green beans, they will complement your turkey.
Red Beans And Rice
Serving turkey necks on a bed of rice is a delicious idea!
Some people exclusively serve their necks with rice.
By adding red beans, you have quite a hearty meal with amazing flavor.
While you can use brown or white rice, this recipe calls for jasmine.
Mustard Greens
Mustard greens are similar to collard greens. They have a deep flavor that is a bit peppery.
The additional flavor makes them quite delicious.
With some red bell peppers, you'll have a side dish with an awesome flavor!
They're also easy to make on a busy cooking day.
Fried Potatoes
Meat and potatoes are a match made in heaven! This combination is truly the perfect comfort food.
These pan-fried potatoes offer savory flavors.
The recipe is easily adjustable.
Maybe you want to add bell peppers or hot sauce?
Cabbage
Cabbage is a great side dish for any fall-off-the-bone meat!
With the proper spice blend, it can be quite tasty, too!
This recipe for southern fried cabbage has a pretty short cooking time.
That's perfect for a side dish.
You'll probably want to save a recipe card with this dish!
Potato Salad
Most of the featured side dishes are best served hot.
Potato salad is a great way to mix things up!
Since potato salad is best served cold, you can make it the day before.
Southern potato salad can be tangy.
Adjust the spice level by using more or less black pepper.
Macaroni And Cheese
This is another soul food classic.
Even the pickiest of eaters won't turn down macaroni and cheese!
Smoked macaroni and cheese is one of my favorite recipes.
You'll want to put the baking dish on the dinner table so everyone can help themselves to seconds!
Find The Recipe Here:
Sweet Potatoes
Brown sugar sweet potatoes are another excellent side dish.
This recipe offers a sweeter option than some of the other savory side dishes.
This stovetop recipe is pretty easy to make!
A nice batch of sweet potatoes will bring a balance to the dinner table.
If you're in the mood for southern comfort food, you might want to try your hand at tender turkey necks!
These side dishes complement fresh turkey necks. And they are sure to be favorites in your household.
It may take some extra time to prepare several sides, but it will be worth it if you use these recipes!
Smoke On!

Charlie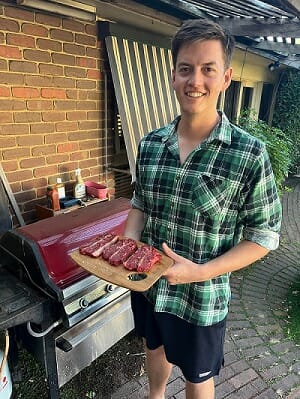 Author: Charlie Reeves
Hi, I'm Charlie, I am head taste tester at Simply Meat Smoking! I love it grilling, smoking, and getting out in the yard with the kids! The family also love to test all my recipes (especially my EXTRA CRISPY pulled pork, smoky pork loin, and ANY SEAFOOD I grill)
You will usually find me playing with the kids, perfecting my brisket bark, or sipping beers with boys around the fire. Can't wait to share all my delicious smoking and grilling adventures with you!

You can read more on our About Us page.
Hungry For More?