Wondering if you can use prime rib bones for broth?
A batch of bone broth is a healthy and hearty soup.
The nutrients and fat are extracted from roasted bones which produces an intense beef flavor.
But what types of bones are best for my soup stock? And can I use prime rib roast bones?
Prime Rib Marrow Bones For Bone Broth
The prime ribs of a cow are perfect for bone broth. They contain the base composition for flavor and health benefits.
I usually smoke prime rib for Christmas or a big cookout then use create my winter-warming beef bone broth recipe!
Why Are Rib Bones Perfect For A Broth?
Prime Rib bones tick all of the boxes!
Below I have highlighted the key reasons why these bones are best for beef broth.
Bone Marrow For Healthy Amino Acids
Beef bone marrow consists of collagen. This is a type of fat that contains a variety of amino acids.
These are the building blocks for your body's cells to function. These are:
Responsible for improving skin, muscle, and bone health.
Reduce inflammation.
Give healthy bacteria to your gut biome.
Layer Of Fat For A Delicious Flavor
The ribs are surrounded by intermuscular fats and connective tissue as well as actual meat proteins, worked hard by the animal.
Remember that fat equals flavor!
The Right Size
A cow is a large animal compared to the others we enjoy.
Chicken or pork bones are smaller and will require a bigger quantity. They also don't contain the same concentration of fat or marrow.
Making broth from rib beef bones will save you money. While also giving you a better result in regards to the quality of health and taste.
Can I Use Other Types In My Bone Broth Recipe?
You can use other types of marrow bones for your recipe.
Knuckle bones are popular from the knee joint. You might consider femur bones or neck bones.
Does It Have To Be From Beef?
Be creative!
Using pork or chicken bones will change the flavor composition.
Which is never a bad thing and is based on your preference. But I recommend you use a mix of marrow bones from beef ribs as the base for the broth.
What If My Bones Have Already Gone Through A Cooking Process?
You can use the bones from prime rib leftovers.
Part of the process is roasting the bones to extract all the goodness. Just be aware of general food safety and storage.
Our Method For Delicious & Healthy Bone Broth From Prime Ribs
I hope you enjoy the process of making this broth as you do drinking it.
The gentle aroma of your chosen aromatics infuses within the cooking liquid. It has a long cooking time but it will be worth it.
Which is understood when sipping a cup of warm bone broth. And relishing in the benefits!
Ingredients (Makes Around 20 Cups)
2 gallons of cold water
5 pounds of beef bones (prime rib)
1 pound of pork knuckle
1 pound of chicken feet
2 medium onions (yellow onion preferably)
5 cloves garlic
5 tbsps of whole black peppercorns
1 tbsp of crushed black pepper
Olive oil
3 tbsp kosher salt
1 large bay leaf
A whole star anise
Tbs chili flakes
Apple cider vinegar
3 celery stalks
2 carrots
Equipment
Saucepan, slow cooker, or a pressure cooker
Conventional oven
Slotted spoon
Airtight containers
Oven container lined with baking sheets
Mesh sieve
Knife
How To Select Prime Rib Beef Bones
Always buy your meat and bones from a butcher and share what you plan to do. They can help select the bones with the most marrow.
And cut and trim off any excess chunks of meat or connective tissue.
How To Prepare The Prime Rib Beef Bones
– Place the bones in the lined baking tray.
– Drizzle over the olive oil and vinegar.
– Leave for 20 minutes.
– Roast in the oven at a high temperature of 270°F until browned.
What Cooking Methods Are Best For My Broth?
The only cooking method you will be using is a gentle simmer in hot water!
Have a saucepan or type of slow/pressure cooker that fits the ingredients and water.
Apply low or medium heat for cooking the broth. The method will extract the nutrients and flavor in the bones and reduce to concentrate the flavor.
How Long Will It Take To Make?
The minimum time to extract the goodness from the bones is 5 hours. But you can go all the way up to 24, which is what I recommend.
How Will I Know A Broth From Beef Bones Is Ready?
Use a minimum of 5 hours as your baseline. After this timescale, use your slotted spoon to evaluate the bones.
Is any leftover meat falling from the bone? Are they soft and spongy?
How Do I Store My Prime Rib Bone Broth?
I like to freeze my broth until I need it. Once ready, let it cool to room temperature. Transfer in airtight containers and freeze it.
The broth can also be stored in the fridge for up to a week. Warm in a microwave when needed.
Step 1: Prepare The Bones
– As per above, gather your bones and chicken feet that have been processed by a butcher.
– Cover with the oil and vinegar.
– Roast in an oven at 270°F.
Step 2: Prepare The Ingredients & Cooking Liquid
– Put the water in your chosen cooking device.
– Bring up to a gentle simmer.
– Rustically cut the veg, leaving the skins on.
– Add the veg and the rest of the ingredients to the simmering water.
– Add the roasted bones (including any meat juices)
Step 3: Cooking & Skimming The Broth
– Simmer and skim any scum that gathers on the top.
– Reduce by half.
Step 4: Store & Enjoy
– When the broth has reduced for at least 5 hours, check as per above.
– If ready, remove from the heat and leave to cool.
– Filter out the bones and other ingredients.
– Store as per above.
– Enjoy!
Smoke On!

Charlie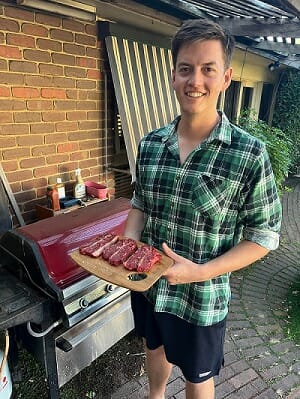 Hi, I'm Charlie, I have been meat-smoking and grilling for the past 15 years. I have an array of different smokers, thermometers, and have a love for finding the right wood and charcoal combo My favourite recipes are my EXTRA CRISPY smoked pork belly, juicy pulled pork, smoked brisket, duck poppers, and ANY SEAFOOD I grill).
I loves sharing his tips with beginners, helping them navigate the world of smoking. I find it's not just about cooking; it's a quest for that perfect smoky flavor.
You will usually find me playing with the kids, perfecting my brisket bark, or sipping beers with boys around the fire. Can't wait to share all my delicious smoking and grilling recipes with you!

You can read more about me on our About Us page.
Hungry For More?