Pork chops and applesauce, are the ultimate comfort food combo. Wondering how they came to be a consistent pair on the dinner table? Find out below!
Why Does Applesauce Go With Pork Chops?
 The sweetness of the apple compliments the rich taste of the pork and helps cut through the fat of the meat. The smooth soft texture of the applesauce offers a contrast to the chewy tender pork chop.
Historical Context
The centuries-old tradition was brought to America by the early settlers from Europe. They came to raise pigs and grow apples, hence the combination being a staple in their diets.
Cultural Context
Pork and apples are both symbols of wealth and comfort. Applesauce is a sweet and simple sauce used as a side dish to Pork loin chops.
Which is usually served for special occasions like family gatherings and holidays. Thus the combination is a staple American dish.
Cooking Technique
Together they are both versatile ingredients, because of the many ways we can cook them. Pork chops can grilled, smoked , grilled on a plank, salt block grilled, air-fried, baked, or pan-fried. While applesauce can be with a variety of sweeteners and spices, such as cinnamon and nutmeg.
How To Prepare Pork Chops
Below are the four ways in which you can prepare juicy pork chops.
How To Season Pork Chops
One can either season the chops with salt and black pepper on both sides or soak them in a marinade of seasonings. You can also rub in a mixture of seasoning.
Ways To Cook Pork Chops
Pan Fried
Season with salt and black pepper. Fry pork chops on medium heat for two to three minutes on each side in a heavy skillet coated with butter or olive oil. Fry thicker chops for 4-6 minutes for bigger chops and 2-3 minutes for thin chops on medium to high heat.
Grilled
Make a marinade of apple cider vinegar, honey, pepper flakes, and vegetable oil. Place pork chops in it and let sit for 1 hour. Remove from marinade and season with kosher salt and black pepper and place on a grill pan. Cook for 3-4 minutes on each side.
Baked
This method is better suited for thicker chops (3/4 inch). Coat chops in salt and black pepper. Add vegetable oil, Parmesan cheese, Italian seasoning, and breadcrumbs. Place on a tray or rack in a preheated oven and bake for 15-20 minutes.
Air Fried
Coat chops with salt and black pepper. Add mustard, brown sugar, onion powder, and other seasonings to the chops. Air fry for 12 minutes and then flip for 6 minutes at 400 degrees.
Note: The internal temperature of pork chops should read 145 degrees F on a meat thermometer.
How To Prepare Homemade Applesauce
Combine 4 cored apples in a saucepan with, 1/4 cup white sugar, 3/4 water, and 1/2 teaspoon cinnamon.
Allow to simmer on medium heat for 15-20 minutes or until the apples are soft.
Remove from heat, allow to cool, and mash with a fork to get the consistency you desire.
Serve with pork chops, no matter which way it's cooked.
This classic pairing that we will continue to enjoy for generations to come.
Smoke On!

Charlie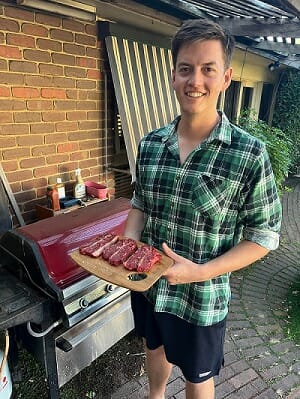 Author: Charlie Reeves
Hi, I'm Charlie, I am head taste tester at Simply Meat Smoking! I love it grilling, smoking, and getting out in the yard with the kids! The family also love to test all my recipes (especially my EXTRA CRISPY pulled pork, smoky pork loin, and ANY SEAFOOD I grill)
You will usually find me playing with the kids, perfecting my brisket bark, or sipping beers with boys around the fire. Can't wait to share all my delicious smoking and grilling adventures with you!

You can read more on our About Us page.
Hungry For More?