The military community is given discounts for a variety of products and services.
Do you have a military status or know someone who does?
A wide variety of pellet grill manufacturers are giving special deals.
Plus additional discounts.
Whether you are military personnel in active service or a veteran!
I want to share some amazing deals for you heroes!
Grab a hero discount today!
Pit Boss Grills
Pit Boss is one of the leading manufacturers of wood pellet grills.
They have a variety of great products.
I own one! See the list of Pit Boss recipes here.
Pit Boss is doing a 25% off the retail price for all military members and military veterans.
You will need to follow the below link and register with Pit Boss Nation.
This offer is not for a limited time so you can take advantage of the deal whenever.
It also includes first responders.
Register on the Pit Boss website to get your ID.me.
Camp Chef
Camp Chef has been manufacturing pellet grills, smokers, and cast iron cookware.
For 20 years!
Like Pit Boss, Camp Chef offers up to a 25% veteran discount as well as all active members.
They have a wide range of pellet grills and other products for all your future purchases!
These amazing discounts can be obtained by following the below links.
You will need to register through the pro deal program via Camp Chef.
Doing so will then be pending approval.
There are also a variety of third-party vendors that sell Camp Chef products.
I have included a link to Govx.
Govx is a vendor with 700+ brands with applicable discounts for military service.
Follow These Links To Apply:
https://www.campchef.com/prodeal
Traeger Grills
Joe Traeger was one of the first to develop wood pellet grills.
Back in Oregon in 1985.
His company has been supporting Americans ever since then!
The Traeger grill military discount is applicable for bulk buying.
On military bases:
They have a military exchange where you can avoid paying taxes and a shipping fee.
Not to mention some huge savings discounts.
For the individual, they offer a Traeger code.
To apply for the promotional code you need to register on the below link.
They can vary and some will have a limited time to use.
Once you have obtained a code via email address, just input it when at the online check-out.
You can only use the code once per account.
If you lose the code then you can contact the customer service team through the below:
https://support.traeger.com/hc/en-us
Z Grills
Z Grills are another discount provider for service members.
They aim to provide quality pellet grills at an affordable price.
Z Grills offers a $10 military discount code on their range of fresh products.
$10 may not seem like a whole lot but every cent counts!
Plus they usually have holiday sales which you can further save on.
Why not spend the saved money on a bag of hickory wood pellets?
Or special products like a thermal cover.
Home Depot
Home Depot is a reputable trader with a variety of big brands.
They even manufacture their range of pellet grills for a fantastic deal.
These are all eligible for discount offers.
You will have to register an account with Home Depot.
Download their app and apply for the discount.
When this is approved, you can get a whopping 10% discount that can be used more than once!
You will be given a personalized QR code to use online.
For all eligible purchases!
Follow These Links Below For Information & How To Apply Via The App
https://www.homedepot.com/c/military
https://www.homedepot.com/auth/view/signin?redirect=/military/discount
Lowe's
Lowe's is another reputable trader for home improvement and appliances.
Including a wide range of pellet grills!
They offer a 10% military discount for most full-price purchases.
This does mean that if a grill is subject to a sale you will not be able to use that discount.
The good news is that like Home Depot, it can be used more than once!
The discount can be used on all their products, so even after buying your shiny pellet grill…
There will be plenty more options!
Just register for their loyalty program through ID.me.
The discount can be used online and in-store.
Oh, and I nearly forgot to mention that it extends to your partner or spouse!
Enjoy!
Smoke On!

Charlie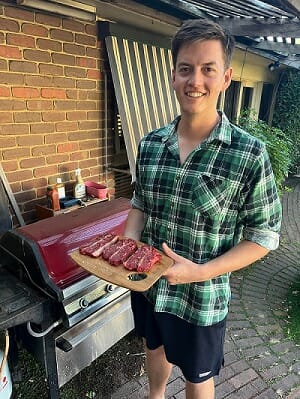 Hi, I'm Charlie, I have been meat-smoking and grilling for the past 15 years. I have an array of different smokers, thermometers, and have a love for finding the right wood and charcoal combo My favourite recipes are my EXTRA CRISPY smoked pork belly, juicy pulled pork, smoked brisket, duck poppers, and ANY SEAFOOD I grill).
I loves sharing his tips with beginners, helping them navigate the world of smoking. I find it's not just about cooking; it's a quest for that perfect smoky flavor.
You will usually find me playing with the kids, perfecting my brisket bark, or sipping beers with boys around the fire. Can't wait to share all my delicious smoking and grilling recipes with you!

You can read more about me on our About Us page.
Hungry For More?