Brisket is, without a doubt, one of our favorite meat to smoke.
It's delicious but certain woods help it taste EVEN better!
This is why finding your favorite wood for smoking brisket is essential.
If you're going to spend all this money on a brisket you might as well find out what wood to use. We will look at mesquite, alder, oak, apple, cherrywood and pecan.
From wood sizes to type of wood – you need to know it all. Lucky for you, we're here to help!
The Different Types of Wood for Smoking Brisket
The preference of flavor differs from person to person.

Some might like mild flavors infused in their brisket, while others might prefer medium to strong flavors.
There is a wide variety of woods available, all with different smoke flavors.

So let me introduce you to the more popular types of wood that pitmasters use to smoke their brisket. You can also prefer a combination of woods, and we'll come to that later.
Strong to Medium Wood Flavor
1. Oak
It's one of the most popular wood for smoking out there, mostly because it burns for a long time.
Oak has a medium to strong flavor and is a great choice if you're just learning how to smoke meat.
This wood can be blended with other flavored woods. Blend it with stronger woods to make a complex and interesting smoky flavor.
2. Mesquite
If you're from Texas, you're no stranger to Texas barbecue.

Mesquite remains a key part of these cookouts, mostly because it gives the food a strong flavor the area is famous for
It is a unique type of wood that will come with an intense flavor and is often described as a savory flavor.
The distinct flavor of Mesquite has its drawbacks as well since you can easily over-smoke the brisket if you're not careful enough. It burns too quickly, so make sure you have enough wood available.
3. Hickory
Hickory is what we call an efficient wood. Unlike Mesquite, you don't require a lot of it; a little can go a long way if used right.

It will produce a decent amount of smoke, so you need to be a bit careful about not overdoing it.

Playing it safe is the best bet if you want that authentic Hickory flavor.
It has a nutty flavor with a strong and savory note. This flavor is very complex, and that is why many prefer hickory wood for smoking brisket.
Milder Flavors of Wood
1. Apple
Apple woods are known for their mildly sweet taste. These are natural flavors that aren't very strong in flavor but will provide you with just enough to make your cuts of brisket into a tasty one.

Apple is one of the milder woods, but it surprisingly generates a lot of smoke.
Our advice would be to blend a stronger flavored wood with applewood for smoking brisket.
2. Maple
Maple is that it is arguably the mildest wood when it comes to flavor.

This makes it nearly impossible to overdo it, so you can experiment with different smoking periods.
It can be easily blended with woods that have a stronger flavor. Maple wood remains a popular choice amongst those who prefer the subtle flavor of smoke
3. Pecan Wood
Pecan wood can produce quite a sweet flavor. We like to combine it with oak so that the sweet flavor isn't too pronounced.
4. Cherrywood
Cherrywood also provides a low-mild flavor but gives the meat a mild sweetness, so we like to blend it with mesquite.
So Which Is Really the Best Wood for Smoking Brisket?
When it comes to the best wood, there isn't a clear winner.

This is mostly because all the woods in our list have their own features, and end of the day, it all depends on you.
If you like fruity flavor, then a blend of applewood can be good for you.

Again, if you want extended cooking times for your beef brisket, then oakwood can be a great option.
For bigger chunks of meat, Mesquite can be decent too. So overall, it all depends on which flavor you prefer. Combining woods can be a good way to make a complex, unique flavor for you.
Choosing The Right Size of Wood
Before we dive straight into the types of wood, you need to know a thing or two about the size of the wood.
It is really important to buy the correct type of and size of wood for your grill or smoker or you may end up under or overcooking your meat.
Wood Chips
Smoking a brisket with wood chips is a fantastic idea if you plan to use an electric smoker.

These are available in nearly all flavors, and they are super easy to use. They are also great if you plan on using your gas grill as a smoker and need to make smoking pouches.
Woods chips are indeed the favorite wood for smoking a brisket in an electric smoker.
Chunks
Woodchucks are about the size of a coffee cup.

You'll often see them used in charcoal grills as well as offset smokers and are perfect for bigger briskets.

They do take some time to ignite but can burn for a long time.
Logs and Sticks
Unless you're using an offset smoker, you don't often see logs being used much.
My 6 Top Tips for Picking a Good Wood
You should choose wood according to your choice of flavor
You must pick the size of the wood based on your type of smoker or grill
You don't use treated wood
Have a go at blending some of your favorite flavors
Aim for the thing blue smoke, if you have billowing black smoke, it can leave your meat with a bitter taste
Ensure that the volume of smoke is within your preferred range
Smoke On!
So, these were my top tips for picking wood for smoking a brisket.

Just remember you need to pick the size wood depending on your smoker AND the size of the brisket.

Plus, you need to figure out what flavors you like, so get in the yard, blend and experiment and find our favorite combo!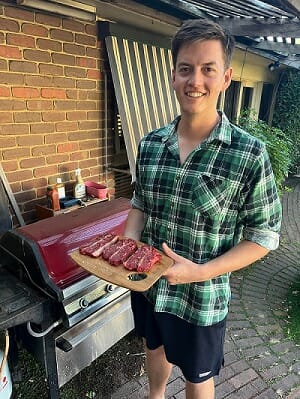 Author: Charlie Reeves
Hi, I'm Charlie, I am head taste tester at Simply Meat Smoking! I love it grilling, smoking, and getting out in the yard with the kids! The family also love to test all my recipes (especially my EXTRA CRISPY pulled pork, smoky pork loin, and ANY SEAFOOD I grill)
You will usually find me playing with the kids, perfecting my brisket bark, or sipping beers with boys around the fire. Can't wait to share all my delicious smoking and grilling adventures with you!

You can read more on our About Us page.
Hungry For More?