Have you taken the time to clean your Pit Barrel?
Especially after slow cooking a pork butt or some racks of ribs for hours!
Barrel smokers are heaps of fun for any cooking process.
But today I want to share how to clean one.
Why Is It Important to Clean a Pit Barrel Cooker?
These are the main reasons for cleaning your favorite tools and barbecue smokers.
Note: This applies specifically to a pit barrel cooker but these principles apply.
Whether or not it is a regular grill, vertical smoker, charcoal grill, or pellet smoker.
Food Saftey
Food safety laws are there for a reason.
Imagine going to a restaurant but finding out that they only clean their dedicated smoker…
Once a month!
Potential deadly bacteria can come from raw cuts of meat.
It is your responsibility to make sure that you are practicing safe cleaning.
Longevity of You Pit Barrel Cooker
If you want your pit barrel cooker to last then a regular cleaning routine will help.
This is because allowing the build-up of debris like unlit coals, grease, or ash can cause damage.
Why spend money to then neglect it for a 12-15 minute job?
Checking for Damage
Cleaning also allows you to check all the square inches of your barrel cooker.
This inspection can be beneficial to highlight if you have defective merchandise.
Or maybe spot an issue before it happens.
Offset smokers or any charcoal smoker are prone to wear and tear.
How Often Should I Clean My Pit Barrel Cooker?
I have highlighted how often you should clean one of these affordable smokers.
Always refer to your instruction manual for disassembling parts.
If you find an issue you don't know how to fix then contact customer service.
Cleaning After Every Use
This cleaning will focus primarily on the places the food has physically touched.
This will mostly be the grill grates, meat hooks, and meat probes.
Replace the grease bucket and excess ash in your.
Cleaning After a Month of Use
This is for when you have had around 15 -30 hours of cook time.
It needs a deeper clean on all the inside components and areas!
Any foil liners under the charcoal basket should be replaced.
Scrubbing of the air vent, coal basket, and the inside of the drum.
Vacuum or tip away all ash.
Cleaning After 3 Months of Use
After around 3 months or 100 hours of cook time, it is time to do a thorough clean and inspection.
Clean as per above.
Inspect your pit barrel's components for any damage.
Scrub the inside of the oil drum barrel and check there isn't any blockage in the air intake vent.
Clean your hook remover tool and pit grips.
Look for surface rust and monitor if it still keeps consistent heat.
Tip: Use a probe to monitor for consistent temperatures. It is important to monitor this so we can find any airflow or spill from damage.
Safety Notes Before Cleaning
– Do not attempt to fully clean when your pit barrel cooker is hot.
– Dispose of waste properly and think of the environment.
– Wear appropriate PPE.
– Move your pit barrel to an area with lots of space before cleaning.
– If you notice damage then contact customer service.
– Always refer to your instruction manual first.
How to Clean a Pit Barrel Cooker
So here we are!
Cleaning doesn't have to be tedious…
The pit barrel cooker is the perfect smoker for beginners.
The cleaning is just as simple as smoking!
List of Components
Steel drum housing barrel
Stainless steel hooks / hanging rods
List of Equipment
Warm soapy water in a bucket
Putty knife or BBQ scraper
Preparation
The first step is preparing to clean.
– Make sure your pit barrel is not hot.
– Move it to a spacious area.
– Grab all the equipment.
– Put on the PPE.
Removal of the Loose Parts
The second part is removing any adjustable part from the body.
– Remove the steel grill grates.
– Remove the meat hooks.
– Remove the coal basket.
Cleaning the Loose Parts
– Take everything you removed from the body.
– Soak in warm soapy water.
– Scrub down.
– Inspect for damage.
– Leave to dry.
Cleaning the Body
– Remove the drum from the stand using the handles.
– Remove any loose ash from the sides with your brush.
– Carefully dump any remaining ash into your ash bin.
– Wipe down the inside.
– Wipe down the outside.
– Inspect for any damage or rust.
– Leave upside down to dry.
Finishing Up
Once everything is inspected and dry we can put it back together again!
– Place a sheet of tin foil at the bottom of the drum.
– Put back all components.
What Should You Cook on Your Pit Barrel?
By far the best thing to cook on your Pit Barrel is brisket!
See our smoked brisket recipe here. This one is guaranteed to come out juicy and tender.
What Else Can I Do to Keep My Pit Barrel Cooker Clean?
So now you know the full process of cleaning a pit barrel cooker.
But is there anything else I can do?
– Invest in a cover for when you are not using it.
– There are custom grill grates like a hinged grill grate as they are easier to remove and clean.
– Buy a meat probe to know exactly when it is done, instead of letting it burn
– Buy good quality charcoal and do not overfill your basket with coals.
– Do not overcrowd while cooking with different kinds of meat.
Smoke On!

Charlie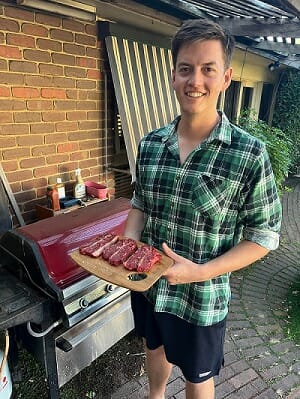 Author: Charlie Reeves
Hi, I'm Charlie, I am head taste tester at Simply Meat Smoking! I love it grilling, smoking, and getting out in the yard with the kids! The family also love to test all my recipes (especially my EXTRA CRISPY pulled pork, smoky pork loin, and ANY SEAFOOD I grill)
You will usually find me playing with the kids, perfecting my brisket bark, or sipping beers with boys around the fire. Can't wait to share all my delicious smoking and grilling adventures with you!

You can read more on our About Us page.
Hungry For More?