No corned beef and not sure what to use instead?
No worries, we'll find you the perfect substitute for your favorite recipe.
Corned beef has a particular texture and flavor.
But there are plenty of options out there that you can substitute it with.
Have a read of the guide below to find some perfect corned beef alternatives.
Pastrami
Salty, rich, tasty, and a great alternative for corned beef.
Pastrami is fantastic in a classic sandwich and cold meat spreads.
We recommend using chutneys and dressings with your pastrami for extra flavor.
Turkey Corned Beef
Turkey corned beef has lower fat content than traditional corned beef.
This makes it a healthy alternative that doesn't sacrifice flavor. Turkey corned beef is all-around very similar to corned beef and is similar tasting meat.
Roast Beef
For a more beefy flavor, hit up roast beef as a substitute.
It will take longer to roast (than other meat), but if it's beef you're after then it will be worth it.
Perfect reheated or eaten cold, this classic meat is a great option.
If you want to smoke your beef, see my smoked chuck roast recipe here.
Ham
This cheap, delicious meat can be bought almost anywhere. 
Its flavor is also less dense than corned beef, so is perfect for a lighter option.
Ham works in many different dishes (sandwiches, cold spreads, salads, etc.).
Want to smoke your ham? Try my smoked ham recipe here or try my smoked Christmas ham recipe.
Fish
If you're looking for a similar salty flavor to corned beef then fish is an option.
Certain varieties have a similar texture to corned beef.
Fish is perfect for replacing corned beef in soup and stew recipes.
Beef Brisket
Beef brisket is another fantastic option if you're after a rich beef flavor.
There are some big differences between the two and some smiliaries.
The brisket will also give an incredible hit of rich flavors to the dish.
If you're looking for a combination of flavors or something a bit different, go with brisket. However, brisket is more expensive than corned beef.
Smoked Salmon
For another alternative to beef, try smoked salmon as a fresh and ideal substitute.
Avoid using it in stews or letting it rest for a long time, as it can become dry and flavorless.
We recommend using it on cold meat spreads, sandwiches, or salads for the best results!
Corned Beef Tongue
The corned beef tongue can be used for many dishes that involve corned beef.
Ideal for sandwiches and brisket, this cut is highly underrated.
Corned beef tongue doesn't have the strongest flavor, so you may need to increase the number of seasonings you use.
Pork Shoulder
Leftover sandwiches, curries, tacos, and anything else you want to make.
Pork shoulder is incredibly versatile and an excellent alternative to classic corned beef.
Try smoking the pork shoulder for extra flavor!
Vegetarian Options
For a meatless version, try a vegetarian substitute instead of corned beef.
There are plenty of different brands and types of vegetarian meat available. You may need to adjust the seasonings, but a lot of vegetarian options already come with a spice mix.
Ultimately it will depend on what you are cooking, as to what corned beef substitute works best.
But there are plenty of ways of adapting this family favorite meat for what you have at home.
There are also plenty of other types of meat out there that work for a tasty dinner.
So, next time you're looking for a corned beef substitute you don't have to worry.
What do you use as a substitute for corned beef?
Smoke On!

Charlie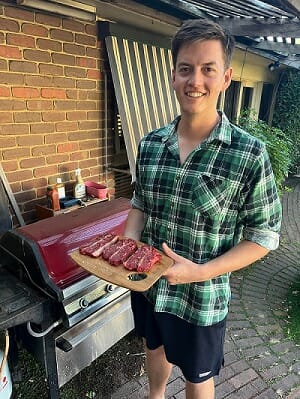 Author: Charlie Reeves
Hi, I'm Charlie, I am head taste tester at Simply Meat Smoking! I love it grilling, smoking, and getting out in the yard with the kids! The family also love to test all my recipes (especially my EXTRA CRISPY pulled pork, smoky pork loin, and ANY SEAFOOD I grill)
You will usually find me playing with the kids, perfecting my brisket bark, or sipping beers with boys around the fire. Can't wait to share all my delicious smoking and grilling adventures with you!

You can read more on our About Us page.
Hungry For More?