The prime rib roast is a popular choice and one of the most popular cuts of beef. 
But it can also be expensive to buy on a regular basis.
So what can you use that is just as delicious?
You've come to the right place, we're all about sticking to a grocery budget.
We've put together a list of cuts of beef so that you can fill the prime rib hole in your life.
Top Loin Roast
This is a cut of beef that comes from the short loin in the cow's back.
It generally comes in strip steaks (or strip roast) which are full of beefy flavor.
This is a great alternative and a much more affordable option in the meat department.
Tri-Tip
Easily one of the most budget-friendly cuts you can purchase.
But, tri-tip can still be incredibly tasty.
If you're after a reliable meal with maximum flavor and a cheaper price tag this is a great option.
Eye Of Round
Eye of round is a popular beef cut and an excellent faux prime rib.
It is tender, juicy and has a similar taste to prime rib.
While it may not be your automatic go-to, the eye of round is an ideal substitute.
Ribeye Cap Steak
This steak is also known as the dorsi cap steak, spinal ribeye, calotte steak or pinwheel steaks.
With this beef go for thin strips about 2″ wide and 8″ long.
Very tender and flavorful, this steak works well instead of prime rib.
Ribeye Steak
Whilst this is the same piece of meat as prime rib, ribeye is cooked differently.
This is ideal if you're looking for something different to prime rib or want to change it up.
Unlike prime rib, ribeye steak will be cut into individual pieces before cooking. 
See how to smoke ribeye steak like a grill master.
Beef Chuck Roast
This lean meat is also known as a pot roast or the center cut chuck roast.
Beef chuck roast is fantastic for steaks but also works in stews, pieces or sandwiches.
An excellent choice with lots of meat juices and a perfect substitute for prime beef. 
See how to cook beef chuck roast here.
Prime rib is a premium roast and is packed full of incredibly rich flavors.
But sometimes this quality meat is simply too expensive, unavailable or not what you're after.
There are plenty of fantastic substitutes out there for you to have instead of prime rib.
And they can all easily become a delicious meal.
There are plenty of different tasty beef cuts ready for you to try for your next dinner.
What do you like to substitute for prime rib?
Smoke On!

Charlie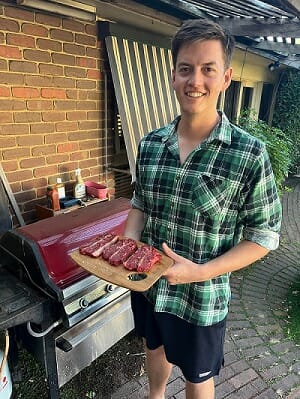 Author: Charlie Reeves
Hi, I'm Charlie, I am head taste tester at Simply Meat Smoking! I love it grilling, smoking, and getting out in the yard with the kids! The family also love to test all my recipes (especially my EXTRA CRISPY pulled pork, smoky pork loin, and ANY SEAFOOD I grill)
You will usually find me playing with the kids, perfecting my brisket bark, or sipping beers with boys around the fire. Can't wait to share all my delicious smoking and grilling adventures with you!

You can read more on our About Us page.
Hungry For More?