A boning knife or gokujo are essential for any serious cook. Without one your are missing out on the most mouth-watering pieces. Meat gets a majority of its flavor from the bone and fat.

If you're just using a chef's knife you will be leaving a lot of the flavor behind.
A boning knife has a piercing point, a narrow edge, and pinpoint precision. The length of the blade usually varies between 6 and 13 inches. The difference between boning and utility knives is that boning knives have thinner edges and curved blade.
Not only do they help get the most flavor out of your food, they can help stretch your food budget. Learning how to trim a brisket, break down a whole chicken or filet salmon are economical ways to eat.

Instead of buying the premium cuts, you can do it yourself. But you need the right tools for the job and one of those is a good boning knife.We will look at the different components of a boning knife.
Such as rigid and flexible blades, shape and size as well as the differences between fillet knives and gokujos (a Japanese style boning knife).

We will finish this up with our favorite boning knifes. This will help you choose the a boning knife for your needs.
In a Hurry? These Are Our Favorite Boning Knives
Top Boning Knives Comparison
The All Round Top Boning Knife
Wusthof 6 Inch Curved Boning Knife
Blade Length: 6 inches
Overall Length: 12.5 inch
Blade Construction: Flexible design
Handle Construction: Synthetic Polyoxymethylene handle
Weight: 4.8 ounce
Dishwasher Safe: Yes
I think that the Wusthof Classic Curved Boning Knife is best suited for both professional and home chefs like me!
 Want to know why? I was able to easily break down everything from steak, salmon, and even veal chops I had the other night.  
With a full bolster, this curved boning knife doesn't slip off its cutting edge.  It has a full tang and is made from high-carbon stainless steel.
Wusthof includes its Precision Edge Technology (PET) to this boning knife's edge. They do this after it's honed to produce its superior sharpness. I also didn't have any problems with discoloration and fading of the handle
 If you need a full tang knife that creates great cuts, then the Wusthof Classic 6 inch is the a good option for a boning knife.
What I Liked
It is dishwasher-safe
great hollow edge: these pockets reduce friction and resistance when I was cutting
It has a lifetime warranty
What I Did'nt Like
I found it tough to resharpen, I ended up taking to a professional

For something around the $50 mark, I think that this knife is a steal! Plus I like the reassurance of having a lifetime warranty.
Also, I love that it's dishwasher-safe! Usually, most chef knives you need to wash your hand, so this is a welcome change!
---
The 5 Top Rated Boning Knives and Gokujos Reviewed
1. Enso HD Series Damascus Gyuto – Runner Up
Blade Length: 10 inches
Overall Length: 15.5 inches
Blade Construction: Double bevel
Handle Construction: 5inch
Weight: 8.9 oz (253 g)
Dishwasher Safe: Yes
Price: Check Price Here
The Enso HD Hammered Damascus blade is made from Damascus VG10 Japanese steel that is great for edge retention. It has a black canvas handle that gives a firmer grip and a smarter feel to the knife. This boning knife has a double-edged bevel so you can use it whether you are left or right-handed. You'll get a lifetime warranty from this Seki City – handcrafted boning knife.

The knife looks really sturdy, and the hammered blade makes it aesthetically appealing. However, its hammered edges are not as pronounced as in pictures. The Enso HD boning knife is very light and has a thin spine that you'll expect it to feel flimsy or flex when cutting. It doesn't.


With the balance point just in front of the heel, you'll have all the help you need when cutting. I like that this boning knife is comfortable to use, with a reasonable handle size for even big fingers.

Everything on this knife is well-grounded, and the rivets, bolster, and handle is all flush. You can't ask for more from this boning knife's cutting performance, with the knife being able to slice through anything you need. Get ready to do a few maintenance checks occasionally on the Enso HD Hammered knife.
What I Liked
It has a decent handle and blade length for firm gripping and easy cutting.
It has a lifetime guarantee.
It has full tang
Its cutting performance is top-notch.
It is very sharp and easy to resharpen.
It is a lightweight boning knife.
What I Did'nt Like
Its hammered stamps are too deep and could catch your fingernails.
Its edge is a bit uneven.
It has an asymmetric and poor ergonomic handle profile.
Overall, I think this is a great knife to get. I have placed it in the number one spot because for me it ticks all the right boxes.

Everything from craftsmanship, performance and price suits me perfectly.

It has a Rockwell Hardness rating of 61, which is quality and will help prolong the knifes lifespan. You'll find that this is an excellent knife to use when not only slicing paper-thin pieces but also dicing and chopping. I like its sharpness, and sturdy feel, which I think most people look out for when buying knives.

In all honesty, a couple of things need to be worked on. For example, many people don't like the balance that this knife has, even though people with different hand sizes can grip it and use it comfortably.

I find that its hammered stamps are perhaps one too many for the knife. However, these minor setbacks do not outshine the beauty and efficiency of this boning knife.

With the Enso HD hammered knife, you'll get a stunning design as well as the ideal sharpness to remove bones from poultry and meat easily. And how this boning manages to be thin and rugged at the same time is pleasantly surprising

---
---
2. Shun Classic 6 Inch Boning Knife – 2nd Runner Up
Blade Length: 6 inches
Overall Length: 11 inches
Blade Construction: Stainless steel
Handle Construction: Ergonomic wooden D-shaped handle
Weight: 7 ounces
Dishwasher Safe: Yes
Price: Check The Price Here
Shun Classic Gokujo is a boning knife with outstanding features, so I'll give it 4.8 stars out of 5 stars.

It has a Damascus 6 inch blade that allows you to cut through meat and reduces drag when boning. The blades on this knife are also razor-sharp and of a good length to move quickly. It is slightly curved upwards with a D-shaped handle for easy grip.

The first thing that caught my attention with this boning knife is that it is corrosion resistant with claddings to prevent food from sticking on its blade. I am impressed that a knife of this quality is hand-sharpened to reduce the fatigue people experienced when cutting. That's why I'll have to give it to this knife for being very sharp with excellent slicing action. The knife handle is made from Pakkawood and finished with an end cap made from stainless steel.

The Shun Classic 6 Inch knife is designed to be used in removing bones from meat and fish with its curved design and thin point. However, you'll also find it useful in cutting down large cuts as well because it is very rigid.

You won't get a lot of flex from this knife's forged blades. And at a little over $100, I think it's totally worth having this knife.
What I Liked
It is sharp with an outstanding slicing action.
It is comfortable to grip and handle.
It is a rigid knife.
It has full tang
It is convenient for both left and right-handed users.
It has the perfect balance.
What I Did'nt Like
Its tip chips when used continuously.
Its blade length could have been a bit larger.
Not a flexible boning knife.

Wrapping it Up
I love this knife for all the right reasons, so I'll give it 4.8 stars out of 5. It is slightly more pricy than my number one pick – and this was the deciding factor in my decision between the two.

It is the typical Shun knife made from high-quality steel. It feels premium to hold, with the boning knife spotting excellent edge retention. Its sharpness is by far the best feature, as its slices through everything like they were a piece of cake. Ground to 16 degrees on a double bevel, this hand-sharpened knife is definitely worth its price.

You'll just need to be cautious when working with hard-bone on this knife. Even though its tip is made from high carbon stainless steel, ultra-fine edge, it can get damaged after a while.

At a little over $100, this knife is made just for cutting and removing bones with its high-performance VG-Max steel that helps edge retention. Just make sure you always use this knife with a finger thimble. You'll find it particularly helpful when cutting tenderloins, porterhouse steaks, ribeye, and cubing meat.
---
---
3. Global Cromova 6 inch G-21 Boning Knife
Blade Length: 6.25 inches
Overall Length:14.6 inches
Blade Construction: Straight
Handle Construction: Stainless-steel with dimples
Weight: 8.6 ounces
Dishwasher Safe: No
Price: See Price Here
The Global Cromova 6 inch is a flexible boning knife as well as lightweight from the popular brand: Global.

Precisely balanced, this knife is six and a quarter inches with a flexible blade to do the cutting. Unlike the previous models, the G-21 is straight. However, it is just as sharp as the others. The knife is meant to be hand-washed and dried thoroughly after every use.

This model from Global is made from stainless steel and is the all-purpose knife everyone desires. Like the blade, its handle is forged from stainless steel. This allows you to put just as much force on the blade without breaking the bolster point on the knife.

Even when made from this material, it still provides just the required handling. The knife has dimples that help provide exceptional traction that you'll not find in any other knife. This feature is included to protect your fingers, even if they slip off when deboning meat or fish.

For a flexible, yet stiff blade, I think this knife has most of the things people look out for. The blades are also extra-sharp to ease cutting but are beveled. This is one knife I'll definitely recommend to anyone because of its great features.
What We Liked
It is an all-purpose knife.
Flexible boning knife
It is razor-sharp
It provides exceptional grip and is lightweight.
It is aesthetically pleasing.
It has a lifetime warranty.
What We Didn't Like
It is not dishwasher safe.
It is not convenient to hold for long.
Doesn't have full tang
Its blade could have been longer for larger cuts.
Because it's an all-purpose knife, I think the Global G-21 knife deserves 4.7 stars out of 5.

Apart from how easy it is to use, the knife also brings its sharpness to the table. Designed to be used to bonefish and meat, the knife does the job perfectly. It flexible blade bends, so you'll be able to clean meat around the corners easily.

I like that everyone can use this knife comfortably. It's a durable choice that will last for many years while delivering the same performance as when it was new. If you need to sharpen it, I'll recommend you use a diamond or ceramic sharpener. Metal sharpeners will not work with this knife. And if you experience any defect, remember that you have a lifetime warranty on the G-21 boning knife.

This flexible boning knife is worth every cent you'll have to pay for it. At a little over $100, it'll definitely serve you better than several cheap knives that are not as useful. Yes, it is not dishwasher safe, but you washing the Cromova is fairly easy. I believe you'll appreciate that the knife comes in one piece when cleaning it, so you can easily get to hard-to-reach edges easily.
---
---
Dalstrong Phantom Boning Knife
Blade Length: 6 inches
Overall Length: 28.3 cm
Blade Construction: Full tang
Weight: 5.9 ounces
Dishwasher Safe: Yes
Price: See the latest price here

The Dalstrong Phantom knife lives up to its name. Made by a new company (Dalstrong), this knife makes use of the best types of metals, while still keeping the price at a reasonable level. The Dalstrong Phantom knife is one that I really like, so let's see why.

The company imports both Japanese and German steel alloys. This particular knife's blade is made from Japanese AUS8 steel with a Rockwell Hardness of 58. The blade has been tempered and cooled, so its sharp edge should last for all its lifetime

The blade does not have a D or Wa shape, but a full tang running to the handle.

Its handle is made from hand-polished Spanish pakkawood that fits easily in hand and makes it convenient to maneuver when cutting meat or fish. The knife comes with a scabbard that protects it during transportation. It also has a hardened sheath for packing into hunting kits.

This is one versatile knife that will allow you to process several carcasses without stopping or sharpening the knife.
What I Liked
It is razor-sharp with 8-12 degrees per side.
It is durable.
It has an ergonomic handle.
It comes with transport protection devices.
It has a lifetime warranty.
What I Did'nt Like
Its balance could have been better.
Its handle is quite short.
I think this knife deserves 4.6 stars out of 5. It is engineered perfectly with military-grade materials. The knife's handle is hand-polished, so its easy to control.

At a little below $100, this knife is worth the money you'll pay in getting one. The thing I like most about this model is that it is tapered and angled to reduce drag. You'll also get a decent amount of scalloped indentations to prevent sticking from protein and vegetables.

As a relatively new product to the market, this knife comes with a clean cloth, care instruction, and medallion. Even though there isn't a bolster or choil, (like in most Japanese-style knives) you'll not cut yourself often.

There's much to like in this Dalstrong model, and if you need a durable knife with an ergonomic handle, then this might just be the one for you. Great surface fit and finish, high-end alloys, all for a fair price. What more can you ask from a knife?
---
LedgeON 6 Inch Boning Knife
Blade Length: 6 inch
Overall Length: 12.4
Blade Construction: Full tang, tapered blade
Weight: 12 ounces
Dishwasher Safe: Yes
LedgeOn 6 inch boning knife is the next on our list, and it deserves the spot, I must say. Made from high carbon stainless steel, the blade on the knife is very strong and flexible. For optimization of the blade's retention, corrosion resistance, and sharpness, this knife goes through a unique forging process.

I have seen the knife before, and I think it is well designed with what the company calls 'zero balance'. It comes in its pack and is tested severally before being sold to customers, and I believe it can withstand the rigor of everyday use. The company also offers a complete refund policy for the product if you are not satisfied with what you receive.

Like in many other boning knives, there is a tapered bolster to assist your grip. The blade is also full tang to give a robust feel and ensure your safety, even as it is very thin. And if you prefer a wooden handle on boning knives, then the pakkawood handle in this knife will provide just the control and comfort you desire.

Let's have a look at some of LedgeON's exciting features to know more about this great boning knife.
Pros of The LedgeON Boning Knife
It is made from high carbon stainless steel, so is durable.
It is hand inspected.
Flexible blade
It has a tapered blade that helps in thin slicing.
It is perfectly balanced.
It has tapered bolsters.
Cons of The LedgeON Boning Knife
Its handle is made from wood, which can cause problems in time.
Sometimes, it will not hold on edge.
It looks a bit dull.
The LedgeOn boning knife costs a little over $30, and for its features, I'll give it 4.4 stars out of 5. For people with small hands like myself, I breathed a sigh of relief when I finally found a knife that I could hold comfortably. In place of filet knives, you'll find that the blade length and large handle make it a better choice. And you'll enjoy every bit of boning pork and beef.

This knife has substantial heft and is super sharp. Even though the company claims that it is hand-polished, I feel a lot of work can be done to achieve that shiny effect. However, its balance will make you forget this minor setback in a second.

The LedgeOn boning knife is a daily use knife, and not just for boning. I think it deserves to be added to any knife collection as it is of high quality. It's definitely one that will not disappoint you, for many years to come.
---
---
Forschner 6 Inch Victorinox Boning Knife
Blade Length: 6 inches
Overall Length: 15 inches
Weight: 3.52 ounces
Dishwasher Safe: Yes
Price: See latest price here
Another popular knife for butchers, chefs, and beginners is the Victorinox 6 inch Forschner boning knife. Made in Switzerland, the blade on this knife is a beauty to behold. It is semi-stiff that will definitely give you an amazing boning experience with fish, pork, and meat. And even though the blade is sharp, you can re-sharpen it severally. The Victorinox blade is useful in removing thick cuts of fat from pork.

The knife is easy to handle and of excellent size. At 15 inches, its length to blade ratio is just perfect. Even though it looks dishwasher-safe, I'll recommend you wash it with your hand, and allow it to dry thoroughly before reusing it again. However, there's no harm in using a dishwasher for it.

The best thing about this knife for me is that its buyers don't need to break the bank for a quality knife. It will not only slice through meat easily but also bones and cartilages, which is not something you see often in a boning knife.

Let's have a look at its specifications before we head out to the pros and cons of this boning knife.
What We Liked
It has a distinguishing blue color
It is pretty sharp
It is very comfortable to use
It is made from the best grade of stainless steel
It has a lifetime warranty
What We Didn't Like
You have to cut along its shaft to make cuts
This Victorinox knife costs a little over $35, which is cheap compared to other knives. There are four features that caught my attention in this knife, and I think they should be included in every other knife. The first is its curved design. This helps in making cuts, and you'll not need a lot of force to dig into whatever you are dealing with.

The second is its high-quality stainless-steel blades that'll make other knives look blunt. Thirdly, is the Fibrox grip that helps when you are holding the knife for long periods. Lastly, is its lifetime warranty that guarantees its usage for many years to come. For these, I'll give it a 4.3 out of 5 ratings.

Only a few things need to be worked on in this knife. The most significant being that sometimes, you'll have to cut along the shaft, which many people are not used to. Another is the blade's tip that can break off sometimes. But when you think about the fact that the knife can be factory re-sharpened, you'll overlook such setbacks in the knife. For the price on its head, I think it's a good bargain to get the Victorinox 6 inch knife.
---
---
Mercer Culinary Genesis 6 Inch Boning Knife
Blade Length: 6 inches
Overall Length: 12 inches
Blade Construction: Tanged blade
Handle Construction: Santoprene handle, non-slip
Weight: 6.4 ounces
Dishwasher Safe: No
The cheapest knife on our list is the Mercer Culinary Genesis 6 inch boning knife. One will think that at this price, you'll get a low-quality knife, but this model from Mercer is just as functional and useful as the big boys on our list. I'll start with some of the features that make it desirable.

Mercer got it right with the handles on this knife this time. It is a Santoprene handle with a non-slip grip that is comfortable to use even with wet hands. These handles are designed to last through the test of time and will withstand cold and hot temperatures after several uses. This is definitely a feature you'll like in a knife.

Secondly, the knife has a bolster that pushes it higher on the durability scale and provides balance when handling food. You'll also get a 6-inch high-carbon steel blade that is resistant to corrosion, discoloration, and rust. It is precision forged to provide the strength you need to make cuts all year long.

To crown it all, this knife has a lifetime warranty. You are protected against anything that happens to it, including a broken blade. How nice! Let's dive right into other features that this knife has to offer.
What I Liked
It provides the resistance to get through meat
It maintains its sharpness for long
High carbon stainless steel blade
The handle is comfortable to grip and hold
The knife is well designed
What I Did'nt Like
It looks a bit dull
The tip can chip off in prolonged use
It cannot be washed in a dishwasher
Overall, I am convinced that this knife is the right one for a lot of people. It only costs a little over $20, but it is worth every cent you pay for it. The knife is of great value for money, and people with average hand sizes will love it. The grip is by far one of the best things about the handle because a lot of time was spent in making the handle.

When using this knife, make sure you avoid dishwashers by all means. The heat from them will damage the handle and blade in no time, so keep this knife far away from them. Instead, wash this Mercer model with warm water and clean it with a dry cloth. Also, try and avoid chlorine bleach because this chemical discolors the blade.

You'll get a lifetime warranty, and as long as you use it how the manufacturers intend, I don't think you should have much to worry about. I use it to prepare meals and not only boning because of its sharpness and easy grip. And the price to quality is excellent.

For all its exciting and interesting features, I'll give it a 4.2 out of 5 ratings. It is definitely one you should add to your knife collection.
---
---
J.A. Henckels Boning Knife
Blade Length: 5.5 inches
Overall Length: 10.5 inches
Blade Construction: German stainless steel
Weight: 7.2 ounces
Dishwasher Safe: Yes
Our last knife on the list of boning knives is the Henckels Classic Semiflex. Made in China from high-quality German stainless steel, this knife is small but functional. It has the double-rivet handle that many modern knives have started incorporating, and is also comfortable to grab.

On this knife, you'll have a bolster that provides durability and a smooth transition from handle to blade. Its blades are professionally finished and honed to provide lasting sharpness. However, you are welcome to resharpen it once in a while. You can throw it in a dishwasher without having to worry about discoloration or damage to its blade.

It has a slim and thin blade that is perfect for slicing meat and removing bones easily. The small knife with its firm tip has the dexterity also to separate fish and poultry. And if you have to use it for cleaning cutting and peeling fruits and vegetables, it will come in handy.

This knife is ice-hardened to 58 HRC, which is why it is this durable and strong. The keen edge of this knife is due to the excellent quality of steel used. Now, let's head straight into the knife's specifications.
What I Liked
It has a double-rivet handle
It has forged bolsters
Its stays sharp for long
It is dishwasher-safe
It has a lifetime warranty
What I Did'nt Like
Its blade is relatively short compared to other boning knife's blades
It is a bit heavy
Its overall length is a bit short
This knife is known for its exquisite European construction, efficiency, and versatility. And spending a little over $20 for these is not too much for a boning knife. The Classic is a semi-flex knife that is made with quality construction and components. It has a comfortable hand feel and balance that makes it easy to control and use even for a long while, which is one thing I like.

It has a thin blade, with just a little flex. Even so, you can cut through large games and bonefish easily. I like that this knife comes very sharp and has a suitable edge for cutting.

I would have liked it better if it wasn't a bit heavy, and the blades were just a bit longer. That way, I'll have been able to make longer cuts with it. I also believe that some work still needs to be done on the tip of the knife. Nevertheless, the knife is well-crafted for many uses. If you are not used to the double-rivet handle, it will take you some time to get a hold of.

Because of its excellent features and the many things I like about this knife, I'll give it a 4.1 rating out of 5 stars.
---
---
Boning Knife Uses
From its name, you'd have probably guessed that the boning knife is used for taking the bones out of meat.

Regular knives are just too thick and don't offer the flexibility you'll need in cutting bones out of meat. With their thin edge and blade and flexibility, these knives can get around anything.

Three of its major uses for boning knives include:
To remove bones from fish and poultry: If you want to remove bones or meat, then this type of curved boning knife is the best one suited for the job. Its blades help to extract all the meat from the bones without breaking them.

Removing the skin from meat: This is a secondary use of boning knives. When you need to get under and remove only the skin, a utility or kitchen knife won't do you much good. Boning knives can slice at just the right angle to remove them from your meat.

Slicing fruits or vegetables: Boning knives are not designed primarily for use on fruits or vegetables. However, they will help you out if you need to slice or shape fruits/vegetables into very specific sizes.
What to Look For in a Boning Knife
There are 6 main features that you should be on the lookout for when searching for a boning knife: 
Overall size and shape: The blade of a boning knife is usually about 5 to 13 inches long. And the smaller the blade, the more easier and more flexible it is to cut with. If you need smaller more precise cuts, then boning knives with smaller blades will do the trick for you. Which means long blades are good for longer cuts that don't require so much attention to detail. As one size cannot be used for all purposes, you'll have to determine which suits you better.

I recommend getting a boning knife with removable blades. That way, you can attach a short or long one, depending on what you are cooking. If, however, you do not get this type of boning knife, having two with short and long fixed blades will be helpful in the slicing different styles of meat.

With respect to the shape, boning knives usually have sharp edges that rise upward to reduce the cutting force needed. When using these knives, make sure your hand is not anywhere close to what you need to cut. Nevertheless, what makes a boning knife a boning knife is more in its flexible thin blade than its blade shape.


Handle size and construction: The handle of any type of knife is essential when you need to buy one. I see many people focusing more on the blades, but the handle determines how easy it is to remove bones from meat or fish. This is because they are the major part of a knife that you'll exert force on. So, if the handle is too short, it'll be difficult to grab, which will lead to bad cuts.

Boning knives come in different handle-sizes, and you'll see many having proportional handles and blades. Based on the material they are made from, you can have boning knives made out of wood, hard plastic, and many other materials. The material you choose will depend on your cutting and gripping preference.

Personally, I prefer hard plastic knives because they are easy to grip when cutting.If you take pride in what your boning knife looks like, then one with a wooden handle should be what you go for. But do keep in mind, if it's not carved out of a good type of wood, you can experience a lot of problems with it.Another thing on the handle size and construction is the boning knives spacing for your fingers. One with large spacing will help your grip when cutting.


Blade design: If you are a chef, then you'll know that knives can come in different shapes. Some may be curved, and others straight. This is the same with boning knives. The blade design is crucial to how efficient the knife is in removing bones from meat or fish. Therefore, a wrongly designed blade (which usually cannot cut pieces up even when sharp) will make you lose a lot of time in cutting.

The boning knives I love the most are those with curved blades. It is very easy to remove bones from meat and fish with them, sometimes with only one cut. I believe you should stick to what works for you, but be willing to try out different blade designs.


Blade material:  Many of them have stainless-steel blades, which are a bit expensive, but they give sharp cuts when removing meat and fish everyone desires. You'll also find a couple made from high-carbon, cold, and tempered stainless steel.

If you need a lightweight knife that can slice through anything like cake, then high carbon stainless steel blades will help you out. In terms of durability, cold steel blades are the preferred choice as you'll not have to sharpen them often.I prefer either a stainless or high carbon steel blade because they are resistant to rust and corrosion.

You'll also find that blades made from these materials are easy to clean. When dealing with meat and fish, you'll definitely have to wash the knife after every use. And what use is a corroded or rust knife in the kitchen, or one that cannot hold on edge?

Safety features: Boning knives are very sharp and can make deep cuts in your finger. To prevent this, a common feature is added to most of them: a finger guard. When handling slippery fat and skin, you'll have to be extra careful to prevent the knife from cutting your hands.

Along the blade's heel, you may have noticed a bolster in many boning knives. This is included to prevent your finger from slipping onto the cutting edge. In many other designs, you'll have a built-in finger guard to ensure you don't cut yourself.Many boning knives have either feature, so the one you pick is based largely on preference. However, I'll advise you to go for the one that gives you that is safe and gives you the most confidence.


Flexible or semi-stiff blades: There are two types of boning knives; semi-stiff and flexible boning knives. The semi-stiff blade type is used for large cuts of lamb, pork, and beef. Because a large chunk is needed, much force is required, and flexible blades can get stuck in the piece.

Too much flexibility will also create lateral motions, which can make a blade bend or injure you. When you are working with thinner cuts, then the flexible boning knife should be your choice. It is easier to bend these blades along contour lines, and when removing extra skin, fat or tissue.In either type, a flexible boning knife should leave little waste by removing virtually all the meat from bones without damage to the muscle. The type of boning knives you choose should depend on what you intend to cut with it

FAQ
What is the difference between a fillet knife and a boning knife?
Boning knives and fillet knives are very similar, however, the main differences between boning and fillet knives are the specific use case.

As the name suggests, boning knives are specifically designed for taking the bones out of fish and other meats.

Fillet knives are more designed to take the fillets from fish, remove the skin from fish and also chicken.

You can use fillet and boning knives interchangeably.

What is a boning knife used for?
Boning knives have been specifically designed to remove the bones from fish and other meats. Because of their flexible and thin design, they are perfect for maneuvering around small bones and making precise cuts.

You can also use boning knives for removing skin from chicken, fish and ever pork.

Do you need a boning knife?
You do not need a boning knife. However, a boning knife will make life much easier if you often prep foods that require smaller bones or skin removed.

A boning knife has been designed to make removing bones and skin easier than any other knife out there so, if it is in your budget I would highly recommend purchasing a. boning knife.

Are boning knives flexible?
Compared to other styles of knives boning knives have a flexible blade. They have been designed that way to make it easier to make precise cuts when working with cuts of meat and fish with smaller bones and softer texture.
Smoke On!

Charlie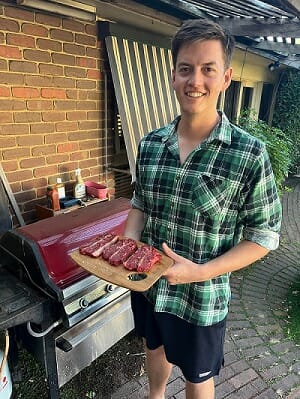 Author: Charlie Reeves
Hi, I'm Charlie, I have been meat-smoking and grilling for the past 15 years. I have an array of different smokers, thermometers, and have a love for finding the right wood and charcoal combo My favourite recipes are my EXTRA CRISPY smoked pork belly, juicy pulled pork, smoked brisket, duck poppers, and ANY SEAFOOD I grill).
I loves sharing his tips with beginners, helping them navigate the world of smoking. I find it's not just about cooking; it's a quest for that perfect smoky flavor.
You will usually find me playing with the kids, perfecting my brisket bark, or sipping beers with boys around the fire. Can't wait to share all my delicious smoking and grilling recipes with you!

You can read more about me on our About Us page.
Hungry For More?