You want to cook something that calls for pork sausage but don't want to use pork?
What can you use as pork sausage alternatives?
Maybe you're cooking for someone with dietary restrictions. Or maybe you want to choose something healthier.
Whatever the reason, we've got you covered.
There are many substitutes for pork sausage that will be delicious in your recipe!
Why Should I Use Pork Sausage Alternatives?
Replacing pork sausage can be good for your health, the environment, and your budget.
Sausage is a very processed product so it is not healthy at all. Factories use a lot of nitrates to help preserve the meat.
Also, a lot of factories use artificial casings because they look nicer.
However, we shouldn't really eat any artificial ingredients at all.
Making sausage at home can decrease some of the health risks.
Eating meat can leave a big carbon footprint. However, eliminating meat from the diet may not be appealing.
But you can opt for a vegetarian option occasionally.
Or eat meat from local and sustainable farms to reduce your footprint on the environment.
Also, processed sausage can be expensive.
Sometimes it's cheaper to do the processing at home. Or try cheaper alternatives.
What Are Good Pork Sausage Alternatives?
Whether the recipe calls for fresh sausage or ground pork, there is an alternative that you can use.
Turkey Sausage
Turkey sausage is a good alternative to pork sausage. Because it is lean white meat, it is also healthier than pork.
Season this poultry-based sausage with kosher salt and black pepper for ultimate flavor.
Many people even agree that turkey tastes more similar to pork than chicken does.
You can often find turkey link sausages at the grocery store. This makes it a highly attainable type of sausage.
Chicken Sausage
Chicken sausage is a popular substitute for pork sausage.
Chicken is white meat so it is a bit leaner than pork. This makes it a healthier alternative to pork.
It also has a mild flavor, which is great for people who want to avoid too much heat.
Use your favorite spice blend to make sure it doesn't taste too bland.
Breakfast sausage patties made with ground chicken are increasingly popular.
Beef Sausage
Beef sausage is an excellent alternative to pork sausage if you want to have a similar taste.
Since red meat sausages are juicy, you won't notice much of a difference if you use beef instead of pork.
Make sure to use the right seasoning blends if you want to achieve the same tangy flavor of pork.
Lamb Sausage
Lamb sausage is a good alternative to pork sausage.
Since lamb is red meat, it has a similar nutritional value to pork. However, it is easier to find grass-fed lamb.
This type of lamb is usually fairly lean and has a strong earthy flavor.
Many food connoisseurs would love to use lamb sausage in one of their meals.
Plant-based Sausage
Plant-based sausage is a great replacement for pork sausage if you're trying to cut out meat.
You can find both vegetarian and vegan options at most big supermarkets.
Since the sausage is made from ground meat, veggie sausage isn't true sausage. But it tastes very similar!
Most vegetarian sausages are made from beans, soy, or eggplant.
Store-bought veggie sausage is usually a pretty spicy sausage because it comes well-seasoned.
Tofu
Tofu is a great substitute for pork sausage.
While you can buy many tofu-based sausage products in the supermarket, you can also make them at home.
There are so many recipes for tofu sausage crumbles. All you have to do is cook tofu crumbles with the proper seasoning.
This is great because you can take a somewhat bland product and give it a bolder flavor.
You choose how many spices to use and can determine just how spicy the final product is.
Bratwurst
Bratwurst is a good substitute for Italian sausage.
When you cover the bratwurst with toppings, it's not too different from the sausage.
This won't be the best substitute for ground sausage, but it will do in a pinch at a cookout.
See my recipe for smoked brats here.
Can't Tell If Your Sausages Are Cooked?
Want to know how to tell if your sausages are cooked? See out 4 easy methods here.
How Do You Make Sausage at Home?
You can make sausage at home if you follow a good recipe.
If you need ground meat, you can just cook and season your meat of choice.
You can also do this with meat alternatives.
If you need a sausage with a casing, it may be a bit more difficult.
You will need some special equipment, such as a sausage stuffer and casings.
It may be more challenging, but it might be worth it.
Homemade food is always the best option.
There may not be such a thing as truly healthy sausage. But some healthier pork sausage substitutes exist.
You can buy most of these at major supermarkets.
If you want to try making ground sausage at home, it will be even easier to find some of the ingredients.
Smoke On!

Charlie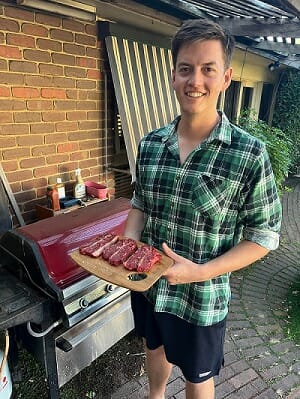 Author: Charlie Reeves
Hi, I'm Charlie, I am head taste tester at Simply Meat Smoking! I love it grilling, smoking, and getting out in the yard with the kids! The family also love to test all my recipes (especially my EXTRA CRISPY pulled pork, smoky pork loin, and ANY SEAFOOD I grill)
You will usually find me playing with the kids, perfecting my brisket bark, or sipping beers with boys around the fire. Can't wait to share all my delicious smoking and grilling adventures with you!

You can read more on our About Us page.
Hungry For More?