You might be thinking just any knife can cut a brisket. 

You don't really need a dedicated brisket knife.

All you need to do is slice through some meat. Any old knife that has a sharp blade can get the job done right?

Wrong! 

Slicing brisket is an art form. To create art you need the right tools. 

Using a blunt-not-fit-for-purpose knife can end up destroying all the hard work you have put into smoking your brisket. The last thing you want is to cut and plate up a ripped, torn brisket.

To ensure you are slicing your brisket to the best of your ability you need the best brisket knife you can afford.  
Can't cook a brisket? Check out my simple electric smoker brisket recipe.

Here are my recommendations for the best brisket knife
The Best Brisket Knife Comparison Table
In a hurry? I have summarized all my top picks below
Why Do I Need A Specialist Knife to Slice Brisket?
The way you use your knife on a brisket has a massive impact on the taste of the finished product

To get the right cut, you need a knife that's razor-sharp, easy to handle, and doesn't get stuck midway.

You will see below how easily I cut through this brisket.
Which Blade is Best: Straight, Serrated, Scalloped, or Granton?

Serrated Blade: A Serrated blade is designed for tough meats like turkey. It easily grabs, holds, and cuts whatever it comes in contact with but it may not provide the cleanest cut.

Scalloped Blade: A scalloped edge is similar to a straight edge but grabs and holds like a serrated blade.

Granton Blade: The Granton edge is a sub-category of a straight edge but offers more functionality. The Granton edge is scalloped by the side and lets you cut through meat without holding on to it. It doesn't grab nor tear which means you end up with a clean and fine appearance.
Which Blade Type is the Best?
From my own perspective, the Granton edge is the best for cutting briskets.
Both the taste and finish matter and the Granton gives you the best precision and accuracy when cutting. The sharp blade of a Granton makes slicing tri tip or carving briskets look easy!
1: Dexter 12 Inch Scalloped Slicer Knife – Best All Rounder
I was lucky enough to use the Dexter Scalloped Slice Knife at a friend's cookout. Plus I had heard that Aaron Franklin recommended this knife
I found that this knife slides through briskets with ease, just like a hot knife through butter. It helped me slice all the brisket into uniform sizes. When I got home from the party, I jumped on the computer and purchased one of these for myself.

Coming in at slightly under $25 the Dexter Scalloped knife is one of my favorite knives.
Dexter 12 Inch Specifications
Blade Length: 12 inches
Handle Length: 5 inches
Overall length: 17 inches
Blade Construction: High Carbon
Handle Construction: High-impact polypropylene
Weight: 4 ounces
What I Liked
Cheap for a knife of its quality. For the price point of $20-$30, I think you get a quality for the price.
12″ blade with scalloped design cuts all sorts of meat. I have also used it for bread and it works well. of all texture as well as bread and veggies.
Super easy to clean
What I Did't Like
The handle does have a grippy texture however I am more a fan of a non-slip handle
---
---
Want to learn more about slicing brisket and the different types of steak? Start with ribeye vs filet!
Should You Go for a Manual or Electric Knife?
Electric knives were all the rage in the 1980s. However today they get overlooked by some chefs and pitmasters.
They seem to be some on the competition circuit that still use them (and love them).

We have heard that they like them because
They are helpful if you're cooking in bulk.
They usually have a longer handle, which is helpful when slicing large cuts.
So, if you're cooking for a crowd or just like using a long knife, an electric knife might be a good option for you.

If you're looking to get those super thin or uniform cuts you could consider trying a meat slicer. However, you need to be careful as brisket is already delicate and may just shred.
Cuisinart CEK-40 Electric Knife – Best Electric Knife for Slicing Brisket
I bet you are surprised I'm recommending an electric knife for brisket. But let me explain!
This is a high-quality knife designed for brisket. They are hundred of electric knives I wouldn't let within 10 feet of my brisket. But this knife made for the job.
Many pitmasters, backyard smokers, and competition cooks I know use this knife as their secret weapon.
Specifications
Blade Length: 7 1/4 inches


Handle Length: 3 3/4 inches


Overall Length: 11 inches


Blade Construction: Stainless steel


Handle Construction: Ergonomically designed


Weight: 0.48 ounces
What I Liked
I like the sharp blades and the strong motor. It ensured I could cut all sorts of roasts and brisket easily
Blades easily came apart for when I need to store it between cookouts.
Comes with 3 years Warranty
What I Didn't Like
"On" Button isn't very responsive
---
---
Wondering what the difference is between a carving and a slicing knife?
You'll find that a slicing knife is more flexible, thinner, and have a rounded tip whereas a carving knife is less flexible and thicker.

We prefer to use a slicing knife for brisket but a carving will get the job done. The carving knife just might not give you the uniform cuts like a slicing knife.
3: Dexter Russell Boning Knife – Best for Trimming
So far, we have mainly been looking at knives for slicing brisket. However, when you're prepping your brisket, you may want to do some trimming. To trim a brisket you need to use a boning knife that is narrow and curved.
To remove the silver skin and fat you need a knife that is sharp but thin. It also needs to be curved, so it can slide under the skin without damaging the precious meat.
I think that a knife between 4″ – 8″ inches works best for trimming brisket. What I like about boning knives is there versatility. You will find you use it for all sorts of other food.

Dexter Russell is highly respected in the cooking industry. They produce a high-quality commercial boning knife that is affordable.

I find the length and the shape of the blade make it ideal for getting under the silver skin of brisket without removing any meat. After 10+ years of using mine, I have found it has held its sharpness well, I just really sharpen it with the rest of my knives. I had one friend who experienced some rusting with his knife, but that hasn't happened to mine.

So if you looking for a budget-friendly option that is still good quality, I would recommend the Dexter Russell.
Specifications
Blade Length: 6 inches


Handle Length: 6 inches


Overall Length: 12 inches


Blade Construction: High Carbon steel


Handle Construction: High-impact polypropylene


Weight: 1.63 pounds
---
---
4: Dexter 12-Inch Silver Sani-Safe Scalloped Roast Slicer Knife – Best Value Knife
Did you know that Aaron Franklin recommends using a 12″ serrated knife for cutting brisket?

He is a master of brisket, so I am also listening if he tells us to try something! In this case, I tested it and he was right!
So I tested a few 12″ serrated knives on my brisket. I found this one to be in the sweet spot of great performance and affordable. So that is why I recommend it.
This knife has a 12-inch blade and has scalloped serrations. These serrations are made to cause less damage to your meat as they cause less friction. It is is higher and wider than the ordinary scalloped slicing knife which I also think helps with the slicing.

Specifications
Blade Length: 12 inches


Handle Length: 5 inches


Overall length: 17 inches


Blade construction: High Carbon


Handle construction: High-impact polypropylene


Weight: 4 ounces
What I Liked
Made of scallopped and serrated edge which helps you make clean cuts
Ideal for those on budget
Recommended by Aaron Franklin
Cuts through smoked briskets with ease
Great length to get perfectly long cuts
A knife recommended by Aaron Franklin himself! If this knife is good enough for Franklin's Barbecue, then is good enough for me.
---
---
5: Wusthof 10" Classic Super Slicer
If you would prefer to use a shorter blade, I think Wusthof 10″ classic is a good option for you.

Everyone was raving about the Wusthof triple-riveted blade and I couldn't help but wonder what made it so special. I'm not one to get easily convinced with a 5-star rating so I took it upon myself to try this out.


The triple-riveted handle gave me a good grip and I was impressed by the sharpness of the blade.
I also liked its scalloped edge and rounded tip. it let me easily carve uniform slices of brisket slices without shredding it!
Overall it is about 16 inches long, which I found to be a good length for slicing brisket.
Specifications
Blade Length: 10 inches


Handle Length: 5 inches


Overall Length: 15 inches


Blade Construction: High Carbon steel


Handle Construction: Polyoxymethylene


Weight: 1 pound
What I Liked
Good size for those who prefer a shorter knife.
Good for both commercial and domestic use
The scalloped edge is ideal for slicing roast or brisket
high quality and will last a lifetime if cared for properly
lifetime warranty
What I Did'nt Liked
It's on the more expensive side. However, Wusthof has been around for 200 years and this will be a knife that will last you a lifetime.
There are cheaper knives out there that won't stand the test of time like this knife plus it cuts brisket perfectly. I think the Wusthof 10″ is a super slicer that will deliver all the goods for a long time.
---
---
How To Care For A New Knife
If you going to spend money on a brisket knife you need to look after it. First and foremost, never put it in the dishwasher! That goes with all good knives!

So, you want to get the best performance out of your knife and have it last longer then see my tips for maintenance and care below.
Wash your knives by hand with soapy warm water, then immediately dry them.
Never put them in the dishwater. Dish washing detergent can be abrasive. Plus, your knives are in the dishwasher for much longer than handwashing. They are getting knocked about during a wash cycle and that will take the sharp edge off your knives.
Make sure you shear your knives. A shear is a protective cover for your knife. an unsheathed knife can rub against another cutlery or knifes, which can cause it to dull very swiftly.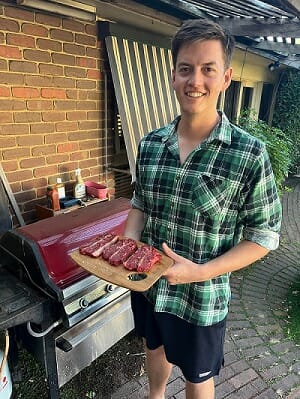 Author: Charlie Reeves
Hi, I'm Charlie, I am head taste tester at Simply Meat Smoking! I love it grilling, smoking, and getting out in the yard with the kids! The family also love to test all my recipes (especially my EXTRA CRISPY pulled pork, smoky pork loin, and ANY SEAFOOD I grill)
You will usually find me playing with the kids, perfecting my brisket bark, or sipping beers with boys around the fire. Can't wait to share all my delicious smoking and grilling adventures with you!

You can read more on our About Us page.
Still Hungry For More?