Porchetta is an amazing traditional Italian dish.
Crispy, fatty, and boneless.
This delicious meat is stuffed full of goodness that will make your mouth water.
If you're wondering what to serve with porchetta, you have come to the right place.
From salads to bread to pasta and everything else in between!
There are plenty of delicious options out there that will compliment your meat.
Have a read of the guide below to discover some fantastic dishes.
Parmesan And Garlic Green Beans
Perfectly crispy on the outside.
Deliciously tender on the inside.
These amazing green beans are fantastic with porchetta!
Smoked Brussel Sprouts
Brussel sprouts are not everyone's favorite but don't discard them just yet…
These sprouts are smoked and grilled to perfection!
This is a much tastier way to cook Brussel sprouts than the traditional method.
Need a Porchetta Recipe?
Need a declioucs reicxpe for porchetta straight from an Italian Nonna?
You have to try ours Nonna recipe for smoked porchetta, its super juicy and delicious
Brussel sprouts are not everyone's favorite but don't discard them just yet…
These sprouts are smoked and grilled to perfection!
This is a much tastier way to cook Brussel sprouts than the traditional method.
Green Salad
This recipe claims to be the 'Greatest Green Salad In the World'.
And honestly, we have to agree with it.
This dish is fuss-free, quick, and incredibly refreshing.
Grilled And Smoked Zucchini
In just three simple steps, you can cook this tasty zucchini.
Zucchini is a great dish to cook on a pellet grill if you're after a smoky vegetable.
Be sure to add a marinade or some seasonings because zucchini has a mild flavor.
Creamy Mashed Potatoes With Chives
Potatoes might not be the most exciting side dish, but this recipe will change your mind!
Mouth-wateringly creamy, these mashed potatoes and packed full of incredible flavor.
A great addition to a weeknight dinner, this will become your new favorite recipe.
Italian Bell Pepper Stew
Italian Bell Pepper Stew is a traditional dish where bell peppers and onions are simmered together.
This creates phenomenal flavor and the perfect hearty dish.
It is also great for using up leftovers and can be stored for several days.
Roasted Veggies
These roasted vegetables can be served with any meat, not just porchetta.
Tossed with balsamic vinegar and olive oil, they are extremely flavorful.
Use the veggies listed in the recipe, or simply use up what you have at home.
Italian Potato Salad
Because porchetta is very rich, you may need some food that balances it out.
This salad had a vinegar-based sauce, which provides a tangy contrast.
It is much lighter than creamy potato salad, but can also be served warm or cold.
Carrot Slaw With Cilantro And Mint
This salad is crunchy, fresh, and goes with a variety of different dishes.
If it doesn't have enough flavor, we recommend adding additional cilantro and mint.
You can also prepare the carrots ahead of time and refrigerate them until you're ready.
Creamy Polenta With Mushrooms
For something, a little different try this polenta and mushroom recipe.
The creamy sauce is not only irresistible but it can also be used with other dishes.
This recipe is tasty, filling, and won't overwhelm your porchetta.
Kale And Fennel Salad
If you're looking to add vegetables to your supper, this salad is a delicious option.
We recommend topping the salad with fresh pomegranate for extra flavor.
Make this salad ahead of time and store it in the fridge until you're ready to serve.
Italian Bread Rolls
Feel like doing some baking?
These chewy Italian bread rolls are so much better than store-bought!
Be careful though, they're so good you might not be able to stop eating them.
Smoked Asparagus
These smoky, asparagus spears are a tasty and flavorsome addition to any meat.
Like zucchini, it is also a fantastic vegetable to cook on a pellet grill.
Asparagus doesn't take long to cook, so keep a close eye on them.
Strawberry Arugula Salad With Walnuts
Who needs spinach or lettuce when you can have arugula?
This leafy green vegetable has a mildly sweet flavor that is perfect with walnuts.
Arugula is can be heated or frozen without losing texture or flavor.
Cherry Tomato Salad With Fresh Basil
If you're serving a porchetta sandwich then this salad should be your go-to.
It features minimal ingredients and doesn't require much seasoning.
Light and refreshing, this recipe can be made in minutes.
Green Bean Casserole
Green bean casserole is a classic side that works well with porchetta.
You can use canned mushroom soup, but you can also make your own.
Making the sauce will give this dish an extra kick while retaining its classic flavor.
Stuffed Cherry Peppers
Stuffed cherry peppers are the ultimate appetizer and side.
Full of cream cheese and feta, they will impress even the fussiest guests.
Try these peppers if you're only looking for something small to go with your porchetta.
Zucchini Noodles With Pesto Sauce
Want to have pasta without the carbs?
Zucchini noodles are a fantastic substitute.
With a light pesto sauce, this refreshing dish is ideal for serving in the summertime.
Smoked Corn On The Cob
Smoked corn on the cob is a classic addition to a barbecue.
This recipe will make your corn deliciously smoky and packed full of flavor.
This dish is cheap, healthy, and easy to whip up when you have little time.
Warm Buttered Asparagus
If you don't want to smoke your asparagus, try roasting them in the oven.
This is a great dish to serve all year round, but particularly in the summertime.
It beautifully compliments the porchetta, while also adding nutrients to your diet.
Roasted Sweet Potatoes
Not feeling like French fries?
Why not try roasted sweet potatoes instead?
This tasty dish is filling, sweet, nutritious, and well worth the extra effort.
Roasted Cauliflower Steaks With Mustard Caper Browned Butter
Looking to impress some guests?
The browned butter of this recipe will bring out the subtle flavors of porchetta.
With the capers and mustard, you will be in for a flavor sensation.
Quinoa Salad With Cranberries
For some reason, cranberries and porchetta are a match made in food heaven.
The tartness of the berries alongside the richness of the meat is undeniable.
Top your salad with lemon, feta, and quinoa and you have a winner.
Red Cabbage With Bacon
Take your cabbage game to the next level with this recipe.
The combination of bacon, cabbage, apple, and vinegar works perfectly.
The various textures and flavors contrast beautifully with the rosemary in the pork.
Salsa Verde
Does your roast need a little extra something?
This salsa verde is great if you're looking to give your meat extra flavor.
Be sure to make enough salsa verde, it won't last long!
Garlic Chive Kimchi
Are you ready for a culinary adventure?
This garlic chive kimchi is super easy and will give your porchetta some Korean fusion.
Go for thin, narrow blades of garlic chives if you can't get Korean ones.
Smoked Sweet Potatoes
For those looking to add more flavor to their vegetables, give this recipe a try.
You can also use this recipe with other vegetables (potatoes, squash, etc.).
For the wood, we recommend using apple, cherry, or maple to not overwhelm the potatoes.
Wild Rice Pilaf
Have you ended up with some leftover porchetta?
This wild rice pilaf is a lovely festive dish that is great for using up ingredients.
It is loaded with fresh and dried fruits that nicely balance the savory rice.
Choosing what to serve with porchetta is not an easy job.
But that's only because they're so many delicious options to choose from!
This classic roast is succulent and crispy.
All these recipe options compliment the meat, without overwhelming it.
So, next time you're making porchetta, enjoy picking out some amazing new dishes!
What do you like to serve with porchetta?
Smoke On!

Charlie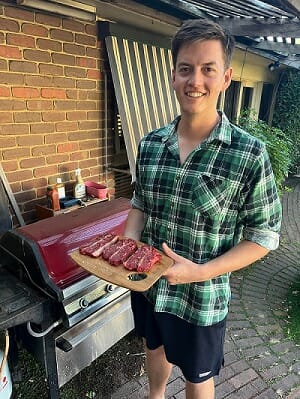 Author: Charlie Reeves
Hi, I'm Charlie, I am head taste tester at Simply Meat Smoking! I love it grilling, smoking, and getting out in the yard with the kids! The family also love to test all my recipes (especially my EXTRA CRISPY pulled pork, smoky pork loin, and ANY SEAFOOD I grill)
You will usually find me playing with the kids, perfecting my brisket bark, or sipping beers with boys around the fire. Can't wait to share all my delicious smoking and grilling adventures with you!

You can read more on our About Us page.
Hungry For More?