Smoked pork shoulder is a delicious piece of meat! But one pork shoulder can be a lot of meat. And sometimes it is difficult to know what to do with leftovers. 
There are plenty of uses for leftover smoked pork shoulder and I've put them all below.
Looking to add Mexican flavors to your dinners?
This tacos recipe is fun, easy, and also works well for burrito bowls.
If you don't have much pork left you can balance it out with your favorite taco toppings.
See the recipe for smoked pulled pork tacos
Pork Shoulder Burnt Ends
What is better than juicy, smoky caramelized nuggets of pork?
Nothing!
These burnt ends are perfect if you have leftover meat.
You can also do them with a whole pork shoulder.
Pulled Pork Wraps With Zesty and Creamy Coleslaw
We have all had pulled pork sandwiches! But have tried using your leftover pork for wraps?
Kids love them, adults love them and there is no soggy bread! Make sure you give the zesty coleslaw a go!
Pulled Pork Carnitas (Always a crowd pleaser)
If you have leftover pork you can turn it into carnitas!
Basically, carnitas are like burnt ends but with a more zesty Mexican flavor.
Take your leftover pork, chop it up, add the sauce, and put it on the stovetop to crisp up!
Smoked Pulled Pork Nachos
Nachos are one of the best comfort foods you can make, and this recipe doesn't disappoint. 
These nachos can be cooked on the grill or in the oven, depending on your personal preference.
 Feel free to adjust the spicy flavor or leave out the jalapeño altogether. 
See the easy steps for pulled pork nachos
Leftover Smoked Pulled Pork Shoulder Gumbo
This is a perfect recipe if you've got a lot of leftover pork shoulder.
It can feed large crowds but is also a fantastic dish if you just want something filling for the winter months. 
This recipe also outlines the best way to shred your pork whilst keeping the meat intact.
Smoked Cuban Sandwich
This recipe will take your sandwiches for lunch to the next level. 
These pork sandwiches are mouth-watering and well worth giving a go with leftover pork.
We highly recommend using the marinade in the recipe for the juiciest smokiest pork ever.
Easy Pulled Pork Quesadillas
These crispy quesadillas are made in the oven and they are delicious! 
This recipe can make 4-6 quesadillas at the same time.
 If you run out of pork, feel free to use chicken as a substitute. 
Asian Lettuce Wraps With Smoked Pulled Pork And Sugar-Free BBQ Sauce
This healthy dinner is perfect for weeknight meals or a quick lunch. 
This pork recipe features minimal prep time, simple ingredients, and is quick to make up.
We love the use of peanuts which give the wraps a nice crunch, but you can also experiment with different nuts. 
Spätzle With Smoked Pork And Cabbage
Looking to cook a memorable dish?
Spätzle is a type of pasta that you can cook alongside meat and vegetables.
This recipe makes an amazing dinner that is easy to cook and is ideal for leftovers. 
Pulled Pork Fried Rice
This is a great meal idea for using up both leftover meat and leftover vegetable scraps. 
It has seven ingredients, which can be substituted depending on what pantry ingredients you have.
 It's also kid-friendly if the entire family wants to get involved in the cooking. 
Smoked Pork Soup
Perfect for cold winter nights, this hearty pot of soup is a perfect blend of flavors. 
It is also a reasonably quick soup recipe, so you don't have to worry about watching it cook for hours on end.
We recommend serving it with cornbread or some hot bread rolls. 
Smoked Pork Twice Baked Potatoes
Transform your potatoes from being a mere side dish to the main event!
This recipe is a massive timesaver if you need to cook something fast.
The potatoes can also be baked the day before if you want to do some meal prep beforehand. 
See the recipe for pork topped smoked potatoes
There are plenty of delicious recipes you can try with leftover smoked pork shoulder. It's such a versatile meat and the smoky flavor can transform a dish. 
Smoked pork shoulder is a great addition to any dinner and we're certain you'll find a use for it. From tacos to nachos to soup and everything in between!
What do you like to cook with your pork leftovers?
Smoke On!

Charlie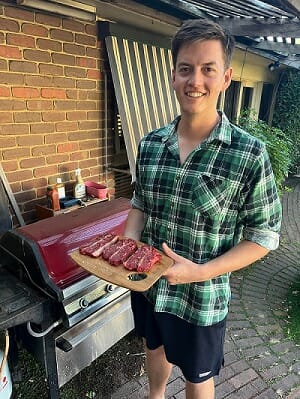 Author: Charlie Reeves
Hi, I'm Charlie, I am head taste tester at Simply Meat Smoking! I love it grilling, smoking, and getting out in the yard with the kids! The family also love to test all my recipes (especially my EXTRA CRISPY pulled pork, smoky pork loin, and ANY SEAFOOD I grill)
You will usually find me playing with the kids, perfecting my brisket bark, or sipping beers with boys around the fire. Can't wait to share all my delicious smoking and grilling adventures with you!

You can read more on our About Us page.
Hungry For More?