There is a common misconception that vegetarian food is only a side dish, or is boring.
I am here to change that. Sure, I love ribs and brisket, but who said that every meal has to be centered around meat?
The family and I are no strangers to 'Meat-Free-Monday' or ever an entire meat-free week these days.
Black bean burgers, sweet corn, whole bbq cauliflower, vegetable pasta salad, and salads with fresh herbs are very common as a main at our house.
Vegetarian BBQ Recipes
In this post I will round up some of our 13 favorite vegetarian bbq recipes – some of them are even vegan-friendly barbecue recipes!
Enjoy!
1. BBQ Jackfruit
This is easily our family's favorite vegetarian option when it comes to barbecue. It's even a vegan barbecue recipe! If you looking for a vegetarian pulled pork alternative, I guarantee you will love this recipe just as much. What's even better than the flavor? It only takes 20 minutes to prepare!
2. Corn Ribs
Corn ribs?? Sounds a little corny right? This recipe quickly went from a weird internet sensation to a family must-have. It's a fantastic lightweight change from traditional spare ribs. Not only will these corn ribs impress your vegetarian or vegan guests, but your carnivore uncle Tom too!
3. Smoked Mac and Cheese
You thought mac and cheese was a good side? Well, wait until you try smoked macaroni and cheese! This is the most popular side at any cookout we host.
4. Smoked Mushrooms
These smoked mushrooms can be made into veggie burgers, added to mac and cheese, tossed through a salad, or put into a vegetarian pizza – the options are endless. These are great to keep in the fridge for a quick vegetable side dish or main meal.
5. Smoked Sweet Potatoes
Smoking your sweet potatoes is a yummy way to serve your potatoes!
It takes no effort at all! Just throw them on the grill thren enjoy!
6. Grilled Panzanella
Panzanella? What on earth is Panzanella I hear you saying. It's a chopped salad from Tuscany featuring stale bread, onions, and tomatoes. Making this on the grill is an absolute game changer!
7. Vegetarian Smoked BBQ Baked Beans
Breakfast, brunch, lunch, or dinner bbq baked beans are dinner in my house. The trick here is to make a big batch and freeze it for a quick meal. You will never need tinned baked beans again
8. Grilled Tofu Gyros
The options for grilled tofu and endless. One of our favorites is to make the Greek classic Gyros. This recipe puts a delicious spin on the traditional Greek recipe. I gotta be honest, I prefer these! The tofu is full of flavor and super crispy. A delicious vegan friendly vegetarian dish right in time for summer.
9. Quinoa Burgers
Burgers are a summer grilling essential. A great healthy lightweight alternative is to make quinoa burgers. These bad boys are vegan-friendly and are perfectly served with a side of sweet potato chips!
10. Grilled Corn
These Mexican street corn cobs are a game changer! They started as a summer side dish but have become a regular main event throughout summer. Remember heaps of lime and hot sauce!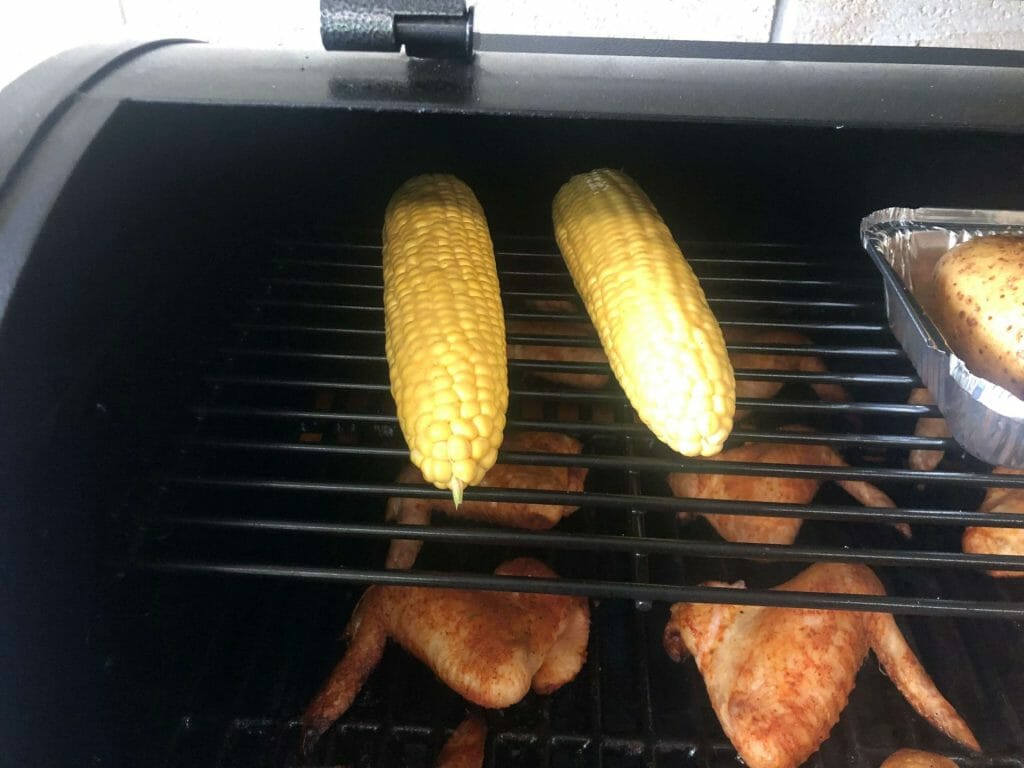 11. Mushroom Cheesesteak
I'm not going to say these are better than the original Philly Cheese Steak.. but I'm also not going to say they are worse. All I am going to say is you need to try these ASAP.
Hint: use the smoked mushrooms from above to make this recipe burst with flavor.
12. Double Smoked Potatoes
Potatoes are a great cheap way to feed a lot of people.
Smoking them adds in a special depth of flavor you can't get any other way. The possibilities are endless once you have smoked them.
You can use these in a potato salad, potato bake, or even stuff them. Perfect to have ready in the fridge for a quick and easy meal.
12. Baked Potatos With Crispy Maple Bacon
This is another great way to serve potatoes. Just remember to get all the trimmings, like sour cream, crispy bacon, and green onions.
Hungry For More?