Plan on smoking pork chop but not sure what to serve with them?
No worries, we've got you covered.
We've put together some recipes full of succulent, savory flavor that will take your meal to the next level.
Have a read of the guide below to discover what to serve with smoked pork chops.
Garlic Butter Mushrooms
Looking for an easy way to elevate your pork chops?
These mushrooms are creamy, indulgent and can be made in less than 10 minutes.
All you need is mushrooms, butter and some parsley!
Find the recipe on Pinterest:
Smoked Corn on the Cob
This buttery corn recipe is a delightful side dish for your pork.
Feel free to play around with the spice rub or change the seasonings.
The mild flavor of the corn and the smoke of the pork makes for a perfect combination.
Corn Fritters
Can't get enough of corn?
These corn fritters can be made ahead of time and served hot or as a cold side-dish option.
These fritters are kid-friendly and perfect for lunchboxes.
Find the recipe on Pinterest:
Baked Potatoes
This recipe is fantastic because it can easily be made using a Pit Boss.
It's super simple and the flavors are incredible.
Top them with sour cream and a sprinkle of kosher salt for an extra kick.
Green Beans
Looking for a basic veggie accompaniment to your pork?
Green beans are a classic side dish for a reason.
Cook your beans, add some seasonings and you're ready to serve.
Find the recipe on Pinterest:
Whole Smoked Cabbage
When it comes to smoking fresh vegetables, cabbage is probably not at the top of your list.
However, we think it's well worth the effort.
Cabbage is also full of nutrients, making it a healthy addition to any meal.
Sweet Potato Fries
Turn your sweet potatoes into tasty fries with this recipe!
All up this recipe can be made in under 15 minutes.
Make them in the air fryer for extra convenience or chuck them in the oven.
Find the recipe on Pinterest:
Double Smoked Potatoes
If you want to keep your meal full of smoke flavor, this is the dish for you.
By combining potatoes with some herbs and spices, it'll be done in no time.
Top your potatoes with bacon, or cut them up and create a creamy potato salad!
Vegetable Fried Rice
Rice is a great accompaniment to any pork dish.
But don't just settle for boring old steamed white rice.
Fry your rice in a wok and add some vegetables for a much more interesting dish.
Find the recipe on Pinterest:
Smoked Sweet Potatoes
If fries aren't your thing, these good old sweet potatoes will do the job.
Chuck them on with your pork chops and let your smoker do the rest.
For extra crispy potatoes, increase the heat and shorten the cooking time.
Caramelized Pearl Onions With Balsamic Glaze
These juicy caramelized onions will give you an irresistible flavor.
In fact, they're so good they will no doubt become one of your favorite recipes.
This is the perfect side dish for any meal and works well with pork chops.
Find the recipe on Pinterest:
Smoked Cream Cheese
This tasty side dish is the perfect appetizer for your tender pork chops.
Cheap and simple to make, this dish is a guaranteed crowd-pleaser.
Serve it with a fresh baguette, carrot stick or crackers.
French Onion Soup
French onion soup is one of our favorite side dishes.
It features simple ingredients, a basic cooking method and fabulous flavor.
Not only is it a treat for your taste buds, but it is also ideal for beginner cooks.
Find the recipe on Pinterest:
Smoked Tomatoes
For more delicious, smoky vegetables, come this way.
You can use these tomatoes as a side dish, in a sauce as a relish for your smoked pork.
If you have leftovers, these smoked tomatoes are also fantastic in pasta and soup.
Corn Pudding
Looking to give your meat a Southern twist?
This corn pudding is sweet, and creamy and will nicely balance out your pork chops.
It doesn't require many ingredients and you probably already have most of them at home.
Find the recipe on Pinterest:
Smoked Carrots in Brown Butter
This is a really easy way to take your carrots to the next level.
This recipe gives them a delicious, salty-sweet flavor that is amazing.
These carrots are a super versatile food and go with pretty much everything!
Macaroni and Cheese
Macaroni and cheese is a classic pasta recipe and one of our favorite comfort foods.
The creaminess of the dish will nicely balance the smoky flavor of the pork chops.
Top your pasta with parmesan cheese or serve as is.
Find the recipe on Pinterest:
Smoked Salsa
This smoked salsa recipe is healthy, spicy and packed full of fiery flavor.
By smoking it, you will be rewarded with a fantastic nutty flavor that goes perfectly with the meat.
It can be served both hot and cold depending on personal preference.
Green Salad
This simple side dish is great for a busy weeknight.
It's healthy, yummy and can be whipped up when you're time-poor.
Feel free to experiment with ingredients, and use up what you have at home.
Find the recipe on Pinterest:
Smoked Onion
This recipe is great for using up leftover onions.
It only requires salt & pepper, onions and a dash of olive oil!
We love how simple this dish is and how it can easily be cooked alongside your chops.
Fried Okra
Are you in the mood to impress your guests?
This colorful dish has a crunchy texture and a delightfully sweet flavor.
It goes with lots of different types of meat but is particularly tasty with pork.
Find the recipe on Pinterest:
Smoked Cheez-Its
For a cheeky little appetizer or snack, these smoked cheez-its are incredible.
Not only does smoking them enhance their flavor, but it also makes them extra crunchy.
Be careful, this dish is so good it might even outshine your pork chops.
Baked Cinnamon Apples
This sweet side dish will perfectly complement the smoky spices of your pork.
It is amazing for Fall or Winter cooking but can be served all year round.
This delicious dish can be eaten as a side dish or for dessert later on.
Find the recipe on Pinterest:
If you're looking for the perfect side dish for pork chops, you have come to the right place.
These recipes are full of incredible flavor, that will make your dinner a hit.
Not only will they compliment your meat, but they'll also make your taste buds sing!
We love the variety of these dishes and are certain that there will be something for everyone.
So, go get smoking and get ready for a scrumptious meal!
What do you like to serve with smoked pork chops?
Smoke On!

Charlie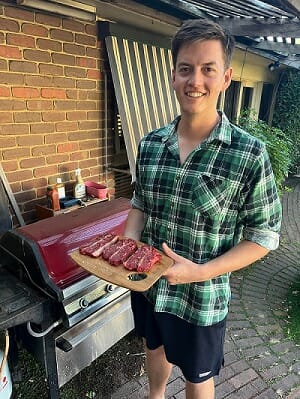 Author: Charlie Reeves
Hi, I'm Charlie, I am head taste tester at Simply Meat Smoking! I love it grilling, smoking, and getting out in the yard with the kids! The family also love to test all my recipes (especially my EXTRA CRISPY pulled pork, smoky pork loin, and ANY SEAFOOD I grill)
You will usually find me playing with the kids, perfecting my brisket bark, or sipping beers with boys around the fire. Can't wait to share all my delicious smoking and grilling adventures with you!

You can read more on our About Us page.
Hungry For More?