When you're purchasing a new pellet grill it's important to check out the warranty.
Pit Boss has some of the most popular grills out there and come with a solid warranty.
But, it can also be confusing to understand all the information they throw at you.
Don't worry, we've got some snippets of wisdom to help.
We've broken down exactly what you need to know about the Pit Boss Grill warranty and how it can help you.
Have a read of the guide below to find out more about the Pit Boss Grill warranty.
What Is the Pit Boss Warranty?
Most Pit Boss grill have a 5 year warranty from the manufacturer Dansons which make Pit Boss Grills. 
It is a warranty against defects and claims that they will repair and replace certain parts.
This is an important part of purchasing the Pit Boss Grill and something you should read up on.
How Long Is the Pit Boss Warranty Period?
It is a 5-year warranty term, which applies to all of their pellet grills and smokers.
This is pretty good in comparison to Traeger or Camp Chef which only offer 3-year warranty terms.
If a longer warranty term is important to you stick with Pit Boss or Grilla Grills (which has a 4-year warranty term).
Does It Cover Wear and Tear?
Unfortunately, the conditions of the warranty do not cover damage from wear and tear.
While Dansons are happy to replace certain grill parts, it doesn't extend to normal use.
But, there are a bunch of parts they do cover which we've listed below.
What Is Covered Under the Warranty?
Luckily if you have a major issue with your Pit Boss, you may be able to get it covered by the warranty.
In this case, Pit Boss will replace the part or defective grill.
These are the most common grill parts that are covered under the five-year warranty.
Auger Motor
Fire Pot
Igniter
Combustion Fan Housing
Control Board
Auger Box Housing
Hopper Safety Screen
Temperature Probe Housing
Auger Fighting Assembly Component
Auger Moto Right Bracket Component
Definitely get in touch with Pit Boss if you believe your grill is an unsafe product.
What Is Not Covered Under the Warranty?
While the warranty covers plenty of useful aspects, there are others that are not covered.
Aesthetic issues are not covered as they don't affect the function of the grill.
Have a look at the list below to check what you can't claim under.
Scratches
Rust
Dents
Cracks
Paint Peeling
Should I Register My Pit Boss Grill?
We recommend you do.
It doesn't cost anything and Pit Boss will give you a 25% coupon off when you register a product.
If you decide not to register your grill, make sure you hang on to a copy of the receipt as proof of purchase.
How Do I Register the Pit Boss Warranty?
This is pretty simple and can be done in a matter of minutes.
Hop on to the Pit Boss website which you can find here and follow the instructions.
By registering your grill you can quickly look up your date of purchase and it makes it easier to make a claim.
How Do I Use the Warranty?
You can put in a warranty request by contacting their customer service team.
By contacting the customer service line, the support system will help resolve your issue or get a replacement part.
It may take some time to receive your new part but you won't have to pay for shipping.
Does Pit Boss Have the Best Warranty Available?
It really depends upon personal preference and what you need out of a warranty.
Most warranties are pretty standard and for plenty of grills, they are pretty similar.
The major downside of this warranty is that it doesn't cover rust which Pit Boss claim's is out of their control.
What Replacement Parts Can I Order?
Even if your grill isn't under warranty, there is a wide range of products that you can purchase.
These can be bought from Pit Boss, a local Pit Boss dealer or Amazon.
Have a look at the list below to find out what parts you can purchase.
Nuts
Hopper Assembly
Wheels
Main Barrel
Lid Stopper
Meat Probe
Wheel Washer
Flame Broiler Plate
Stationary Support Leg
Support Leg
Grease Bucket
Tool Hook
Lid Handle
Bottom Shelf
Front Shelf
Chimney Cap
Lid Handle Bezel
Cast Iron Porcelain Cooking Grid
Porcelain-Coated Steel Upper Cooking Rack
Side Shelf
Wheel Axle Pin
Brushing
Flame Broiler Slider
Their prices are pretty similar to the price of the original purchase of these grills.
If you have questions about the products or quality issues you can contact customer care.
Pit Boss Warranty Exceptions
There are some exceptions where Pit Boss will void the warranty.
This happens if the product is misused, modified or improper handling takes place.
Using cheap wood pellets or the wrong fuel could result in Pit Boss voiding the warranty as well.
Ensuring one has the right product and the right warranty is crucial.
It's also important to understand what to do when parts fail or you're having issues with your Pit Boss.
Thankfully, Pit Boss covers a range of parts and is generally efficient at replacing them.
But there are also certain aspects they don't cover that could be an issue for you.
We love hearing about your thoughts on the Pit Boss grill and what you need from a warranty.
What do you think of the Pit Boss grill warranty?
Smoke On!

Charlie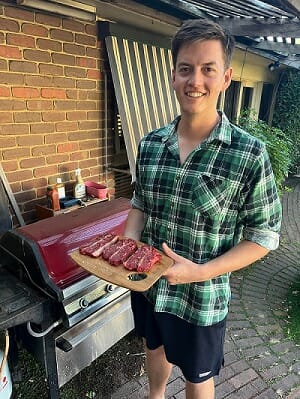 Hi, I'm Charlie, I have been meat-smoking and grilling for the past 15 years. I have an array of different smokers, thermometers, and have a love for finding the right wood and charcoal combo My favourite recipes are my EXTRA CRISPY smoked pork belly, juicy pulled pork, smoked brisket, duck poppers, and ANY SEAFOOD I grill).
I loves sharing his tips with beginners, helping them navigate the world of smoking. I find it's not just about cooking; it's a quest for that perfect smoky flavor.
You will usually find me playing with the kids, perfecting my brisket bark, or sipping beers with boys around the fire. Can't wait to share all my delicious smoking and grilling recipes with you!

You can read more about me on our About Us page.
Hungry For More?