When we head out on family camping trips or tailgating we take our Coleman Roadtrip.

We found it very it a great portable grill that is similar to the Weber Q.

Our favorite things about it?

We managed to cook bacon and egg sandwiches for 12 people on it when we went camping last time!

We found the porcelain coating on the grates makes them easy to clean.
This is super helpful when you are camping and don't have a proper sink or all our cleaning products.

Plus I always like when a brand has been around for a long time. You know they must be doing something right if they have been around for 121 years!

This grill is easy for me to throw in the tuck and produced some tasty BBQ for the family on the go! Do you want to know what else I liked about it?
About Coleman Grills
The Coleman company was started by W.C. Coleman in 1900
Now the Coleman name is on just about anything that you can find that has to do with the outdoors, from camping tents and sleeping bags to grills.
Coleman is a trusted name that has been around for 121 years, and over the course of that time, they've gathered quite the fan base for their products and company (including me).
​Coleman Roadtrip LXE Grill Review
The Perfect Gas Grill To Take on The Road With You
​Coleman Roadtrip LXE Specifications
Dimensions: 33.8 x 13.5 x 19.1 inches

Weight Without Stand: 24 pounds

Weight With Stand: 41 pounds

Fuel: Propane Gas

Main Burners: 2

BTU: 20,000

Heat Flux: 70.18

Primary Capacity: 285 square inches
What I Liked About it
Easily Portable: It was so easy for me to fold it up and throw it in the back of our pickup. It's perfect for our whipping up a few bbq recipes when we are camping. Or when we are heading to a friend's place for a cookout and they need an extra grill.

Matchless Ignition: There is nothing I like that is better than a grill that starts the first time, EVER TIME! We never had any problems with getting this started. Plus it was so easy, even my wife was comfortable lighting it.

Easy to Clean: We found this grill easy to clean thanks to the porcelain-coated grates. All we had to do was wipe the grates clean with a washcloth and normal soap. No more struggling to clean the grates or trying to burn off the built-on grease and gunk.
Ease of Setup
This has to be one of the easiest grills to set up. We just unfolded it, tuned on the gas, and used the matchless ignition.
It was super easy to use the built-in knobs on it. Even for those who are not yet a grill master, you will find that it is an easy unit to set up and get going for the first time.
Exactly what you need when tailgating or out in the woods.
Grill Durability
A portable grill needs to be durable.
We were constantly throwing this grill in the truck and heading off-road. It seemed to handle all the bumps and knocks.
I get the peace of mind that when a brand has been around for long as Coleman, you know they must be doing something right!
Cleaning and Maintenance
Thanks to the stainless steel finish it was really easy to keep the grill clean (even when we were camping).
The slide-out grease tray allows me to keep the inside of the grill clean. After cooking it's as simple as removing the tray, discarding the leftover grease, and wiping clean.
Once the grill has cooled, we simply used a grill brush to clean the grates. Then a little bit of elbow grease and soapy water on the stainless.
Note: Due to the stainless steel finish be careful not to use steel wool or any other tough cleaning pads, they will scratch the finish and damage your grill.
Warranty Details
I liked that it came with a 3-year limited warranty that covers both the workmanship and any possible defects.
Of course, we kept our receipt handy just in case. For more information please take a closer look at the warranty.
Value For Money
Like any other grill on the market, I wonder if I am getting my money's worth.
We all know that questions like that have an opinionated answer and mine would be yes. Simply put I think the Roadtrip Grill LXE is great. It is easily portable and great for adventures.
We find it's easy to fold up and it pops back up with the same ease. It's durable enough that it travels well and didn't empty your wallet coming in at slightly under $200.
Pros and Cons
Roadtip Pros
Easy cleaning and maintenance
Matchless ignition; Includes side table and utensils
Portable
Year limited warranty
Roadtrip Cons
No built-in thermometer

Charlies Bottom Line
I found it great value for a small price, it was worth buying it for our family.
The matchless ignition was great and even my wife felt comfortable lighting it.
This grill is pretty durable for what it is and handles everyday wear and tear like a boss,
One of the only real downsides I've found with this grill is that it does not have a built-in thermometer.
But you should be using your own meat thermometer to check the temperature of your food. All in all, it is a great grill with plenty of features at a great price.
---
---
Smoke On!

Charlie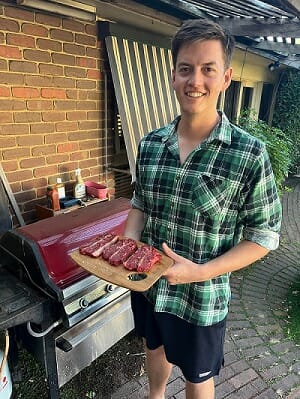 Author: Charlie Reeves
Hi, I'm Charlie, I am head taste tester at Simply Meat Smoking! I love it grilling, smoking, and getting out in the yard with the kids! The family also love to test all my recipes (especially my EXTRA CRISPY pulled pork, smoky pork loin, and ANY SEAFOOD I grill)
You will usually find me playing with the kids, perfecting my brisket bark, or sipping beers with boys around the fire. Can't wait to share all my delicious smoking and grilling adventures with you!

You can read more on our About Us page.
Hungry For More?