It doesn't matter what part of USA you're in, there are BBQ festivals right around the corner.

Combining live music, outdoor activities and good barbecue (usually washed by great beer or whiskey) is a great day out with the family.

These barbecue festivals often allow you to see some of the top BBQ pitmasters and grill masters in action! Thousands of people head to these events all over the country throughout the year.

Every part of the country has variations in their style of BBQ! Let's take a look at some of the best barbecue festivals & competitions of 2022.
Love keeping up to date with what's going on in the BBQ world? Check out my favorite BBQ blogs!

The Giant National Capital Barbecue Battle – Washington, DC
The Giant National Capital Barbecue Battle is one of the biggest and best BBQ cooking competitions!

The country's top BBQ grill masters, pitmaster, and outdoor cooking experts come together in the nation's capital on Pennsylvania Ave for it.

Tens of thousands of people have attended for the past 27 years to see some of the world's best pitmasters go head to head!

The competition is endorsed by Kansas City Barbecue Society (KCBS) so you know you will be seeing some tough competition as well as some delicious cooks!
Houston Livestock Show and Rodeo World's Championship Bar-B-Que Contest, TX
 The Houston Bar-B-Que Contest is held in late February.

This is a bit different from most barbecue festivals however it doesn't stop the best pitmasters from showing up, with over 250 teams are invited.

The BBQ festival also has an array of rides, food vendors, and games! The showgrounds also have a saloon, chuckwagon, and garden stage. 
International Bar-B-Q Festival
The International Bar-B-Q Festival is a festival that is held the second weekend in May.

Situated in Owensboro, Kentucky this festival attracts overs, 100,00 people, with the activities such as musical performance, arts and crafts and most importantly sampling all sorts of BBQ from world-renowned pitmasters! Teams compete for the Governor's Cup!
I Love BBQ & Music Festival – Lake Placid, New York
The I Love BBQ & Music Festival is a three-day bonanza. It is held in the lovely Adirondacks at Lake Placid in early July. It is a combination of terrific music and great outdoor cooking.

The huge BBQ competition is authorized by the KCBS. The competition includes traditional categories like Best New Strip Steak or Best Chicken, but also unique categories like Fatty or Desert. Younger teams can also enter the contests, with special dessert categories just for their age group.
The Leskovac Grill Festival (Your International Option)
The Leskovac Grill Festival is a festival held in Leskovac, Serbia at the start of September. Held for five days, this huge grill festival shuts down the main boulevard of the city night and day! All the grills stand are even made to look like temporary restaurants (these guys go all out!)

Over 600,000 visitors and competitors come from all over the world to enjoy the entertainment and sample some of the 200 barbecues creating delicious food.

One of the competitions held by the festival is the World Biggest Burger – the Pljeskavica, this is the highlight of the festival 
Memphis in May International Festival
This festival held in Memphis, Tennessee is over a month-long. The festival is dedicated to a different country every year and it has dozens of events such as screenings, exhibits, arts, and performances dedicated to that country.

Not only that, they have the World Championship Barbecue Cooking Contest, which is one of the most popular barbecue contests in the country and is celebrating its 43rd year in 2020.
World Championship Barbecue Cooking Contest (WCBCC)
The World Championship Barbecue Cooking Contest (WCBCC) was first held in 1978 with just 26 teams.

It is now the largest pork BBQ competition with more than 250 teams from all over the USA.

More than 100,000 people attend the competition and festival. The teams compete from prizes from $300 in prize money to over $15000 over five huge days!
Jack Daniel's World Championship Barbecue Invitational, Lynchburg, VA
Virginia is world-renowned for two things,  BBQ and Jack Daniels.

Not only does Jack Daniels sponsor the festival they set the whole schedule and host it!

The barbecue competition has more than 120 teams from the US and around the world. The festival has a pie auction, live music and games for visitors, it is usually held towards the end of October.
The American Royal World Series of Barbecue, Kansas City, Missouri
American Royal World Series of Barbecue is one the longest-running BBQ festivals, with over 41 years under its belt.

The 4-day event should be on every BBQ enthusiast's bucket list, as it the world's largest barbecue competition, drawing over 500 BBQ teams from all over the world.

The BBQ competitors are vying to be crowned either Grand Champion in the Invitational Competition, Open Competition, Sides Competition, and Kids Que.

The festival is held at Kansas Speedway with something for everyone with live music, rode and equine events, delicious food vendors and all sorts of kid's activities. 
Roanoke-Chowan Pork-Fest
The Roanoke-Chowan Pork-Fest is a festival that is held every May in North Carolina.

This festival has everything from museum tours, antique dealers, arts and crafts, fishing, 1-hole golf, strawberry shortcake, live entertainment, and the famous pork alley.

You need to take a stroll down "Pork Alley", where teams from around the country cook their best pork BBQ recipes to win! While you stroll down the alley you will see teams cooking the pigs, take in the delicious aromas and check out the well-decorated cooking sites! 
The Lexington Barbecue Festival – Lexington, NC
The Barbecue Festival has held in the last weekend of October.

This community event has everything from a golf tournament to a car show, cycling races, sand sculptures and most importantly BBQ competition.

This event is focused on the Lexington Style of cooking, this is using a tangy, vinegar-based sauce, slightly sweetened and reddened with ketchup. 

Not only is it showcasing some of the best barbecues in the world, The Barbecue Festival, but also features over 150 food and arts & crafts vendors, live music, entertainment stages, racing pigs, and even pigtail fries.
Wine Country Big Q: Sonoma County, Petaluma, CA
The folks out in California's wine country love their BBQ and are ready to help you pair it with their delicious wine!

Not only does this festival have a wine tasting but a spirit's area as well.

The festival includes demonstrations and a variety of contests for famous BBQ sides, like baked beans and baked potatoes.

Not that there are serious pitmasters attending and they are ready to win! This festival is usually held on the first Saturday in July and is not to be missed.
South Sound BBQ Festival, Lacey, WA
This is a serious BBQ competition that is sanctioned by the Pacific Northwest BBQ Association.

With pit masters coming from all over the country you get every type of barbecued cuisine is represented at this festival the festival is on for one day, and this year it's Saturday, July 13th. 
The Big Pig Jig Vienna, Georgia
The Big Pig Jig is a yearly BBQ competition held in Vienna, Georgia and is the official state pork cook-off! Held since 1982 by a group of pig cookers, there have combined the barbecue competition with a popular arts and crafts fair.

What started as 20 teams has grown to over 100 teams with over 350 judges!

The winners contend for $2500 and the opportunity to compete in the Memphis Barbecue Network Championship.
Russian River Beer Revival & BBQ Competition, Monte Rio, CA
This riverside festival is all about barbecue and booze. So, book a babysitter for the kids and pack your lounge chair and swimmers!

There are over 40 breweries ready to serve you and just as many pit masters taking part in the BBQ cook off. You do need a ticket but that includes cider, beer, food tastings, and live music.
Hungry For More?
This is just a few of the best BBQ festival and competition happening throughout America.

You are guaranteed to have a great time, try some of the world's best BBQ as well as learn some tricks and tips from some of the best grill masters and pitmasters.
So, add these to your bucket list. We would love to hear about your favorite BBQ festival and add it to the list. Comment below and tell me all about it!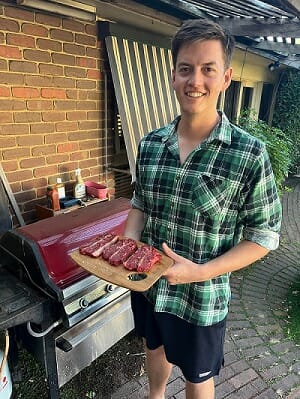 Author: Charlie Reeves
Hi, I'm Charlie, I am head taste tester at Simply Meat Smoking! I love it grilling, smoking, and getting out in the yard with the kids! The family also love to test all my recipes (especially my EXTRA CRISPY pulled pork, smoky pork loin, and ANY SEAFOOD I grill)
You will usually find me playing with the kids, perfecting my brisket bark, or sipping beers with boys around the fire. Can't wait to share all my delicious smoking and grilling adventures with you!

You can read more on our About Us page.
Hungry For More?